These mouthwatering ideas from Megan Singleton will have you packing your bags.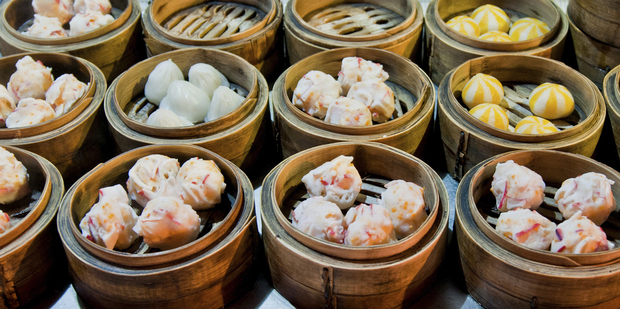 Finding cheap and cheerful delicious street food that locals rave about is one of the best culinary experiences you can have when travelling. Here are five streets whose food I have loved:
1. Papeete, Tahiti
Head down to the port of an evening and enjoy the sights, sounds and smell of the roulottes. These food trucks park together, with tables and chairs dotted around and your choice of sizzling tuna steaks, beef steak and frites, Chinese food, pizza, poisson cru and more. Save room for a crepe for dessert. All for about $20. Want to try making poisson cru at home? Check out my blog on the subject.
2. North Shore, Oahu, Hawaii
Leave the throng of Waikiki and drive around Oahu. On your way to the North Shore you'll pass shrimp trucks, some with breeding farms on site. Giovanni's, Romy's and Fumi's are the main contenders. Order them sauteed in garlic butter or just fried with salt and pepper.
Finger-licking moreish.
3. Shanghai, China
It's a toss-up between their dumplings with liquid stock, which are simply divine and served in most small hole-in-the-wall dumplingeries, or the Jian Bing breakfast crepe. I'm going for the crepe as it's just so different. Vendors pour out a thin crepe mix then top with an egg that is expertly spread around with chopped garnish and a generous scrape of red bean, hoisin and chili sauce. Add a crisp wonton sheet for crunch.
4. Cabo, Mexico
Venture out of your resort and get some locals to point you in the direction of the best home-made empanadas, little crescent-shaped pie cases filled with a taste sensation. Spicy beef is the most popular, but you'll also find chicken, beans and other veges and as many variations as mama has leftovers. Their tacos and burritos are also worth lining up for, too.
5. Singapore
For one street to rule them all, Boon Tat St is closed to traffic in the evenings and out come the tables and chairs while the satay shacks fire up their barbecues. While the cook stands with a fan in one hand to keep the flames licking the skewers, his assistants are running around delivering beer and pots of delicious peanut sauce. You'll pay 60c each or buy a mixed plate of 20 sticks for about $10.