We bring you some of the best travel deals going - both in New Zealand and abroad. Bookmark this page and check back each week for all the latest specials.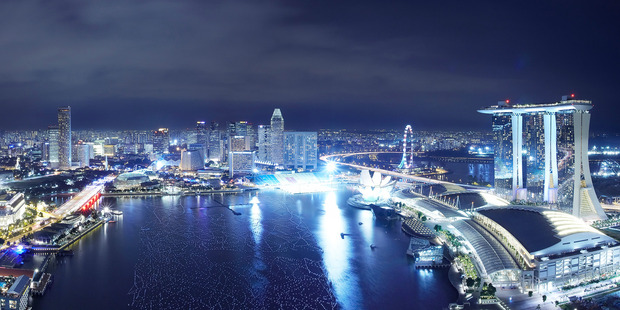 HOT DEALS
Singapore? Sling your hook...
Fly to Singapore with Qantas, via Australia, and stay for four nights at the Village Hotel Burgis - a package priced from $1459pp, twin-share, for travel from Auckland, Wellington or Christchurch. And, a late check-out of 4pm on the day you depart is part of the package. The hotel is located in the city's cultural and civic district, and is linked to a three-storey shopping mall. Book by February 4. Travel periods range from April 19-May 30; June 4-15; July 11-September 14 and September 19-30. Flights on weekends incur an extra $35 pp, each way.
Contact: harveyworld.co.nz
Classic American roadtrip
Ten days' exploring California in a rental car is part of an 11-night accommodation package, priced from $1665pp, twin-share, and you'll get a day-to-day, fully-detailed itinerary to follow loosely - or to the letter - as long as you make it to your pre-arranged accommodation each night. Airfares from New Zealand are additional.
Book by December 18. Travel between April 1 and May 31 or from November 1 to December 18, next year.
Contact: houseoftravel.co.nz
Sprint for a ticket
Whether you're a petrolhead, or not, the atmosphere of the Daytona 500 car races is bound to grab your attention - especially if you're trackside in Florida. The event is held from February 20-22. A two-night accommodation package, including race ticket, is priced from $1079pp, twin-share. Airfares from New Zealand are additional. Book by January 20.
Contact: unitedtravel.co.nz/Deal/8015/daytona-500-orlando-airport-marriott-lakeside
Mountain? Hai!
Snow skiing, snow monkeys, and sake and sushi for supper - 'Japan Ski' is a tour offering them all. Six nights' accommodation on a seven-day tour, complete with daily breakfasts and stunning sightseeing in and around Hakuba are priced from $1915pp, twin-share. You'll ski in the beautiful mountains of the Kitaazumi District, with a five-day ski-lift pass and bullet train fares from Tokyo and back. Airfares from New Zealand are additional. Book by January 15. Travel on selected dates between December 10 next year and March 25, 2017.
Contact: studentflights.co.nz
Following Darwin
Experience the exotic wildlife, flora and fauna in Ecuador on an 11-day 'Wildlife Ecuador' tour, priced from $10,091pp. Hotel accommodation, daily excursions with naturalist guides, transportation in private vehicles in Guayaquil, services of local English speaking guide, a four-night cruise aboard M/V Santa Cruz and domestic flights between Guayaquil and the Galapagos Islands are all included.
Contact: adventureworld.co.nz/ecuador/wildlife-ecuador/
Confirm all deals with suppliers. Send 'Hot Deals' to hotdeals@nzherald.co.nz
*****
TRAVEL TIDBITS
Letters to the Travel Editor
ON BURNING MAN
Dear Sir,
I have long enjoyed and found very helpful the weekly Travel supplement.
Your edition on December 1 gave front-page billing to the article [about] the Burning Man Festival ['Dust angels', Travel December 1], by Derek Cheng.
I doubt whether the majority of your readers want to learn the details of the Orgydome and group sex. The article would be better suited to a porn magazine or tucked inside a New Age publication, certainly not the New Zealand Herald.
Yours faithfully,
Lauris Lee
Remuera
The Travel Editor Responds: Thanks for your note. We're proud to run travel stories covering a variety of experiences from around the world. Derek's piece was edgy but within the bounds of good taste.
ON NICKING SIR OWEN GLENN'S FRUIT
Dear Sir,
I too am appalled by Steve Braunias's mango-pinching spree ['Monarch of the Glenn', Travel, December 1], but what really got up my nose was his description of beautiful Musket Cove as boring! Our family attended a delightful beach wedding there recently and seven of us (including two toddlers) spent eight sun-drenched days together in a private house not far from Sir Owen Glenn's place. We swam in the sea morning and night and in the beautiful resort pools, walked the island in the cool early mornings, snorkelled the coral reef, surfed, fished, conversed with the friendly islanders, learned how to husk and scrape coconuts the island way, went crab hunting after dark, visited our Fijian housekeeper's village for church and lunch, joined other family members at Dick's Bar for sing-alongs and kava evenings, rode bicycles around the island, took many photos of the beautiful sunsets, scenery and frangipanis and just simply relaxed. We were never bored and would all go back in a heartbeat. Mr Braunias has lost the ability to entertain himself, if he ever had it.
Regards, Pat Edmonds
ON FLYING INTO WELLINGTON
Dear Sir,
I disagree with your comment ['If Wellington builds it, they will not come', Travel, December 8]. There is a current trend for tourists to fly in and out of either Auckland or Queenstown or fly between Auckland and Queenstown. With more visitors from Asian countries coming to New Zealand, their perception is Auckland is the "only" city in New Zealand and Queenstown is the "resort" town that is a "short" flight or drive from Auckland. They do not realise there is a lot more in between.
Christchurch is starting to see a reduction in visitor arrivals, as flights in and out of Queenstown increase. Wellington is still seen by many tourists, even from traditional tourist markets, as an overnight stop for the Cook Strait ferry services between the North and South Island. With the advent of more fuel-efficient aircraft like the Boeing 787, Airbus A350 and the next generation Boeing 737 and Airbus A320/321 aircraft, it is time for Wellington to extend the current airport to cater for them. With Air New Zealand buying five Airbus A321s as part of the 13 replacement aircraft for its short-haul international fleet, the current runway is too short for a fully laden A321 to take off, hence the need for the extension. Like with Auckland's City Rail Link, the extension needs to happen, All it will take is for AirAsia X and another Asia carrier to start flying direct to Wellington using a A321neo, then other Asian carriers would look at the concept. If Philippine Airlines is to fly a a classic A320 from Manila to Cairns and Auckland, then you can use a A321neo in and out of Wellington. By the way, Philippine Airlines has 30 A321neo on order, with deliveries starting in 2017.
Kind regards, Chris McKellar
ON 'KIA ORA'
Dear Sir,
Just pulling out our cuttings from Elisabeth Easther's ['Kia Ora'] columns while sifting through for some holiday biking options and thought I would write to say how helpful, accurate and inspiring they are. We took our primary schoolers on the Hauraki Rail Trail following in her bike treads, and we have got a lot out of the columns - including a lengthy "to visit" list.
Sandra Thomas
ON TIME-KEEPING
Dear Sir,
[Re: 'Why we want to go to Berlin', Travel, November 17].
[This piece included] A major error that has crept into the local language: pm = post meridian; am = ante meridian. Meridian is noon. To suggest, as is now common, that 12 is before 8 is absurd. 12pm is midnight. You may believe this is pedantry, but it is actually critical in travel. We would have missed a flight in Paris if I had believed the Flight Centre itinerary that said 12pm. I checked the ticket and found we were leaving at 12.00hrs. My wife, in the past, had students from New Caledonia who missed their plane because they thought 12.30pm on January 10 was on the evening of January 10. It is actually on the morning of January 10, i.e. 00.30hrs. I know this is counter-intuitive, but life can be like that.
This is no longer a problem to me because I am now very careful. Recently, I had to change the starting date of an insurance policy to ensure I had coverage. The problem is that most English-speaking people don't realise New Zealanders have screwed up the language. A solution may be to use the 24-hour clock for all travel articles.
Dr Murray Sampson, Silverdale
The Travel Editor replies: Good point, Murray. We'll watch out for it in future.
ON DAY RAIL TRIPS FROM LONDON
Dear Sir,
My wife and I are in the process of planning our White Christmas trip, from December 2016 to January 2017.
We are looking for some day rail trips that we can do from London. We're interested in markets, some shopping malls, cafes and gift shops and the sort of places that we always see on TV programmes and say: "That looks interesting, I wonder if we will ever get to go there?" I was wondering, hoping, with your better knowledge, of such far-away places, you might be able to enlighten about places, within a day trip by train, that we can check out to see whether they push any of our buttons.
With the very kindest regards, Brian Burton
The Travel Editor replies: Readers! Can you help Brian? Send your tips to travel@nzherald.co.nz
*****
WE LIKE ...
It's hard to think about snow when the weather is finally heating up but if you're savvy, you'll sign up for the earlybird "3 Peak Pass" for next year's ski season in Queenstown - unlimited access to Coronet Peak, The Remarkables and Mt Hutt for only $599pp.
WE DON'T LIKE ...
Airline toilets that smell disgusting, even at the beginning of the flight. Honestly, what have you people been doing in there?
*****
Tell us what you like and don't like in the world of travel.
Email: travel@nzherald.co.nz
Check with suppliers for full details on deals.
To get your deal in this column, email: hotdeals@nzherald.co.nz