We bring you some of the best travel deals going - both in New Zealand and abroad. Bookmark this page and check back each week for all the latest specials.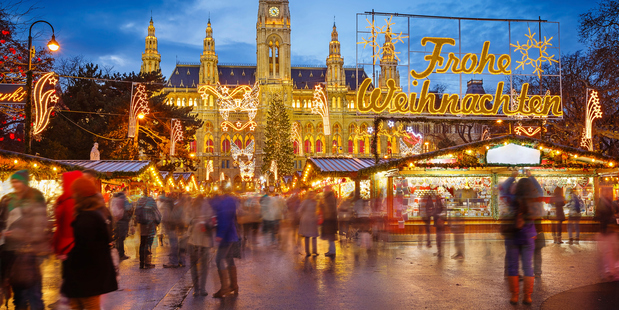 HOT DEALS
Bohemian like you
Explore Eastern Europe from Austria and Vienna to Budapest and Prague - on a seven-day escorted tour that's priced from $1850 each, twin-share. Book before August 31 and receive a discount of up to 7.5 per cent. Departures are in November and December - perfectly timed for shopping in the wonderful Christmas markets. The accommodation on this tour is described as 'luxurious'. Everything is covered by the tour price, aside from airfares from New Zealand.
Contact: Insight Vacations on 0800 656 111.
Valley good
A Barossa Valley holiday will place you in the heart of one of Australia's oldest wine-growing regions - where some grape vine plantings date back to 1847.
Three nights at the four-star Jacobs Creek Retreat, with daily buffet breakfasts and a rental car for four days, are priced from $1349 each, and includes return airfares from Auckland or Christchurch.
This package starts at $1359 for travel from Wellington. Book by May 31. Travel from July 27 to September 17 or from October 15 to December 9.
Contact: Flight Centre on 0800 427 555.
Med odyssey
Book a room with an ever-changing ocean view and cruise the waters around Italy and Greece over eight nights onboard Celebrity Constellation. Priced from $1799 each, twin-share, all your main meals and entertainment onboard are included. This cruise departs from Rome on September 10 and must be booked by May 31. You'll sail into Sicily, Athens, Santorini, Rhodes and Istanbul. There are bonus packs, too, ranging from free onboard credits to free beverages.
Contact: United Travel on 0800 538 727.
Hawaiian holiday
Six nights in a 'City View' room at Luana Waikiki Hotel and Suites and return airfares from Auckland with Hawaiian Airlines are priced from $1999 each, twin-share. Book by March 31, next year. This package includes a 'Welcome to Hawaii' pack and an Aloha Trolley Pass for the duration of your stay. And, if you pay another $239 each, you can stay an extra two nights. Various travel periods are available.
Contact: Our Pacific on 0800 500 598.
Cruise for two
Set sail with your beloved or your 'bestie' and their cruise ticket will be less than half the standard price. A 'South Pacific Treats' cruise aboard Radiance of the Seas departs from Sydney on January 31, next year, and heads for ports such as Noumea, Lifou and the Isles of Pines. One ticket is priced from $1649, and the second ticket is priced from $785. Accommodation is an Inside Cabin. All meals and entertainment on board are included. Book by May 31.
Contact: Harvey World Travel on 0800 808 040.
*****
TRAVEL TIDBITS
Letters to the Travel Editor
Dear Sir,
The item about the "new super fast online passport renewal system" in the Travel insert of May 5 prompted me to try it. I have on hand the paper-based renewal form and an up-to-date passport photo. I am still about a month away from needing to renew my passport. However, an earlier renewal would be in order. Thus my try at the online system.
I have discovered that it is not as easy as is set out.
First of all, one must have a Realme Account. That is the government identity verified system that may be used for accessing certain government systems. I have used it for obtaining BDM (births, deaths and marriages) printouts for family research purposes. I also used it for some Companies Office purposes. The "service" used to be called "iGovt".
I intended using the online service to renew my wife's passport also, but the Passport Office, in answer to my email query, advised that could not be done via my Realme Account. She needed to obtain one on her own account. That requires attendance at a centre where that can be done. I did all that when setting up my iGovt account by visiting Internal Affairs staff at the Auckland Office of Internal Affairs. I had to take my passport along and the staff there took my photo and I had to produce other identification documents.
Secondly, it actually is necessary that photos be taken. But, they do not have to be "signed by your neighbour". I thought "great", I have my latest photos, printout by the Photo Warehouse.
However, the Passport Office has advised me (per email) that "hard copy" photos are not acceptable. Those photos may not be scanned and attached to the online application. I have to take my photo using my digital camera, then upload them to my computer. I am then allowed to upload them to the online photo page during the online application process.
Thirdly, applicants via the online system must provide certain details from an identity referee.
That must be a person who is not related, who holds a current passport, and who has known me for a certain number of years. So, all that information has to be collected and be on hand before one sets out on the online renewal process.
As you see, the renewal online is not quite as simple as the article says.
Perhaps you might like to obtain clarification of the process from the Passport Office. And, a clarification article would be of assistance to other folk who are about to renew their passports.

Graham O'Dea
*****
Dear Sir,
I couldn't agree more with your comments regarding exploring our own beautiful country.
I have just returned from a 12-day trip, leading my Probus Club and friends (30 senior citizens) around the South Island and it was superb. The lakes, the snow-capped mountains, the rivers, the people, and the exciting and interesting places all made for a marvellous experience.
The beautiful colours of the leaves at Arrowtown, the tree-tops walk at Lake Mahinapua, the helicopter flight around Mt Cook and landing on the Franz Josef Glacier, the launch trip in the Abel Tasman National Park, the Antarctic Experience in Christchurch - so many wonderful memories.
See New Zealand! You will never regret it.
Yours sincerely,
Joy Bridge
*****
Dear Sir,
Rosalie France in her article Canine Get A Witness? resented dogs running wild in countries she visited, finding them "scary, pesky or just plain barking".
I on the other hand am put off going to places where the locals have no compassion for animals and no animal welfare services, indifference to their suffering and just plain neglect. Seeing starving, mangy and sometimes even injured dogs quite spoiled my Bali holiday.
Mahatma Ghandi said: "The greatness of a nation can be judged by the way its animals are treated."
Yours faithfully,
Youla Ingham
*****
Not for the faint-hearted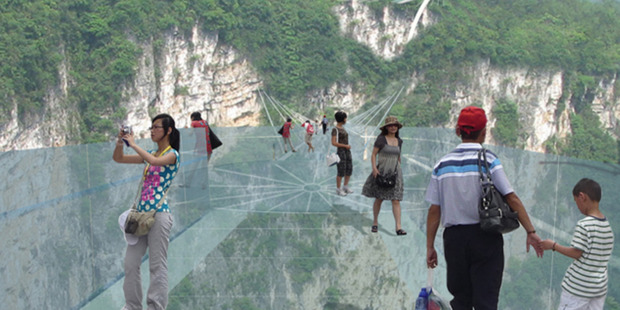 Leave your vertigo at home and pack your head for heights.
Developers in Zhangjiajie, a scenic national park in China's Hunan province, have announced plans to open the world's longest and highest glass-bottomed bridge in July.
The 430m bridge will connect two cliffs in the Zhangjiajie Grand Canyon area allowing visitors - or at least those who are brave enough - to stride over a 300m drop to the valley below.
The new bridge will knock Canada's Glacier Skywalk in Alberta (which is also about 300m high, but a humble 35m) into a distant second place, while the Grand Canyon Skywalk in the US is a mere 21m in length and stands 219m off the canyon floor.
*****
WE LIKE ...
A reader writes: "May 2015: Two weeks' car rental on Gold Coast with Budget, booked online with a two-class free upgrade. Total cost $633.17. Thank you, Budget."
WE DON'T LIKE ...
The same reader continues: "May 2014: Two weeks' car rental in UK with Hertz, booked through Flight Centre. Total cost $1353.39. Never again!"
Tell us what you like and don't like in the world of travel.
Email: travel@nzherald.co.nz
Check with suppliers for full details on deals.
To get your deal in this column, email: hotdeals@nzherald.co.nz