We bring you some of the best travel deals going - both in New Zealand and abroad. Bookmark this page and check back each week for all the latest specials.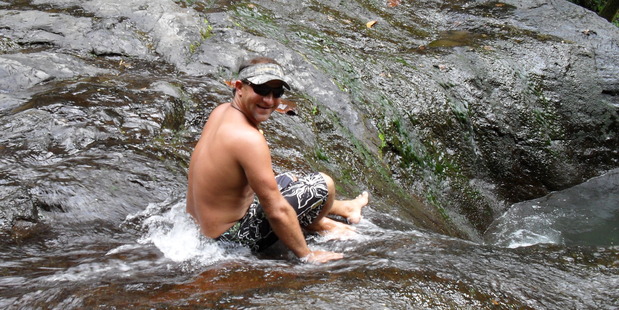 HOT DEALS
Go Samoa for five nights
The Papase'ea Sliding Rocks are a group of waterfalls in the middle of Samoa's rainforest, where natural waterslides of smooth, moss-covered rocks have formed. There are three slides of varying lengths. A five-night holiday with return airfares from Auckland starts at $809 each, twin-share, or $1055 each, twin-share, from Wellington or Christchurch. Book by February 2, travel from Auckland between April 15 and June 20, or from Christchurch and Wellington between April 15 and June 29. Accommodation is based on shared facilities.
Contact: Flight Centre
For this and other exclusive "show only" offers from Flight Centre, head along to the Travel Expo at ASB Showgrounds, Greenlane, Auckland, this weekend (Sat, Jan 31 and Sun, Feb 1).
Greek Island cruise to Venice
Book a cruise of the Greek Islands that continues on to Venice via Dubrovnik and you'll be handed US$1000 to spend on board during the 10-night journey. Azamara Journey departs from Piraeus, Athens, in Greece on August 23. Book by March 31 to be eligible for the spending money bonus. You'll stay in a Club Oceanview stateroom and most beverages, including spirits, wines and beers, are complimentary. From $6159 each, twin-share.
Contact: Our Cruise
Singapore and Vietnam combination
Experience Singapore and Vietnam with a seven-night package that includes return airfares from New Zealand, transfers in Asia and breakfasts. You'll stay at the Novotel Singapore Clarke Quay for three nights and, in Vietnam, at La Veranda Resort, Phu Quoc Island. From $3399 each, twin-share, must be booked by June 30. Travel from May 3 to September 16, or for an extra $100 each, travel October 12 to 31.
Contact: Our Asia
Eastern Seaboard in style
Explore the East Coast of the United States on an eight-day escorted journey, from $3775 each, twin-share. Discounts available if you book by January 29, with departures May through to October. This tour includes luxury accommodation, sightseeing, meals, transfers, transport and your guide.
Contact: Insight Vacations
Tahiti escape - plenty of add-ons
Escape to Tahiti for seven nights with return airfares, flying Air Tahiti Nui, staying at the historic Aggie Grey's Le Meridien Tahiti in a Deluxe Ocean View room. From $2599 each, twin-share, from Auckland or $2829 from Wellington or Christchurch. Included are two free nights, daily buffet breakfasts and a full-day tour of Papeete City and Tahiti Island. Book and travel by March 30.
Contact: House of Travel
TRAVEL TIDBITS
Letters to the editor
Dear Sir,
I'm a professional photographer and usually work overseas two or three months a year. My minimum kit weighs about 12kg and has a replacement cost of $30,000.
Under no circumstances will I be checking it in - if my gear ends up in Lima and I am supposed to be shooting a job in Singapore, I cannot work. If it arrives broken because of poor handling, I cannot work. Add that to the fact that the airlines will not accept liability if I check it in and you see that I will be carrying it on regardless.
Airlines need some flex to cope with circumstances like mine. If I can buy extra checked bags, why can't I buy extra carry on?
Marcus,
Wellington
*****
Dear Sir,
Like many others, I find the greatest annoyance on a plane are those who flop into their seat and drop it right back, their head and seatback virtually in your lap. It is hard to fathom why seats are so designed, the reality for most passengers being that one or two notches back is the most comfortable, because of the angle between seat back and squab.
Further back, and this angle leaves your lower back and upper buttocks unsupported. [People who put the seat back] do this without thought as to your seatback tray table which becomes unusable, and if in use drops any liquid, and likely food into your lap.
All airlines I have travelled ask for seatbacks to be raised for cabin service and some will tell you to keep it at a reasonable non-intrusive angle for the passenger behind, at all times.
Barry
*****
Dear Sir,
RE: Ejectable black boxes, (Travel editorial October 14). Merchant ships have a black box [voyage data recorder] which has a separate part from the data recorder that will float free. This part is basically a back-up hard drive that can be less robust if fitted to an aircraft.
I would imagine the ideal place would be in the tail fin where the panel covering it would be fitted with a hydrostatic release similar to that fitted on life rafts on ships. The panel would only release when the panel was submerged.
The unit that floated free would also be an EPIRB which would give the exact location where the aircraft entered the water.
Mike Smith
*****
Dear Sir,
My wife and I would take trips out to the airport before we married just to watch the magic when people arrived. Loved the read (It is love, actually, Travel editorial, January 13) as it gave me some sweet memories.
The more I travel the more I appreciate my country of birth.
J. Morgan,
Auckland
*****
Backpacker giveaway
Herald Travel has teamed up with Kathmandu to bring you the chance to win the ultimate backpacker travel kit. To go in the draw, tell us the thing you'd most like to do when you're backpacking.
Worth over $1500, this generous prize includes a 70L Interloper gridTECH pack, an extra compact Comet Sleeping bag and plenty of gadgets and accessories such as travel scales, a world time clock, travel laundry kit and more to help you survive your jet-setting voyage.
For details on Kathmandu products and sales, go to kathmandu.co.nz.
To go in the draw, email travelcompetition@nzherald.co.nz with the thing you're most looking forward to on your OE, as well as your name, address and contact number.
Prize pack:
Interloper gridTECH pack
Comet sleeping bag Departure wallet v4 S
First Aid Kit 1 person
Laundry travel kit
Travel security ID kit
World time clock
Adaptor plugs
Travel speakers
Travel umbrella v3
Neck pouch v3
Transit pouch v2
Compact travel scales
Pack rain cover
Earplugs
Microfibre towel
USB charger
*****
What's in port?
The big ships you'll see in Auckland this week ...
Thursday: Voyager of the Seas (Royal Caribbean). Next port: Tauranga on January 30.
Saturday: Sea Princess (Princess Cruises). Next port: Tauranga on February 1; Dawn Princess (Princess Cruises). Next port: Tauranga on February 3.
WE LIKE ...
Catching flights which arrive early in the morning, ensuring a full day at your destination point after a rest (well, a bit of a rest) on the plane.
WE DON'T LIKE ...
Often having to set the alarm for the early hours of the morning to make these flights ...
Tell us what you like and don't like in the world of travel.
Email: travel@nzherald.co.nz
Check with suppliers for full details on deals.
To get your deal in this column, email: hotdeals@nzherald.co.nz