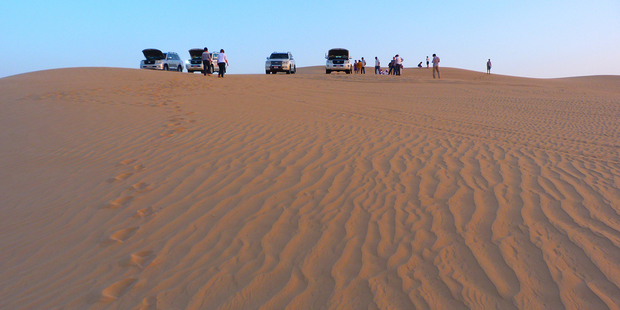 If you're flying on Etihad to Europe or any of their other far-flung destinations, you'll go through Abu Dhabi. This booming Emirate in the Middle East has a few places to put on your to-do list. Here are my picks for the best five.
Desert safari
Get picked up from your hotel in the afternoon and taken out to the rolling sand dunes of magazine covers. The driver will let the tyres down and you'll need to hold on tight because you'll spend the next 20 minutes "dune bashing" over impossibly sharp dunes and coming sideways down the other side. The evening ends with dinner under the stars in a Bedouin camp with henna tattoos, belly dancing and sheesha pipes.
Once the residence of the Sheikh, this is now where his dignitaries stay and where the public can wander in for a nosey or an expensive coffee from the cafe.
It opened in 2005 at a cost of $6 billion and covers 850,000 sqm. It is furnished in gold and marble and often hosts exhibitions. Expect a cake and coffee to set you back about $25.
Theme parks
Ferrari World is the ultimate theme park for petrol heads and wannabe Formula 1 drivers. Located on Yas Island, close to the airport, it is under a 200,000 sqm roof so is great any time of year. There are over 20 rides (including the world's fastest roller coaster), shops and Italian eateries. The other park to spend an entire day in is Yas Waterworld with 43 rides and slides for all ages and levels of dare-devilness.
Quite possibly the grandest mosque in the world, costing nearly $1 billion, the Sheikh Zayed Grand Mosque is decorated with gold and marble. It is the final resting place of Sheikh Zayed, the founding father of the UAE. The New Zealand-wool rug took 1200 Iranian women two years to weave and the seven chandeliers are made from Swarovski crystals. A strict dress code applies but abayas for women are available free to wear.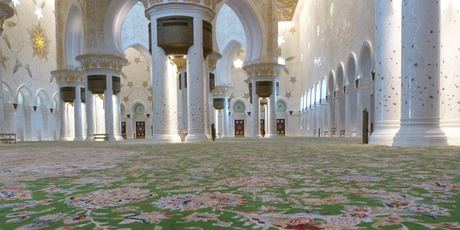 When the weather is too hot, the shopping malls are the best place to be. This mall is the biggest (350 brands) and has warrens of hallways that you should plan to get lost in. I did. Top European and American stores as well as local fashion and homewares are here in Al Wahda - voted best mall in Abu Dhabi three years running.
• For more from Megan, visit bloggeratlarge.com.