"When you figure out your suitcase, you figure out your life," said fashion designer Diane von Furstenberg recently. Here are five tips to get you on your way.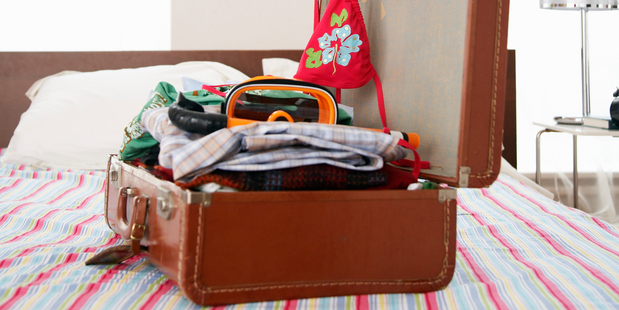 Vacuum-packing
If you're packing for an extra-long trip or relocation, those strict baggage allowances can be extra frustrating. To get more into your suitcase, try air-compression packing bags: squeezing the air right out of your clothes, they shrink them down into rollable layers, so you can fit around 30-50 per cent more into your suitcase. Just be sure to weigh your bag before you head off (a hand-held baggage weigher is indispensable) as cramming more in also means a heavier suitcase.
Buddy packing
Traveling with a partner or good friend has many advantages - the most obvious of all being that one double room split between two is the most economic way to stay in hotels. Make packing work to your (dual) advantage, too: put half of each other's things in the other's bag in case one gets lost; make sure there's no double up on things you can share, like toothpaste or an alarm clock; and decide on items of clothing you can both wear in order to have a more varied outfit choice. (This is most likely to be things like scarves, woolen hats, loose jumpers and unisex shirts, if you are a man and a woman.)
Weather permitting
When you're going somewhere extremely hot, cold or wet, take the essentials you need to deal with these extremities in your hand luggage so you have immediate access post-flight. Or, at the very least, pack them somewhere easily accessible in your larger baggage. This includes items like an umbrella; parka; woolen gloves, hat and scarf; or a pair of flip-flops and sundress if the humidity at your destination is high. That way you don't need to unpack totally before you have your first adventure, too.
Outfit overload
Here's something to remember forevermore, and which should keep you from over-packing: You do not need to wear something different everyday. The goal should always be to feel comfortable and appropriate at your destination, while not having to launder your clothes more than once a week. Try sticking to the following formula: three bottoms for one week; three tops per bottom; five bottoms for two weeks; deduct one top and one bottom for each dress, if you're a woman.
The simple sarong
Sarongs aren't just for tying around your waist on the beach - they have multiple uses that make them indispensable, especially when it comes to holidays in hot destinations. Just to start, you can use one as a towel; sheet; picnic blanket; sunbathing mat; dashboard cover (for the rental); bumbag; baby sling; pillowcase, and so much more. Even better, sarongs are ultra lightweight, which makes throwing one into your bag even more of a no-brainer.
- nzherald.co.nz