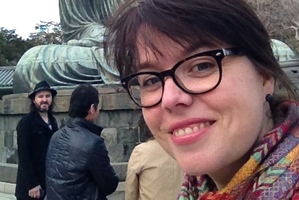 The best holiday I've had was... in Kyoto, Japan. I went just as I was designing Madame Butterfly. It's an incredibly beautiful city surrounded by temples and gardens in the hills. The whole trip was very influential to the design.
And the worst was... as a freelancer (who generally doesn't get holidays), every holiday is a good one!
With endless time and money I'm off to... eat and drink my way around Spain and Italy for several months, at a very leisurely pace.
The best travel advice I have is... don't be afraid to seek out recommendations for places to eat and stay. I'm always exploring various online reviews, blogs and guides while I'm away in order to find great restaurants and hotels, and have found some fabulous places as a result.
I never leave home without... an iPad, and a large shawl to keep warm on the plane trip.
Christina Smith is the set and costume designer for NZ Opera's production of Madame Butterfly, opening in Auckland this Thursday, April 18, and in Wellington on May 11. nzopera.com