Peter Malcouronne flies QF88 from China to Australia.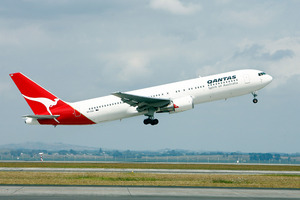 The plane: A330-300: Medium-sized. 297 passengers.
Class: Bovine.
Price: $1150 (Honkers to home).
On time? Took ages to take off from Hong Kong but then it is the 12th busiest airport in the world. Arrived on time in Convictistan.
My seat: I was suspicious of the pre-flight talk of "ergonomically-designed slimline seats". Slimline? As in ... downsized and half-arsed? Happily not. Capacious and roomy.
Fellow passengers: Going by the exclamations of "Advanced Hair? Yeah Yeah!", most of the passengers were Australian. But beware of stereotypes. The Convict next to me - a young interior designer from Sydney - was lovely, smart as a whip and reading Anna Karenina.
How full? Chocker.
Entertainment: While my neighbour was reading one of the greatest novels ever written, I was watching Sly, Arnie, Chuck Norris, Bruce Willis and the boys in The Expendables 2. Magnificently asinine. Though this wasn't a patch on the Qantas flight-safety vid. Starring several Australian cricketers, it's the all-time lamest example of the genre (even worse than Air NZ's Hobbity ones).
The service: Pretty good. No jokes about "fush & chups" or sheep.
Food and drink: Solid. There'd been a cock-up on the catering front, which meant this vegetarian had been left chewing his belt. However, the crew snaffled me some first-class fare to go with the rolls and cheese crackers. As for hydration, it's impossible to sate the thirst of 300 Australians, but the attendants did their best.
The toilets: Possibly because of the above-mentioned swilling, queues were lengthy. Still have no idea where everything goes after that ominous sucking sound.
Luggage: Heaps of space for my, erm, three carry-on bags.
The airport experience: Stuck at Sydney Airport for five hours, but scammed a pass to the Qantas Lounge where I had a shower and observed Australians in their natural habitat.
Would I fly this again? Yeah. Or should I say 'Yeah Yeah!'
Peter Malcouronne travelled as a guest of Azamara Club Cruises.