Join the hoi polloi for a traditional trek or choose a photo tour for unrivalled exposure to wildlife, writes Dean Fosdick.
Shopping for a wildlife safari is like taking a multiple-choice exam. You know the right answer is there on the page somewhere but they all seem so appealing.
Most safari operators guarantee face time with animals and birdlife but those assurances come with varying degrees of viewer comfort, species diversity and proximity.
Options range from the traditional group tours — people of all ages and interests sharing vehicles, lodging and meals — to customised luxury trips built around singles, couples, family groups or other self-selected combinations pursuing their own interests. But when you add it up, the best safaris for the money generally are those tailored primarily for photographers. Photo tours may be slightly dearer than traditional treks, but they provide more value.
Some aspects to consider:
• Fewer travellers per group means you can go more places. When participation is limited to as few as a half-dozen people, everyone has a window seat and an opportunity to find the right camera angle. More hands-on instruction is available from the expedition leaders, many of whom are professional photographers.
• Photo tours move at a slower pace. Every person has a chance to get that cover photo for his or her album.
• Operators of photo tours use different modes of transportation ranging from safari vehicles and dugout canoes to helicopters and small planes. That provides dramatic wildlife viewing no matter what the terrain.
• Many photo tour outfitters provide camps in leased areas known for their wildlife abundance rather than simply supplying hotel rooms near nature preserves. Game drives originating from these private leaseholds mean less viewing congestion from other safari vehicles when animals are spotted.
• Photo tours don't operate on an 8am-5pm schedule. They depart when lighting is at its best, the so-called "golden hours" of early morning and late afternoon. That also happens to be when temperatures are more comfortable — and that can be a a major consideration if travelling in Africa, India or the Galapagos Islands.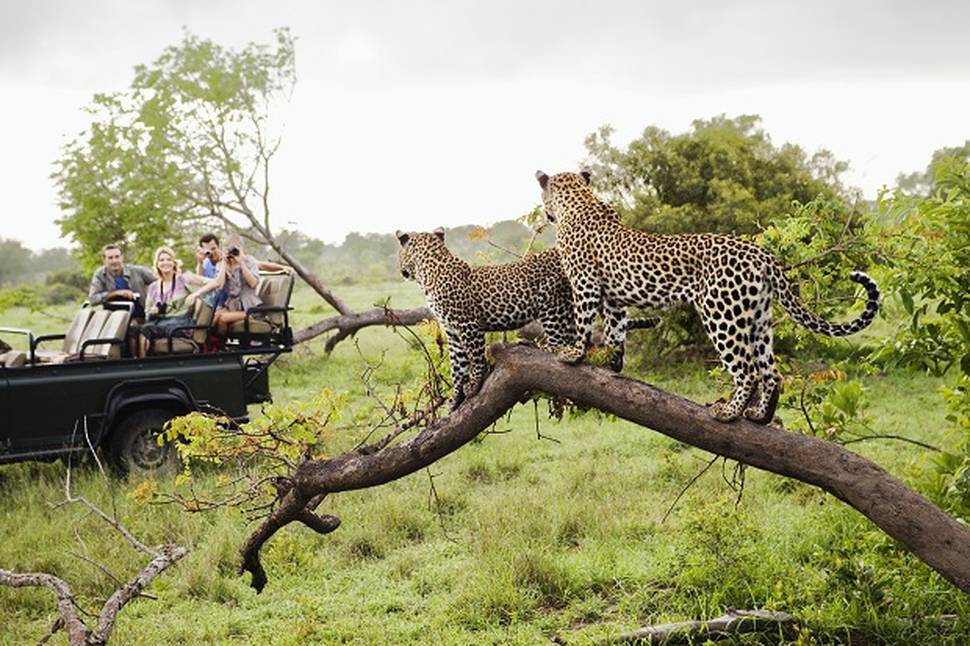 Another difference between traditional safaris and photo tours is group composition, says Court Whelan, director of conservation travel programmes for Natural Habitat Adventures, an American ecotourism company.
"On a normal trip, it's not as easy to initiate conversations about technical details but most people on photo trips are interested in elevating their photography," he says. "They have different styles. Different eyes. It makes for good sharing."
More people are choosing photo trips these days because equipment quality has improved and they can gather their own images rather than buy them, Whelan says.
"On a photo tour, if somebody wants that perfect lighting on a landscape, they'll get it," he says.
"They're not only chasing things down but they're also waiting for things to come to them."
Working with smaller groups is more rewarding because they can sit down together and analyse their work, says Ona Basimane, a photojournalist who also serves as a Natural Habitat expedition leader in his native Botswana.
"On a photo trip, interpretation is more toward helping people anticipate the animal's next move so they can always be ready to take a picture," Basimane says. "So one gets the benefit of learning about behaviour and getting good images."
The National Geographic Society also offers world-class photo tours.
"The signature of National Geographic photo tours is that we're more exploratory in nature, we emphasise cultural groups and we're led by staff photographers," says Molly Danner, a programme director for the company's Expeditions group.
"We provide organised photo shoots and the kinds of access that people might not be able to get on their own," she says. "Berbers in Morocco. Masai villages in Africa.
Traditional festivals and camel fairs in India. Our trips are designed to maximise photo opportunities." Photo tours usually aren't a good fit for young children but they do accommodate people from all skill levels, Danner says. "We try to cater to people who have different kinds of goals and who want special access to travelling with National Geographic photographers."
Having a professional photographer along can yield great results from the unexpected.
A colleague of Danner's, for example, recently returned from a photo trek raving about how she had been able to get a great shot because the National Geographic photographer "stopped the bus for a scene he wanted to capture. He was able to offer a spontaneous opportunity along with some insights. It became her favourite moment and the favourite picture from the trip."
Checklist
DETAILS
A special safari photo tour through
, covering internal flights, 12 nights accommodation, permits and guides starts from $24,440.
Want more holiday inspiration? Sign up to our new Travel Insider newsletter here.