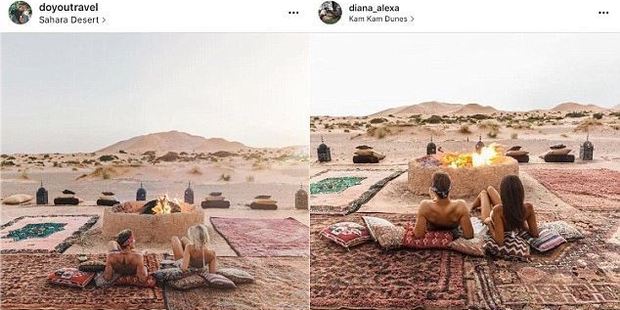 A blogger who travels the world posting breathtaking photos to her Instagram was 'disturbed' to find another woman had recreated her images to the finest detail.
Lauren Bullen and her boyfriend Jack Morris travel the globe showing off their enviable lifestyle in postcard-like snapshots and share them with their two million followers.
But the 23-year-old self-taught photographer noticed a brunette blogger and her partner were following her destinations and mirroring her images with incredibly close detail.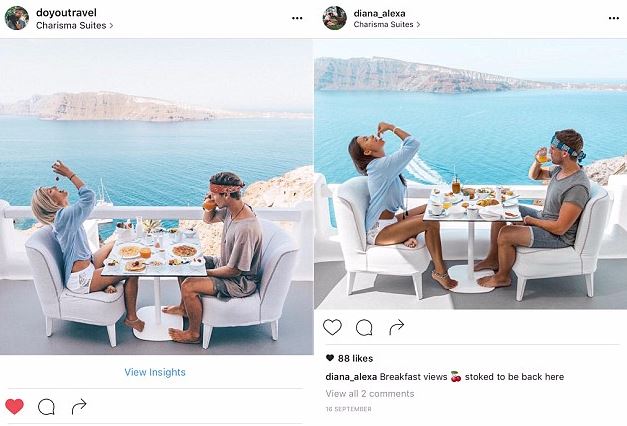 'I was very creeped out and disturbed when I saw the images,' she told Daily Mail Australia.
Ms Bullen found at least 20 images from both her and Mr Morris' Instagram accounts taken across Europe were copied with precise detail right down to the jewellery and accessories.
The other woman, using the account @diana_alexa, has since set her account to private.
Ms Bullen's favourite, due to the detail, showed the couple relaxing on some pillows in front of a bonfire in the Saraha Desert, looking out into a horizon scattered with sand dunes.
The photo from the copycat was taken with the same view of the Sahara, from the same angle and even with the same pillows and decorative arrangements.
In another photo from Santorini, Greece, Ms Bullen was pictured floating in an infinity pool watching the world pass by from her vantage point overlooking the islands.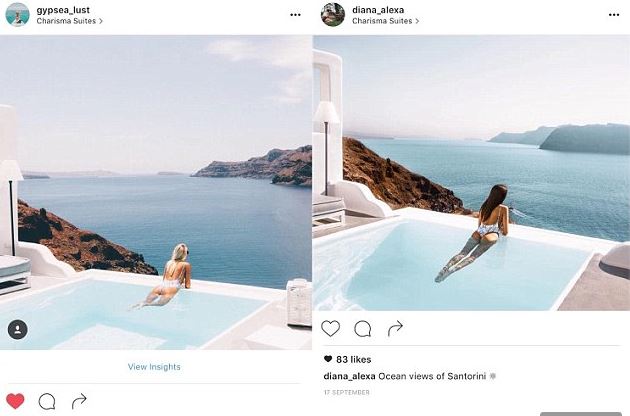 Incredibly, her follower's photo was taken in the same pool, from the same angle and she was even wearing what appeared to be the same blue and white bikini.
The details in each mirrored photo became increasingly similar as it appeared the copycat followed them to cities in Greece, Spain, Morocco and Rome.
In her blog, Gypsea Lust, Ms Bullen was astounded at the attention to detail her follower was able to mimic.
'I don't promote and tag everything I wear, so that would have taken a lot of time and work, even down to the anklets and necklace,' she wrote.
'Not to mention the cost of all this - those outfits and accommodations don't come at a cheap price.
'A lot of what Jack and I do is work with companies and brands to create imagery and promotion - this is our business and how we are able to continue to create this for everyone.'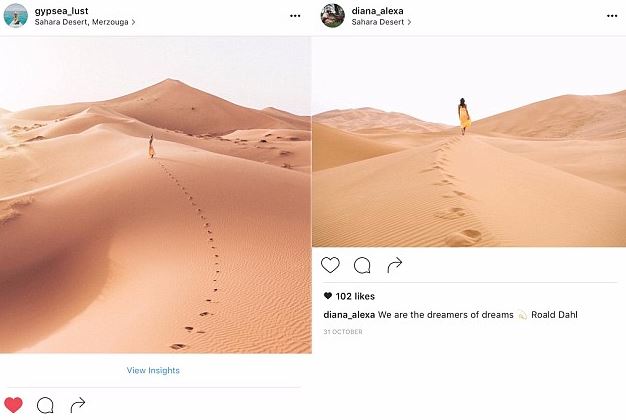 The comments came in thick and fast, according to Ms Bullen, with many of her followers supporting her stance that her art had been copied.
Others thought the mirror like images should have been taken as the highest form of flattery.
Ms Bullen told DMA she made contact with her copycat on Friday night and they would resolve the issue between them.