There was great excitement when the world's biggest cruise ship the Harmony of the Seas took to the ocean for the first time a fortnight ago.
As the massive vessel pulled away from a shipyard in Saint-Nazaire, where it was built on France's Atlantic shore, some 70,000 people watched from along the coast.
The floating town, which cost close to $1.5 billion, is 66 metres long with 16 decks and can carry 6360 passengers and 2100 crew members.
So when it embarked on its maiden voyage from Southampton in England on May 22 with approximately 6000 on board, they likely had high expectations. Instead, some were left bitterly disappointed by what they found on-board.
@MyRoyalUK #HarmonyoftheSeas - is this what an outside cabin should look like??? We couldn't see a thing-disgrace pic.twitter.com/bkLukZUCoH

— lisa hallows (@hallows01) May 28, 2016
Described by some as a "construction site", there were complaints of drilling throughout the night, cancelled shows and closed venues. Some furious cruise-goers took to Twitter to share photos of overflowing urinals, broken toilets, missing glass panels, blocked views and general disarray.
Urinals blocked and overflowing on our cruise to Rotterdam. Ship NOT ready but took our money #HarmonyoftheSeas pic.twitter.com/SoM17zlDRY

— Jay (@MisterJayNKate) May 26, 2016
Passenger David Mitchell, 73, told the UK's Telegraph about his "shambles" of a trip.
"I'm an ex-hotel manager so I really notice this kind of thing. It was totally chaotic - they were overwhelmed and underprepared," he said.
"There were workmen crawling all over and lots of the features and amenities were closed. There were queues at the bars, queues to get into the dining room and there were so many people lining up at guest services to complain they had to put up barriers."
#HarmonyoftheSeas not fit to sail. We alerted staff to safety glass missing on deck 15 @MyRoyalUK @RoyalCaribbean pic.twitter.com/xzOcMk5AkG

— Hayley Lewis (@HayleyHas) May 27, 2016
@PaulCliftonBBC @MyRoyalUK they are offering 20% value of this cruise of future cruises! The ship is not ready! pic.twitter.com/An45mw04dX

— Jonny Hardy (@JMHardy1) May 25, 2016
Where was the wet paint sign in the stateroom? Yes the stateroom still wet @MyRoyalUK @stuleven need some new jeans pic.twitter.com/B56Vzcbx1t

— Jonny Hardy (@JMHardy1) May 27, 2016
The cruise line has reportedly admitted that some "finishing touches" were being made but said the early trips were great value.
A spokesman told the Telegraph: "As always, Royal Caribbean's highest priority is to ensure the safety of all its guests and crew members and any final maintenance is being carried out in accordance with strict safety guidelines.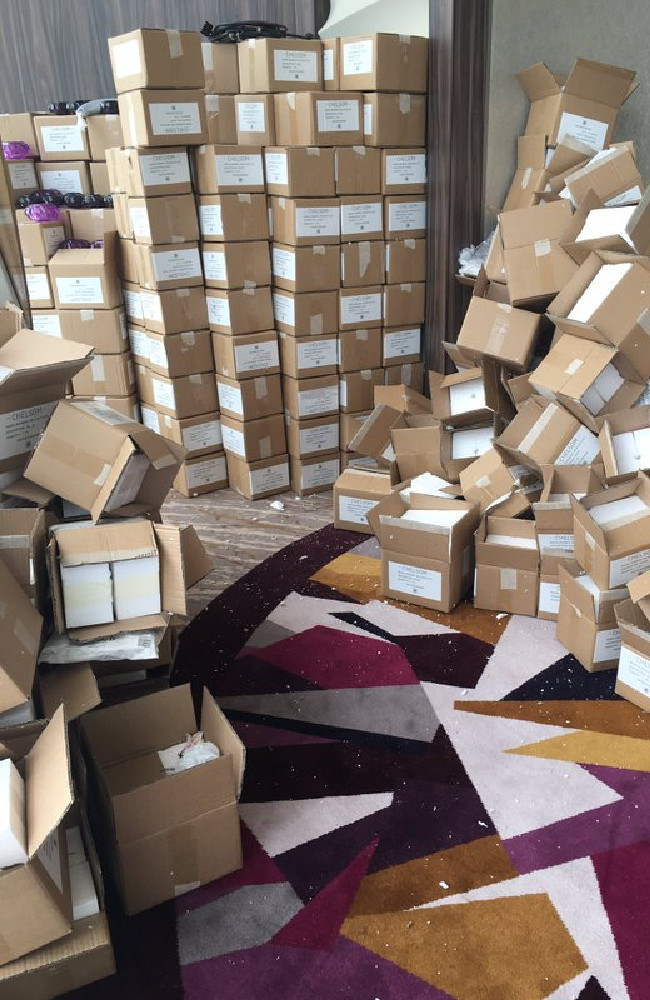 "These early sailings were made possible due to the early delivery of the ship and we hope this has been reflected in the great value offering guests secured for their holiday.
"We can assure our passengers that the incidents reported have been isolated incidents, most occurring more than three days ago, and they were all immediately dealt with.
"We are taking every measure to guarantee passengers that their time aboard Harmony of the Seas is the exceptional experience that was billed."
Royal Caribbean International has been contacted for further comment.