Tinseltown is coming to Taupo, courtesy of a new luxury lodge. Miriyana Alexander checked it out.
Days before my friend Deb and I were due at New Zealand's newest luxury lodge, news broke that the stars of the small and silver screen would be winging their way Downunder to stay at the uber-luxe Kinloch Club, courtesy of a generous inclusion in their Emmys goodie bags.
Winners like Ty Burrell, Jane Lynch and Viola Davis were name-checked, and if they weren't A-list enough, Ben Affleck was auctioning a stay at the Lake Taupo resort as part of his charity poker tournament to the (very rich) stars in Vegas. So far, so Hollywood.
We decided to go in theme. We'd be Thelma and Louise, minus the bad bits and, sadly, Brad Pitt.
Our arrival called for stylish wheels. The Thunderbird was in for repairs and the petty cash didn't extend to a chopper.
But we more than made do with an out-of-the-box BMW X3 for a smooth three-and-a-half-hour drive from Auckland. We shared the driving, and declared all in-car conversations Chatham House rules.
With wheels like that, and mouths like ours, the drive passed in a flash. Though when we rounded the last bend and the majestic Kinloch Club emerged in all its glory, Lake Taupo shimmering behind it, the best we could muster was "wow".
The $40 million resort opened quietly in mid-January. It is the latest development of richlister John Sax, who also owns Treetops Lodge in nearby Rotorua, a short drive, and an even shorter chopper ride, for the wealthy guests who like pinging their way around the country's luxury lodges.
Kinloch is built among the fairways of a Jack Nicklaus signature golf course, but the most noticeable feature of The Kinloch Club is the Andrew Patterson-designed lodge, which surges like a medieval fortification from the hilly surrounds.
As we pulled up to the stylish drawbridge entrance, we rushed - in a very ladylike way - inside to begin our visit. To the manor born.
If you're a golf nut, let's get the apologies out of the way early.
We didn't step foot on those beautifully manicured greens. The closest we got to appreciating the eye-catching par 72 course was watching the flags flutter lazily as we basked in the 30-degree heat on the deck of our villa.
But already, it is being talked about as one of the world's best courses. You can't really take my word for it, but how about that of Sir Bob Charles? He has played it and says this is the country's premiere course. He also says this is Nicklaus at his finest and, for those unable to play the great links courses of Scotland, this compares more than favourably.
But we weren't here for the golf. Our girls getaway brief was to relax, catch up on each other's busy lives, drink wine and luxuriate in our surroundings.
And what surroundings they are. The interiors are by the grande dame of luxury lodge design Virginia Fisher. She and Patterson were given the brief to emulate Kinloch's Scottish namesake, only with a contemporary twist. (Good thinking, as a quick Google search reveals Kinloch on the Isle of Rum is a rather Victorian affair).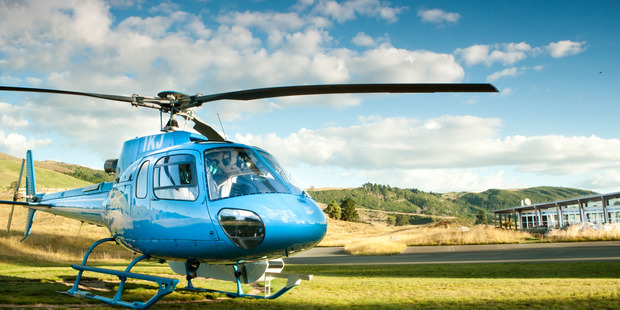 Here, the schist and timber lodge is designed to maximise the breathtaking views of Lake Taupo and the golf course, whether from the courtyards or full drop windows.
Inside, lush textures dominate The Den, The Great Room and The Bar. Velvet, fox fur, brass, leather, copper. The chain mail chandeliers, animal skin seats, magnificent fire places, deep velvet couches and wool rugs invoked an immediate feeling of a highland fortress, thankfully minus the tartan. It was baking outside, but I had a sudden hankering for a big fire and a bottle of whisky. And I don't drink whisky.
Instead, we whiled away the afternoon in our beautiful villa, drinking in the views along with the sav. We were treated to stunningly good facials and massages, and when we plopped ourselves down on the goat fur and cowhide seats in The Bar for a pre-dinner gin, all was very well with the world.
Things only got better at dinner. We had the dining room to ourselves and our table was laid beside the full-drop windows. As the sun set on Lake Taupo, we were brought plate after plate. There was salmon, venison (Deb says the best she's eaten), mouth-watering pork confit . . . by the time we got to dessert we were doing the hard yards. But I dare anyone not to find room for poached pear, white chocolate souffle and salted caramel icecream.
Replete, all that was left was to stumble to our golf cart to be delivered to our villa, where we slept the sleep of queens.
I actually dreamed of Mel Gibson. But the less said about that, the better.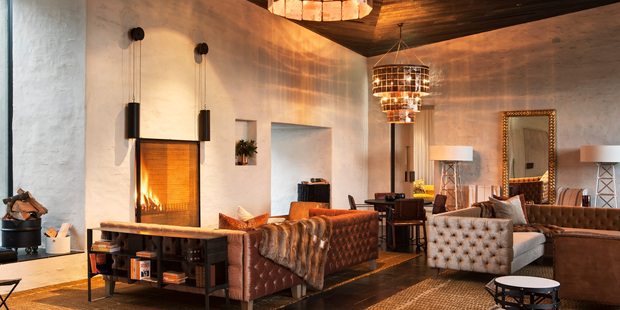 • The author was a guest of Kinloch Club, and drove courtesy of Auckland City BMW in Newmarket.
• Kinloch rates start from $956 per couple per night in low season and $1700 in high season. That includes accomodation, pre-dinner drinks and breakfast. Golf is $235 a round per person in the low season and $350 in the high season.