There's no better place than the Whitsundays to declare your lifetime devotion, finds Emma Kemp.
There is a spot at the highest point of Hamilton Island where time stands still.
Perched on a rock in semi-darkness, I'm exposed to the elements from all sides. Yet there isn't the slightest breeze. Even the air particles at Passage Peak feel suspended, motionless as if afraid to disturb my calm.
A yellowy-orange mass hovering on the horizon is the only tangible movement - though this sun is in no hurry, lazily drenching the sea in a warm glow as it wakes up the Whitsundays.
Despite being 6am in winter, it isn't cold, though there's just enough bite to clear the nostrils and reinvigorate muted senses after too many drinks only hours ago, about 200m below. The 2.5km walk through scrubby bushland is no lengthy climb - the entire island is only 5sq km - though the last steep section of steps and rocks gets the heart rate up.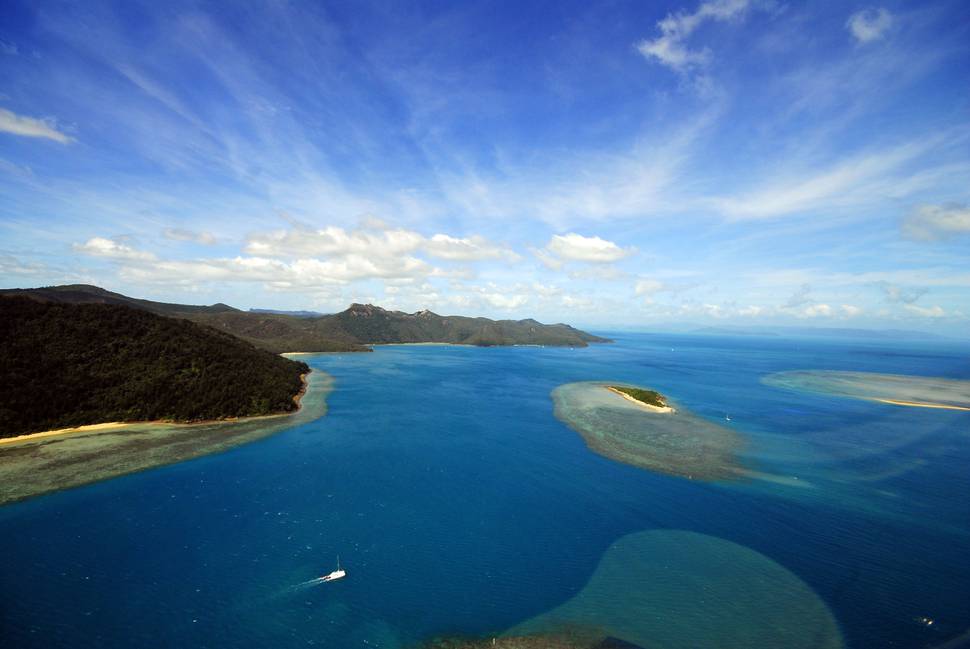 Bushwalking is far from the main pastime for holidayers escaping to Queensland's Hamilton Island - the gateway to the Great Barrier Reef is more famous for swanky resorts and sailing. But an unbeatable panorama makes this short hike one of the best ways to experience this protected region's unique beauty.
An island staff member tells me she and her colleagues sometimes take a cheeky bottle of bubbly up to the various lookouts to sit back and enjoy the view. Her favourite walk is South East Head trail, which is where I'm now headed.
Gravel crunches under my shoes as I plod back down the outdoor staircase and take a junction for another half-hour meander.
The smell of eucalyptus and occasional screech of a cockatoo are my only companions. Not another person is in sight as I relish that rare feeling that I could be anywhere.
Forest soon gives way to exposed rocks and sharp cliffs that offer a clear view of the Lindeman group of islands, just one part of the wider World Heritage-listed area.
From here I have the option of cutting down through another trail to the secluded and mangroved Escape Beach, which I'm almost guaranteed to have all to myself.
But though the intrigue of a private swim beckons, time is ticking on and I need to get back to sea level for a helicopter flight.
By the time I descend, hastily down breakfast, and arrive at Hamilton's airbase, the sun is well and truly overhead. My pilot Tim doubles as my tour guide, and as we whirr into the air I'm caught off guard by the thoroughly postcard-esque nature of what's below.
The sea, only hours ago a rustic orange, is now clear as last night's vodka with a brilliant turquoise finish.
Tim points out Escape Beach, which only makes me wish I'd had more time on my solo expedition. But then I'm distracted by a humpback whale and its calf frolicking below.
We swoop closer, doing donuts around the pair, who are in their own world of breaching and flipper-waving.
Cruising over Whitsunday Island and its Whitehaven Beach, Tim laughs at how his job description often extends to rolling out a massive "Will you marry me?" sign on its fine silica sand.
In preparation for a standard scenic-flight proposal - of which there are many - the chopper pilots need to make a separate trip to Whitehaven to set the sign in place before returning with an anxious man and his unsuspecting girlfriend. On occasions when the guy is too nervous, they also prompt the actual proposal by pointing out the beach's new, less-natural addition.
Once complete, the joyride continues along the 7km stretch of sand to the gorgeous Hill Inlet, a swirly mosaic of colours created by sand and water amid shifting tides.
Then it's on to the famous Heart Reef.
Discovered by a seaplane pilot about 40 years ago, this tiny heart-shaped reef is the focal point for many tourists.
As we trace the same route, I reason that despite the outrageous cliche of the whole procedure, there aren't many spots more stunning to tell someone you love them.
Though frankly if it were me, I'd prefer such a gesture overlooking the next reef we see, which is awesomely shaped like a giant alien's head.
We circle over Hook Reef and Hardy Reef - two of about 3000 individual reefs spanning approximately 2600km - and I hear tales of George, the 3m-long groper living in the depths between. George is well out of reach from up here but a photo confirms the genuine enormity of the groper, who swims alongside the throngs of snorkellers and divers who visit the spot each year.
And though I don't head below the surface this time, I realise this place is just as breathtaking when viewed from above.
Checklist
GETTING THERE
Qantas flies daily from Auckland to Hamilton Island (via Melbourne or Sydney), with return Economy Class fares starting at $855. qantas.co.nz
DETAILS
A one-hour scenic helicopter flight above the Great Barrier Reef including Heart Reef and Whitehaven Beach costs $671. A 10-minute flight over Hamilton Island costs $140. Minimum two passengers for all flights.
ONLINE
queensland.com
- AAP