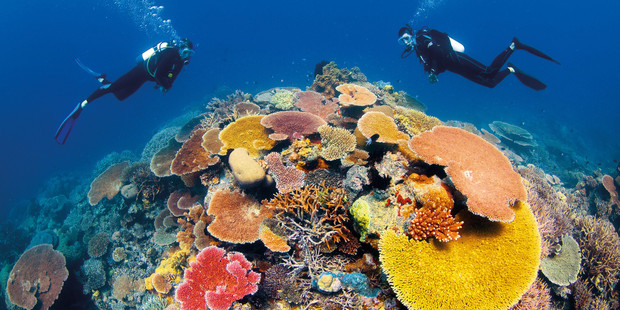 Scuba diving the Great Barrier Reef is one of the best ways to get up close and personal with this unique natural wonder, but if diving is not your thing, there are still plenty of other ways to explore it.
1 Sit back, relax and watch David Attenborough's The Great Barrier Reef documentary series, the third part of which screens on TV One this Sunday. Using new technologies, the show introduces species never seen before and unveils new scientific research. Sir David worked closely with James Cook University's marine biologist Richard Fitzpatrick to film macro scenes that took up to 10 years to capture, and the results are spectacular.
2 Travel in style on the Quicksilver Wavedancer catamaran to the Low Isles, one of the many islands on the inner reef. After just an hour on the water, you'll arrive at a gorgeous coral cay powered almost completely by renewable energies, which is home to the first lighthouse in Far North Queensland.
Don your snorkel, flippers and mask and take a guided tour straight off the beach with a knowledgeable marine biologist. Try to spot some of the resident turtles and whitetip reef sharks, or opt instead to stay dry and take a tour of the island with caretaker Jenny, keeping a beady eye out for native bridled terns, pied imperial pigeons and ospreys.
quicksilver-cruises.com
3 A visit to Reef Teach in Cairns is a must before embarking on any adventure to the Great Barrier Reef. Here you'll have the opportunity to handle a wide range of corals and other marine specimens, and learn about the weird and wonderful animals that inhabit the deep blue. View stunning photography while being educated by fun and enthusiastic marine biologists.
reefteach.com.au
4 There's no chance of sea sickness on an interactive livestream tour of Reef HQ Aquarium in Townsville - its divers are able to have a video conference with you in the comfort of your own home while they're under water. The living reef is set up like a fish tank at home but on a much grander scale - there are even strong currents to emulate natural conditions.
reefhq.com.au
5 Take a spectacular 60-minute scenic flight from Cairns to magical Lizard Island, an idyllic island fringed with pristine coral reefs, crystal clear waters and powdery white beaches, close to the famous Cod Hole and Ribbon Reefs. From 500ft it is possible to see a large number and variety of marine and mainland wildlife - everything from whales, sharks, manta rays and turtles. If you are lucky you'll spot crocodiles on the sand at Cape Tribulation where the rainforest meets the sea.
hinterlandaviation.com.au