Stephanie Simons takes a trip to Sydney ... and finds a city that's a big country town at heart.
Richard Graham is a Sydneysider and self-confessed bogan. He loves his town and to him that's what Sydney is - a town, a big country town.
When he uttered these words my first thought was "great, our tour guide knows nothing about Sydney".
How can this bustling cosmopolitan city with its glass towers, world-class shopping and dining, waterside wealth and postcard-perfect beaches, ever be classed as a country town?
Perhaps surprisingly, Sydney has a sense of community despite its spread; this may have something to do with its relatively small population (4.5 million at last count) in comparison to other major cities around the world.
People are down to earth, there's a laid-back vibe, a sense of bumping into someone you know at any moment. It's a town to be outdoors in, and the fact that it's not running 24 hours a day adds to the country town feel and appeal.
Back to Richard. He's a young entrepreneur who has combined his passions for Sydney and classic cars to create a unique tour experience, My Sydney Detour. He came up with the concept while backpacking through South America for 14 months, avoiding the tourist trails and preferring to get among it with the locals.
The philosophy of his business is to open up a perspective of Sydney that enables visitors (or "blow-ins" as Richard fondly calls non-locals) to grasp some of the history, diversity, and varying lifestyles by taking a detour.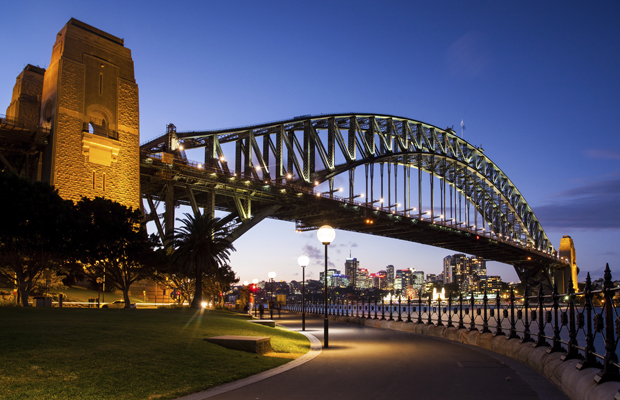 Sydney's Harbour Bridge. Photo / Getty Images
I'm no car buff but I do appreciate a restored classic. The 1964 Holden Premier EH is acclaimed as Australia's favourite car and this beauty took us for a ride around Sydney that allowed us to feel like locals out for a weekend drive.
Richard offers a range of Detours to suit your budget and itinerary. We chose the three-hour Highlights Detour, which encompasses inner-city living, beach culture and harbour-side lifestyles.
First stop was the suburb of Redfern, an area that has pulled itself up by the bootstraps despite a history of project housing turned ghetto, drug dens and militant police activity in the 1970s, to become a reconditioned gem that embraces its history and true community spirit.
Redfern has a farmers' market, trendy cafes, community garden projects and original streets of workman-style cottages that have been remodelled and now carry a hefty price tag.
It's also Richard's home suburb and what better way to get acquainted than through a local?
A short drive away and we're passing the world's second-largest urban park, trumped by Central Park in New York. Centennial Parklands offers a natural tonic to combat urban life within cooee of the city centre. Bordered by large stately homes, the park contains a golf course, an equestrian centre, and endless grassy spaces.
Then, like a change of set, the Pacific Ocean peeks over the horizon and we're in some of Sydney's most popular coastal suburbs. Our first stop is a surprise but well worth it; Waverley Cemetery has perched on 16.5ha of prime real estate above Bronte since 1877.
The clifftop views over the South Pacific are spectacular and you might get lucky like we did and spot a pod of dolphins cruising by. If you enjoy poking around in historical cemeteries, this one has beautiful headstones and mausoleums all with that stunning backdrop, which is wasted on the residents but what a spot to have as your final resting place.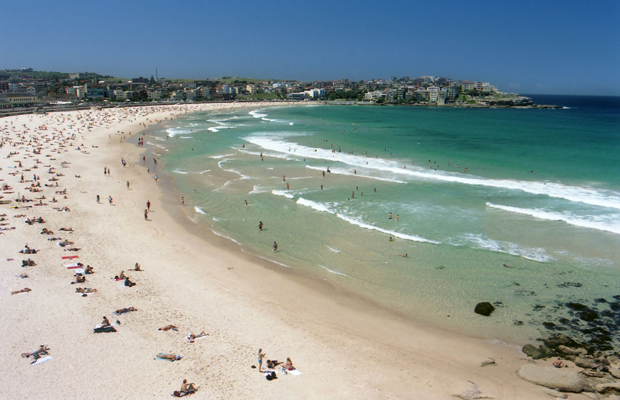 Bondi Beach. Photo / 123RF
On through the coastal suburbs of Coogee, Bronte, Tamarama and Bondi. It was 26C on this late May morning, and there were people everywhere - cafe patrons overflowing onto the footpaths, sunbathers and surfers acting like it was still summer, people walking their dogs or children, runners pounding the coastal boardwalk; you can't help but fall in love with this part of Sydney.
If you get a bit peckish in Bondi, go to Jeds Foodstore on Warners Ave. Richard promised us the best pies ever - a big call to make to a couple of Kiwis who know a thing or two about good pies, but we weren't disappointed.
Our final stop on the tour is Vaucluse on the South Head Peninsula; an exclusive neighbourhood where several million dollars and then some will buy you one of the best views in Sydney - a panorama of the harbour and its little islands across to the bridge and Opera House. Secluded beaches, sea planes and luxury launches seem to be the norm around here.
The history of this area is interesting and dates back to the early 1800s with a convict who made good. Take Richard's tour and you'll find out how Vaucluse came to be.
If walking tours are more your thing then Richard's wife, Berangere, operates a guided tour along the beautiful coast between Watson's Bay and Rose Bay. Over three hours you'll see secluded bays, beachside mansions and experience the natural beauty of Sydney Harbour National Park. Check it out at My Walking Detour.
This month, they started music and heritage tours to explore the history and architecture of the Conservatorium of Music, next to the Royal Botanic Gardens.
Sydney's harbour is a beautiful sight; a view that never gets boring no matter where you're standing. Do the Bridge Climb and you'll gain a whole new perspective on this big town.
We booked the Express Climb of two hours, which takes you through the heart of the bridge on a steady climb of 1100 steps to the summit.
Yes, there are a lot of stairs and some narrow walkways but our guide, Jackson (a six-year bridge climb veteran) kept up a steady flow of history and anecdotes and allowed plenty of rest stops.
Again we were blessed with beautiful weather and our view from the top stretched all the way to the haze of the Blue Mountains.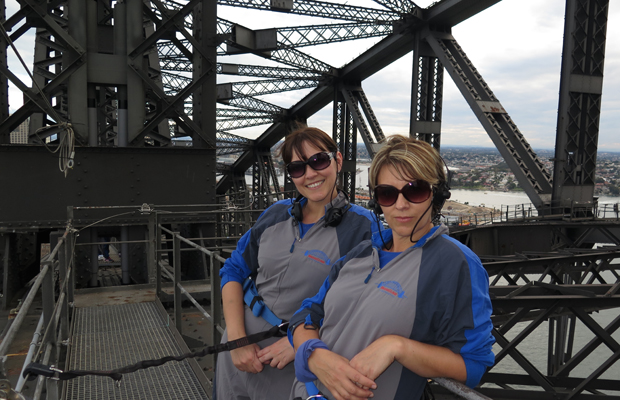 Stephanie Simons (left) and her sister Letitia on Sydney Harbour Bridge. Photo / Stephanie Simons
I'm no fan of heights but the safety and harnessing process allays any fears of parting company with the bridge 134m above the harbour.
It also puts into perspective how different things are today with health and safety regulations. When construction of the harbour bridge started in 1924 there was no such thing. So while we're securely harnessed to the bridge by little pulleys, the 1400-strong construction crew were moving about on the girders handling tools and six million scorching hot rivets with nothing to stop them falling or injuring themselves.
Sixteen men died in the eight years it took to build the bridge, but but only one from falling off. Bridge Climb is proud to report that it has lost no tourists.
No visit to Sydney would be complete without digging your toes in the sand of one of its famous beaches. And if you're a surfer, or a wannabe surfer, Sydney's coastline has 70-plus beaches and breaks to cater for all levels.
I've never had any great desire to surf - or wear a wetsuit in public for that matter - but I took the scenic 30-minute chug across the harbour from Circular Quay to Manly, headed for my first lesson.
Our group at North Steyne Surf School was large; 26 mostly novices entering the surf.
The day was perfect - 24C, a slight cooling breeze, the tide just right, and not a shark in sight. Half our lesson was spent on the sand learning how to read the beach, the waves, and the rips. Then we got to practise, learning about posture and paddling, how to fall off properly, and finally how to catch the wave and stand up for the ride in.
I would love to say that I stood on my first lesson, but a wobbly crouch before falling off was as good as it got. Despite my reluctance, the surf lesson was possibly the highlight of my weekend. Will I book more lessons and become a surfer girl? Unlikely, but the memory will live on.
If you're in Manly and looking for a good restaurant, I recommend China Beach on the Steyne Promenade. The restaurant isn't large but it's light and bright, the service is fast and friendly, and the modern Asian flavours won't disappoint. The crispy pork belly and twice-cooked free range duck were highlights of the meal, and the coconut passionfruit sago dessert was the perfect finish.
Our weekend in Sydney coincided with the annual Vivid Festival, an 18-day extravaganza of light, music and ideas. It starts in late May and is one festival not to be missed.
The belle of the ball is the Opera House, her white sails lit up by a changing kaleidoscope of colour and designs. Darling Harbour hosts Aquatique, a show of laser light and holographic images set to music and water fountains. The Harbour Bridge is lit up and runs night climbs for the best Vivid seats in the house.
Look up and there are flowers blossoming on buildings, towers overrun with digital creepie crawlies, laser lights, digital theatre and interactive displays scattered throughout the waterfront and downtown.
It's hard to describe - Vivid is something you have to see, hear and feel, and is fun for adults and children alike. Go - you won't be disappointed.
CHECKLIST
Getting there: Emirates flies a daily A380 service between Auckland and Sydney.
Further information: See destinationnsw.com.au.
The writer won a competition hosted by the Herald and Emirates for the opportunity to write a travel story in Australia. She travelled as a guest of Emirates and Destination NSW.