A Waitomo caving experience will leave your mind blown, writes Alex Robertson.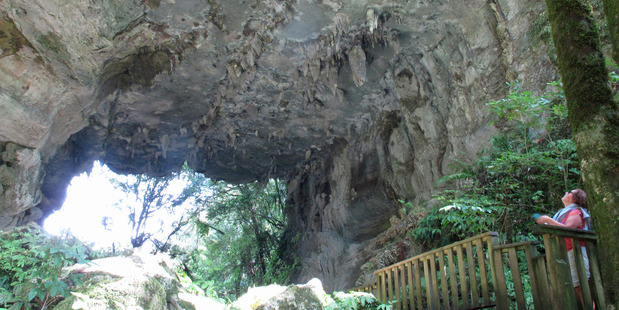 "This rock fell during an earthquake," announces Uncle Trev, our guide as he pointed to a block of limestone 4m long by 2m wide and half a metre deep, weighing at least 10 tonnes.
I looked around the edges for signs of former life snuffed out by the monstrous fall.
"Don't worry, though," Uncle Trev continued.
"It happened about 2000 years ago. In fact, this is one of the safest places to be in an earthquake."
A murmur of disbelief bubbled through our 20-person group.
"Six months ago a 6.2 [magnitude] earthquake occurred at 4.20pm off the coast of Wellington," our guide said.
I knew this because it hit late afternoon on a Sunday and it was all hands to the pump in the newsroom of the Herald.
"I was in here with a group of 42 tourists and we did not feel a thing. The first we knew was the siren sounding and we set off on our well-rehearsed evacuation procedure."
The main entrance to the caves would automatically lock down so visitors have to leave by another route.
"The trees were still swaying and there were all these firefighters around making sure everyone was alright. But they needn't have worried. We haven't lost anyone down here. Yet!"
Uncle Trev chuckled and led us further into the cave system.
From a relatively low and narrow passage the cave exploded into an enormous hall.
"Welcome to the Cathedral. At 18m in height it is renowned for its acoustics."
Uncle Trev's voice began to echo faintly in the darker recesses of the cave.
"We've had many famous singers here to experience the acoustics of this cave - our very own Dame Kiri and the Viennese Boys Choir."
He continued.
Nessun Dorma floated from the darkness into the space above our heads as a member of another group further along tested the cave's properties.
We continued through the Cathedral and Uncle Trev signalled to us to stop.
"Now. Is anyone feeling in good voice?" he asked as he switched off the lights.
Twenty-one souls stood in complete darkness - and silence.
"Not one? I'm disappointed."
And he meant it. No one was willing to stretch their vocal chords that time and I think Uncle Trev took it personally.
He soon got over it, like a true professional and pointed out other wonders of the underground world including the Tomo - a 16m shaft, once a waterfall which springs into life in heavy rains - and the many and varied stalactites and stalagmites.
"Stalactites hold tight to the ceiling, stalagmites might grow to the top."
He informed us.
"Or, as they say in Australia, when the tights go down, the mights go up!"
That one raised a laugh.
We descended to the lower half of the cave system along steel gangplanks and steps and into relative darkness.
Uncle Trev's torch disappeared as he hopped around a corner and manhandled a boat to the side of the dock that gradually appeared as our eyes adjusted to the gloom.
Uncle Trev supervised the quick and safe boarding of our boat and was soon expertly pulling us along through the darkness using an unseen overhead network of ropes.
The torch was doused and complete silence descended once again.
"Look up," Uncle Trev instructed.
Expecting to see nothing I was amazed to see thousands of tiny stars of white, some with tinges of blue, others with a hint of green as the glow-worms went about their business of luring prey.
It's easy to see why they're so successful as your eyes are drawn to their faint but beautifully alluring light.
We drifted along the underground stream silently entranced by the heavenly light show above.
And if an earthquake had struck then, nobody would have felt it. Our world had already been rocked.
More waiting to be found
The Waitomo District has more than 300 known caves and, possibly, another 300 waiting to be discovered. The whole of the area is like a living Swiss cheese as water dissolves the rock along faults in the bedrock and along existing channels in a process that never ceases.
So it's no surprise that things sometimes disappear: trees and cows have fallen from the fields as weakened rock gives way under their weight. Even farmers on tractors have suddenly gone without a trace as new holes open up.
One of the more exciting discoveries was piles of moa bones at the base of tomos. A member of the Holden family, owners of the land over which the Ruakuri cave system has formed, would inform the natural history department at the Auckland Museum of any new discoveries, package them up and send them off for study and storage.
As the number of discoveries headed towards the several hundreds, the museum politely suggested that Mr Holden might like to keep them in-situ as space was beginning to get a little tight up in the big smoke.
So, when you're exploring the cave systems and being wowed by the stalactites and stalagmites, underground streams and glow-worms, keep your eyes open for those other less-expected treasures.
WHY WAITOMO?
A visit to Waitomo is not just a fantastic and spectacular experience. It's also a chance to brush-up on those old geology and geography lessons, maybe even an opportunity to awaken a lifelong interest in your children.
You can't escape the question, "How was all this stuff made?"
The cave and tour guides are very knowledgeable and willing to impart a bit of their expertise.
Here's a little foretaste of why we have the Waitomo region in New Zealand.
1. Undersea world
It wasn't until about 20 million years ago that New Zealand was pushed up out of the sea by volcanic forces. Some areas of seabed had accumulated billions of sea creatures that had died, sunk to the seafloor and, under pressure, formed the limestone that we see today. They were raised at this time, forming parts of New Zealand.
2. Chemistry
Limestone is a solid form of calcium carbonate (CaCO3) susceptible to erosion through its solubility: Water dissolves weaker parts of the bedrock forming underground caverns, allowing streams to flow along underground channels.
3. Underground formations
As water seeps through the rock it dissolves the calcium carbonate. Where it drips from the ceiling of a cave, some of the salt is left on the roof, building up to form a stalactite: water drips from the stalactite leaving more calcium carbonate and elongating the structure. Where water drips onto the floor some of the salt is deposited and starts to build up to form a stalagmite. Stalactites hold tight to the ceiling, stalagmites might grow up from the floor. When they meet these structures join to form a column and can make incredible and crazy structures that can be seen on your cave investigations.
4. Late life collapse
As the landforms continually erode, caverns and caves grow larger and can weaken causing collapses in roof structures and walls. Spectacular natural bridges and tunnels can be left behind.
5. Water
Water is the essential ingredient to form what is know as a karst landscape. The underground rivers make opportunities for black water rafting and the amazing, silent drift on a boat to observe glowworms in the main Waitomo Cave. Waterfalls are also common in these landscapes, the Marokopa Falls being a particularly spectacular example.
CHECKLIST
Getting there: To book your own Waitomo caving experience and stay, visit waitomo.com and waitomopark.co.nz.
The writer was a guest of Discover Waitomo and stayed at Waitomo Top 10 Holiday Park.