Michelle Locke finds all her senses engaged on a California road trip.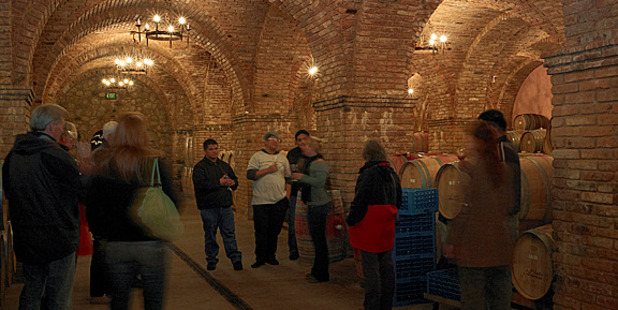 Keen to sample the lush delights of the Napa Valley, but worried about how expensive it could be? Don't worry - you're not the first. In the late 19th century, Robert Louis Stevenson moved his honeymoon to the rustic but free setting of an abandoned mining camp when the $10-a-week rate for Calistoga hotels proved too much.
You're not likely to find free lodging today, even in a beat-up old miner's cabin. But there are a number of things you can enjoy in California's premier wine region at no charge.
Scenery
There are two main ways to see the Napa Valley by car. Highway 29 is a straight shot from the south end of the valley marked by the famous Grape Crusher Statue through Napa, Yountville, Oakville, Rutherford, St Helena and Calistoga. Along the way are dozens of restaurants and wineries, including the Robert Mondavi Winery and Inglenook, the winery restored by director Francis Ford Coppola.
Traffic gets heavy at rush hour and slows to a crawl when there's a big event going on, such as the annual wine auction held the first weekend in June.
To reach the Grape Crusher Statue from Highway 29 (heading north from the San Francisco Bay area), turn left on to Soscol Ferry Rd, continue on Vista Point Drive, and Napa Valley Corporate Drive.
The other driving option is the Silverado Trail, which is most easily picked up by taking the Trancas St exit from Highway 29 in Napa and then turning left when you see the sign for the Silverado Trail. The trail runs more or less parallel to Highway 29 but is quieter, winding through green vistas of vineyards, rolling hills and beautiful countryside. Wineries along this route include Mumm Napa Valley.
Wineries
The days when winery owners routinely poured their wares for free are no more, although several wineries offer two-for-one tasting coupons (check online before you visit), and others will waive tasting fees if you buy a bottle to take home.
But there is still at least one winery offering tariff-free tasting. Sutter Home Family Vineyards introduced America to white zinfandel in the 1970s. Stop by the charming tasting room on Highway 29 in the small and adorably picturesque town of St Helena and taste up to four wines free from the eight-wine tasting menu, which includes a zinfandel port.
At Castello di Amorosa, tours of the Tuscan-style castle are followed by barrel tastings and complimentary tastings of current releases in the cellar.
Art
Over 75 wineries have art on display all year long. Places to see free art include The Hess Collection museum, featuring contemporary works owned by wine tycoon Donald Hess (4411 Redwood Rd, Napa, 10am-5pm), and The Baron Wolman Gallery at Markham Vineyards (2812 St Helena Highway, St Helena, open daily 11am-5pm), with photographs by Rolling Stone's first chief photographer. Baron Wolman's subjects included Joplin, Hendrix, the Stones, Pink Floyd, Bob Dylan, The Who and many more of rock music's great names.
Hikes
The Land Trust of Napa County offers free hikes most weeks April to November. Go online for scheduled trips. Advance registration is required.
Also free is Robert Louis Stevenson State Park, which has an 8km one-way hike to the top of Mount St Helena, offering panoramic views of the valley and beyond. The park is about 13km north of Calistoga on Highway 29 (limited parking, no bathrooms). A monument to Stevenson and his bride marks their honeymoon spot, although their marital cabin is long gone.
CHECKLIST
Getting there: Air New Zealand flies double daily to Los Angeles from Auckland, increasing to three daily services from December-March.
Further information: See visitnapavalley.com and DiscoverAmerica.com for more on visiting Napa Valley.
- AP