Villagers and visitors on Fiji's outer islands share mutual benefits, writes Peter de Graaf.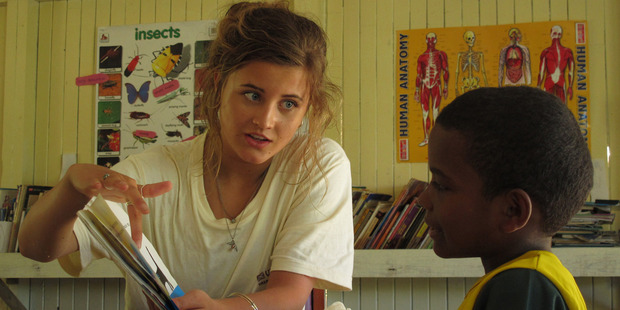 What started as a way to say thank you to villagers on Fiji's Yasawa Islands has morphed into an international volunteer scheme to boost education, agriculture, water supplies and the marine environment.
The Yasawas - an arc of 20 or so sparsely populated islands northwest of Viti Levu, Fiji's main island - have been seriously opened to tourism only since the early 2000s.
Although beautiful, with vibrant coral reefs, palm-fringed beaches and steep volcanic peaks, the Yasawas share many of the problems of other small Pacific islands: limited access to education, water shortages, restricted diet, and health woes such as type-2 diabetes.
Some of those problems are being tackled, in a small way at least, by a "voluntourism" effort called Vinaka Fiji. Operations manager Elenoa Nimacere says the scheme sprang from a passenger ferry service set up by a New Zealand-based duo in 2002. Called Awesome Adventures Fiji, the daily catamaran opened the islands to tourism and led to an explosion in the number and variety of resorts on them.
Before 2002, the only accommodation options in the Yasawas were a few backpacker lodges, served by uncomfortable, risky fishing boats from the mainland port of Lautoka, and an even smaller number of top-end resorts.
Awesome Adventures helped provide basic needs for the villages that resorts leased land from, or depended on for staff, but the aid was delivered in an informal, ad hoc way.
The company's help was formalised in 2010 through Vinaka Fiji. "Vinaka" is Fijian for "thank you". In the Fijian-led scheme overseas volunteers pay to stay at a resort in the Yasawas, but instead of lounging on a beach, they work on projects to improve villagers' lives. Vinaka Fiji operates in education, marine conservation and sustainable communities and agriculture.
Elenoa says VF averages seven volunteers at a time but she hopes to increase that to 10 in each area.
"It's a way of dipping your toe into the volunteering pool because you can do as little as a week or two."
Back to school
One such volunteer is 18-year-old Holly Satterfield from the USA. Each day she is taken to a village on nearby Naviti Island.
Then Holly and fellow volunteers walk to 130-pupil Naviti District School where Holly spends the day helping children with reading.
Today Holly is helping Marika, a Year 3 pupil, with one-on-one reading recovery. He has made good progress reading English and, like his schoolmates, is eager to learn, she says.
"They just love reading. As soon as you put one book down they want another.
"I'm really glad we came to Fiji. The people are amazing. They have so little but they're so inspiring, so full of life and energy. We're supposed to be here to help them, but we feel like they've helped us out more."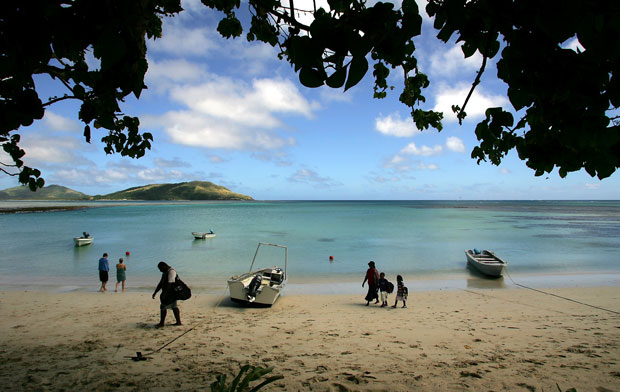 One of the Yasawa Islands' many beaches. Photo / John Borren
Other projects include establishing kindergartens to give children a head start in education, and a programme empowering mothers to teach their children, Elenoa says.
"We're giving them the fishing rod and letting them fish," she says.
Underwater aid
US marine biologist Dan Bowling, at Barefoot Resort on Drawaqa Island, is in charge of the marine conservation volunteers.
They need to be certified divers but don't need a background in marine biology. They do reef checks and fish counts, and tally crown of thorns starfish, sea urchins and sea cucumbers, all of which offer clues to the ecosystem's health. The data is shared with universities and sent to a global reef database.
Volunteers with marine science experience can do more advanced work such as researching the islands' little-understood manta rays, gentle giants with a wingspan of up to 4.5m and weighing up to a tonne.
These volunteers may also help remove crown of thorns starfish. These voracious coral grazers are natural to Fiji's underwater ecosystem but the loss of their main predators, giant clams and big reef fish, has let their numbers explode.
"Unchecked, they could destroy important reefs that Fiji depends on for tourism," Dan says.
Volunteers have also set up a clam nursery, a first step towards reintroducing locally extinct giant clams.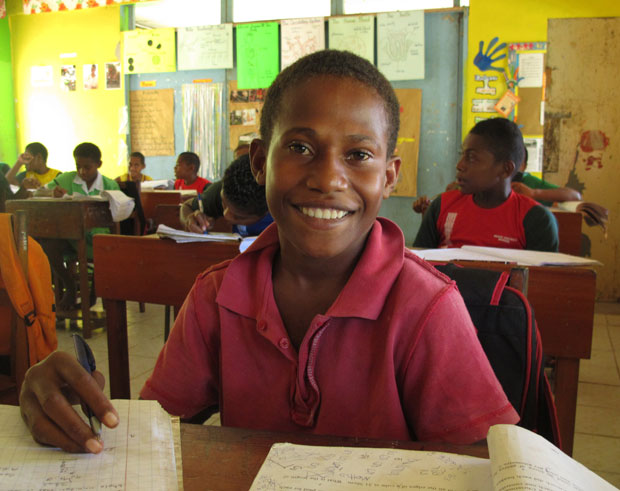 A pupil at Naviti District School. Photo / Peter de Graaf
Help on tap
Perhaps the volunteers with the most direct impact on quality of life are those working on rainwater collection systems. When bores and rainwater tanks run dry, drinking water must be shipped, at considerable cost, from the mainland. One of VF's aims is to improve rainwater harvesting so that every villager has access to five litres of drinking water a day, in line with World Health Organisation recommendations.
Scott Satterfield, Holly's father, has been using his construction industry experience to travel around Naviti Island checking tanks and guttering, doing repairs, and designing systems to deliver more and cleaner water.
Helping him is 18-year-old Nick Jackman from the UK. Each day he visits a different village, measuring houses for new guttering and tanks, or repairing existing systems.
"A lot of rainwater systems have been cyclone-damaged, others have been poorly built. Up north, the government dropped off water tanks but no taps or guttering, so they've been sitting there for a year without a drop of water going in. Locals just don't have the tools or supplies to install them," he says.
"It's nice to give something back. The Fijians are the most lovely people I've ever met. Nothing's too much trouble."
Vinaka Fiji volunteers have also helped repair classrooms damaged by Cyclone Evan at Yasawa High School, in Marou village, and have upgraded its rainwater collection systems.
Principal Tomasi Salusalu says the school has benefited greatly from the scheme.
"In past droughts we've had to ship drinking water in from Lautoka, which is very expensive. But now it's not a problem," he says.
Other sustainable communities projects include setting up vegetable gardens. The new crops give villagers more varied diets and new sources of income.
Elenoa says villagers have responded well, forming their own committees to further improve education, rainwater harvesting and health.
CHECKLIST
Getting there: Air New Zealand and Fiji Airways have daily departures from Auckland to Nadi.
Volunteering: Vinaka Fiji accepts volunteers for one- to four-week spells to help with marine conservation, education and sustainable communities projects.
Volunteers stay at Barefoot Island Resort in the Yasawa Islands, a three-hour ferry trip from Nadi's Port Denarau.
Prices vary according to the programme and style of accommodation chosen. The education and sustainable communities programmes start at F$1520 a week for a dorm bed, F$1780 for a double/twin bure and F$2030 for a deluxe bure. The marine conservation programme starts at F$2160 a week in the dorm, F$2420 for a double/twin bure and F$2675 for a deluxe bure. The price per week drops for longer stays. All include three meals a day.
Volunteers also pay a donation to the projects from F$200 for one week to F$500 for four. One Fiji dollar is roughly NZ$0.65.
Further information: See fiji.travel.
The writer travelled with assistance from Vinaka Fiji, Tourism Fiji, Awesome Adventures Fiji and Barefoot Island Resort.