Mash-up of showgirls, Mexican wrestling and acrobatics keep a Python sliding back for more, writes John Rogers.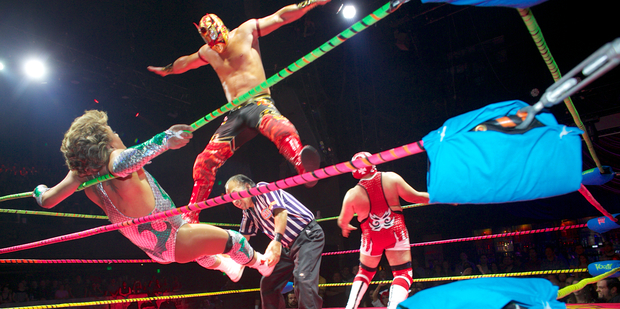 It's hard to say which zany circus-like act wins over the audience at Lucha VaVoom.
Perhaps it's the transvestite wrestler who swan-dives from a third-storey balcony to pin his opponent to the concrete floor, a move equal parts stunning and stupid.
It could be the two female high-wire acrobats who strip nearly naked and spin high above the arena secured only by scarves.
Or maybe it's the three-person masked wrestling tag teams each composed of a man, a woman and a dwarf.
Whatever it is, there's little question that the esoteric hybrid of American burlesque and Mexican wrestling is an outrageous hit that could be coming to a theatre near you.
"I've been a wrestling fan, big-time, since the days of Hulk Hogan, but when I saw this ...
there's nothing like this," said Adalid Sanchez, a primary school teacher who arrived an hour early to a recent show to stake out a prime spot in the second row of the VIP section.
New York has Broadway. Las Vegas has Cirque du Soleil. Mexico has Lucha Libre wrestling.
Only Los Angeles mashes the whole thing together, then leavens it with ample doses of loud, blaring rock music, flashing lights, a celebrity guest performer and a cadre of burlesque-style comedians, said Diane Christensen of Los Angeles.
"This is everything about LA that you love," said Christensen, adding, "People get dressed up to come here."
Some people maybe, but not Christensen.
At the moment, the Lucha VaVoom ring girl is wearing a pushup bra, a short slip, thong and pretty much nothing else, having just finished a night of escorting big, beefy wrestlers into the ring and posing for photos with fans.
"What do I do when I'm not ring-girling?" she asks with a giggle. "I'm in film production."
She came to a show as a fan more than a year ago and was instantly hooked.
The audience, meanwhile, is a group as wildly divergent as LA itself: film editors, teachers, a construction contractor, factory workers and the occasional celebrity.
"There's no show that's funnier, sillier or more entertaining than this one," says Eric Idle, a regular at Lucha VaVoom shows and, as one of the members of Monty Python, someone who knows something about silly.
All of this madness was born about a dozen years ago on the set of a movie about genetically enhanced baboons that was filmed in Mexico.
"It was a really bad film," recalled Liz Fairbairn, who was the movie's costumer.
But it did introduce her to a luchador who became her boyfriend.
The love affair with the wrestler didn't last, but the one with wrestling did.
Soon Fairbairn decided she wanted to put on traditional Lucha Libra matches for gringos like herself.
But she wondered if the hipster crowd of LA artists and film people she hangs with would buy that.
"Nobody ever went broke presenting lovely girls," said her friend Rita D'Albert, a choreographer who joined her as co-producer.
Overnight, Lucha VaVoom was a hit, selling out a dozen or so shows a year at the Mayan, a majestically restored old theatre in a seedy section of downtown.
Now it's gone on the road.
After this year's annual Cinco de Mayo week performances, Lucha VaVoom headed to Chicago for a Saturday show, with dates planned later in the year for Florida and Japan.
It has been to New York, San Francisco, Boston and other cities.
"I'd like to take it to England," says Idle, stopping to chat at the backstage bar after the show.
"I was just in Vegas, and there's no show in Vegas this good."
On a recent night in LA, the show was kicked off by Peaches, the electric dance music queen, who descended on a platform from the rafters belting out the song Boys Wanna Be Her as strobe lights flashed, music blared and hundreds held up camera phones to capture the moment.
Then it was two hours of happy mayhem punctuated by energetic strippers, comedians telling plenty of flatulence jokes, a parade of nearly naked ring girls, more loud music, more flashing lights, and lots and lots of comically violent performances by the luchadores.
Finally, it was time for Cassandro, the cross-dressing transvestite who is the Liberace of wrestling.
He came waltzing into the ring in a sequined robe, blowing kisses to the audience and wearing a colourful wrestling costume that looks more like a woman's swimming togs.
Unlike most luchadores, Cassandro doesn't bother with a mask.
He says he doesn't want to hide his pretty face. It's a face plastered with glitter, rouge, eyeliner, bright blue eyeshadow and even brighter red lipstick. But don't let appearances fool you. Cassandro is a superb athlete, holder of three championship belts.
And so what if wrestling is fake. There's nothing fake about the high dive he's about to do off the balcony.
"People ask how you can do it without getting hurt. The answer is you can't," he said before the show.
He's got the pins in his surgically repaired legs to prove it.
On this night, he landed hard on his collarbone and grimaced in pain.
But the show must go on. So he got up, tossed his vanquished opponent back into the ring and pinned him.
Turning to the audience, he flashed that 1000-watt grin of his and then headed to the dressing room as the last stripper of the night took it off.
CHECKLIST
Getting there: Air New Zealand flies daily from Auckland to LAX.
Next-level wrestling: Lucha Va Voom's next show is at the Mayan Theatre, in downtown LA, on July 17.
Further information: See DiscoverAmerica.com for more on visiting Los Angeles.
- AP