Sophie Barclay takes a domestic flight across Malaysia aboard MH2504.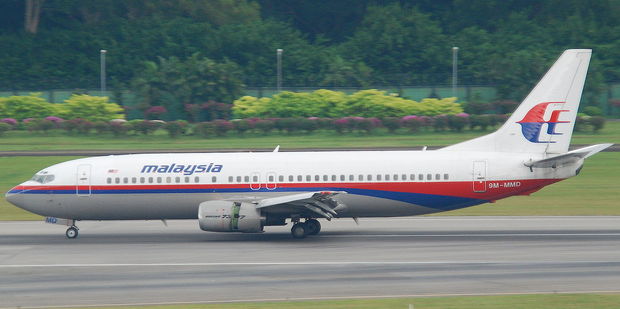 The plane: A new-looking, shiny seated Boeing 737-400. It looked alarmingly small from the terminal, yet felt spacious inside.
Class: Business class has only eight seats. Mine is not among them. I head down the back to mix and mingle with the commoners.
On time? We left about 10 minutes late. But heck, I'm on holiday.
My seat: 19B. The "B" part means I'm in the middle of a three-seater, but wait. It is surprisingly comfortable and roomy - a far cry from the cosy-come-claustro experience on the Auckland-Kuala Lumpur leg. Here, I was marooned, sandwiched in the middle of a five-seater (yes, they still exist) in an older plane which made terrifying creaks. I could literally feel the wheels coming out, and thanked God they did come out.
Fellow passengers: Zaza, a Muslim Malay girl off to study graphic design in Sarawak.
As we took off, tears rolled down her face and she tried to hide them until I awkwardly patted her arm and we got chatting. She, being the youngest, cooks and cleans for her family and is worried how they will fare without her. She's off to the army base at Kuching. Her mother hopes she will return with a husband. The Chinese bloke to my left is snoozing and his head keeps lolling dangerously close to my shoulder.
How full? 144 seats, with quite a few empty.
Entertainment: Nothing beats good old-fashioned conversation with Zaza about life, love (her uncle has three wives and 35 children; polygamy is allowed in the Koran) and dengue fever. I check out the movies. The "latest" category has one film - Pacific Rim. Not sure whose "favourites" they are, but the "Favourites" section includes winners such as The Proposal, X-Men Origins: Wolverine and The Dark Knight.
The service: Faultless. An earnest and hard-working bunch. The women have turquoise eye shadow stretching from lid to brow.
Food and drink: The flight was only two hours but we were served a proper meal and drinks. I had the Asian vegetarian option: vege masala with some kind of doughy mini-roti. Hit the spot. Zaza had a chicken sausage and omelette, which was "okay".
Toilets: There's nothing worse than scrambling over a stranger's lap. Especially when you're stuck in the middle of five-seater on an 11-hour flight (refer to "My seat" and my Auckland-Kuala Lumpur experience). I have learned to always go before I board.
Luggage: 30kg down and 7kg up.
The airport experience: We arrived at the crack o' dawn, but KLIA was already buzzing with hard rock, belated Christmas "carols" wailing from the duty free perfume aisles. The domestic terminal offers snacks for the discerning traveller, including many palm-oil baked goodies. Free Wi-Fi and Western-style loos.
Would I fly this again? Absolutely. Especially if it's delivering me into the arms of an orang-utan.