This South American country has long neglected its tourism sector, relying instead on oil production revenues, but that's all starting to change writes Jordi Miro.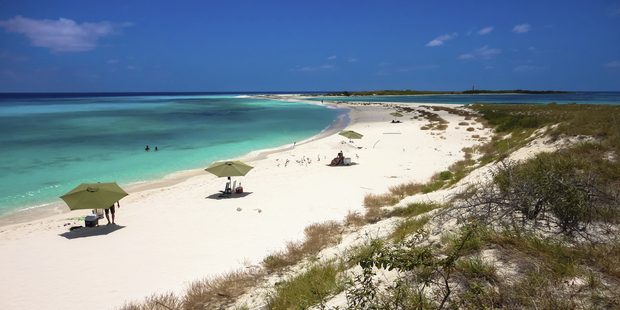 Boasting the highest waterfall in the world, nearly deserted Caribbean islands and dense jungles with ocean views, Venezuela has everything a tourist could want - except the tourists are not coming.
In a country where explorer Christopher Columbus once believed he had found heaven on earth, officials are struggling to draw travellers, with only 700,000 visitors each year, in part due to Venezuela's somewhat tarnished image.
After neglecting its tourism sector for years, in favour of the lucrative oil industry - Venezuela has the world's largest reserves - the government in Caracas is now working hard to attract visitors.
However, the country suffers from outdated infrastructure - hotels, highways and domestic flights are all lacking - and wary foreigners who choose different destinations after seeing Venezuela's high crime rates.
"The main enemy of the development of tourism in Venezuela was oil," Carlos Vogeler, regional Americas director for the World Tourism Organisation (UNWTO), told AFP.
"When a country has such a major revenue generator, it has a tendency to ignore others."
Venezuela's new tourism minister, Andres Izarra, says he intends to put his country on the map as a holiday hotspot.
"Our goal is to reach one million foreign tourists" from 2014, he said.
While infrastructure may be lacking, attractions surely are not.
From the biodiversity of the Orinoco Delta to the richness of the Amazon jungle, from Andean peaks to the hundreds of kilometres of idyllic beaches, Venezuela seemingly has it all.
Angel Falls is the tallest waterfall in the world, the pristine coral reefs of the Los Roques archipelago attract divers, and others are keen to explore the "tepuis" - towering mountains in the southeast.
Venezuela's Angel Falls. Photo / Thinkstock
The successes of neighbouring countries provide some hope: according to UNWTO statistics, Colombia welcomed 2.1 million visitors last year, 4.5 million people flocked to the Dominican Republic and its famous resorts and Brazil had 5.6 million visitors. In 2011, Cuba opened its doors to 2.6 million tourists.
Several months ago, the ministry launched a high-profile campaign to draw tourists. New air routes were opened, airports were renovated and the government renewed languishing contacts with industry players.
Izarra also announced that two tropical islands previously closed to the public - La Tortuga and La Orchila islands - would soon be opened.
For Marilucy Beltran, president of the Venezuelan Association of Travel and Tourism Agencies, Venezuela has not capitalised on offering holiday packages and is in desperate need of better public-private collaboration in the tourism sector.
"Here, everything is separate: the flight, the hotel, excursions," she said.
Gael Lejay of Tucaya, a French travel agency in Caracas established in 1996, says that "all involved parties should sit down at the table to coordinate their efforts".
According to Beltran, another important issue to fix is the country's control of currency exchange, which has caused the value of the US dollar to skyrocket on the black market.
"The official exchange rate makes it very expensive for foreigners to travel to Venezuela, because the rates for hotel and services are calculated based on the parallel rate," she explained.
But according to Vogeler, the first order of business for the government is to address fears over crime.
"Perception is more important than reality" when it comes to tourism, he said.
In Margarita, one of the country's main holiday destinations, several tourists die every year in armed robberies.
Venezuela has the highest murder rate in South America with nearly 55 for every 100,000 people. The government acknowledged more than 16,000 murders in 2012 among a population of 29 million.
- AFP