Winston Aldworth flies JQ213 from Melbourne to Auckland.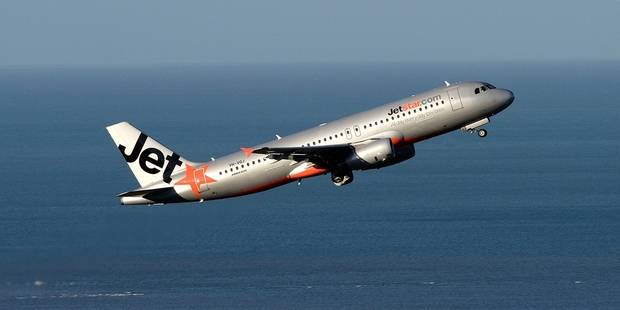 Plane: A320.
Class: Just the one.
Price: You can get on this bird for $179.
On time: The plane was delayed when landing at Melbourne, so we're 15 minutes late when pushing back from the gate. With a healthy tailwind we make it up and arrive bang on time in Auckland. It's scheduled for 3hr 31min.
My seat: 12F. Exit row. As it's an exit row the seat won't recline, but the extra legroom more than compensates. There's loads of room on the tray for my laptop as row 11 (in front of me) can't recline. (Tip for young players: The non-reclining row 11 doesn't have the added legroom I get in my exit row. With row 10 able to recline, I'd say row 11 is the worst on the plane.)
I always find the safety briefing you get in the exit rows interesting. After the briefing, the woman in 12D says with a chuckle: "I hope you paid attention." I kind of did, but I'm pretty sure in a crisis I wouldn't know what to do.
Fellow passengers: Aussies heading away on holiday and Kiwis coming home. Call it a hunch, but I reckon there's a big friends-and-relatives market on this flight. My neighbour in 12D works in transport ("A traffic geek," she says) and we pass the time chatting about Auckland's big transport projects. The conclusion: Auckland needs to make good use of Alice the Drill while we have her in town.
How full: There were barely a dozen empty seats out of 180.
Entertainment: I picked up three Aussie papers in Melbourne. Kylie Minogue says she still loves Michael Hutchence and if you think some of our sportspeople are prone to idiotic behaviour when drinking, you should check out the AFL.
Food and drink: Bit hungover, so guzzled a ton of water before boarding and filled up my bottle from the drinking fountain at the gate. A Jetstar hostie gives me two Panadol and a sympathetic smile.
Service: Anyone who brings me hangover-fighting Panadol is okay by me.
Toilets: Clean but somewhat spartan.
Luggage: With a bit of squishing I got all of my gear into carry-on, meaning I could skip out of Auckland Airport quicker after landing.
Airport experience: In Melbourne I had a lost-my-passport-found-my-passport whoopsie at check-in. Later, at Gate 2, I couldn't get Melbourne airport's free WiFi to work, but I did surf its electricity to get my phone battery charged. There are a few power points around and loads of places to bust out your laptop and get some work done.
Would I fly this again? A cheap link to and from Melbourne? Yes, please.
The writer travelled as a guest of Jetstar.