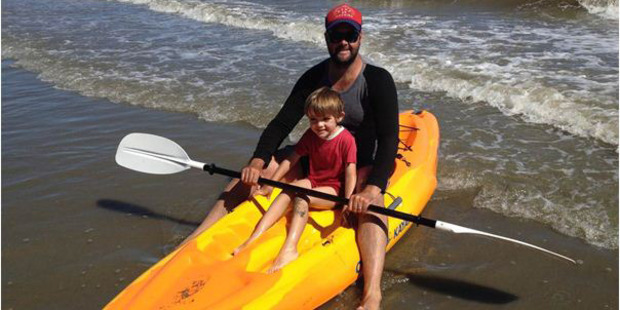 What was your greatest holiday?
I spent three months in the Greek Islands in my early 20s.
And the worst?
I spent three months in the Greek Islands in my early 20s.
If we bump into you on holiday, what are you most likely to be doing?
You'll be wet, because I will be in the water. We divide our summer breaks between Waipu Cove in the north and Pohara in the south - two fantastic beaches with amazing camp grounds and great icecreams at the dairy.
If we could teleport you to one place in New Zealand for a week-long holiday, where would it be?
I've never been to Great Barrier Island. I think that would be a great place to sleep.
How about for a dream holiday internationally?
A road trip across America. I love a road trip.
What's the dumbest thing you've ever done when travelling?
I spent three months in the Greek Islands in my early 20s.
Complete this sentence: I can't travel without ...
... an itinerary. I have become far too accustomed to the amazing production managers at Sky. They do all the hard work.
What's the best travel tip you've ever been given?
Tampons are handy for stuffing bullet wounds.
What was the most memorable meal you've had while travelling?
For the hustle, scallops in Temple Street Market; for the wildlife, potjiekos cooked on the fire on a game farm in the Northern Transvaal; for the hell of it, blue cod and chips at King's in Invercargill; and for the ouzo, grilled octopus in Paros.
What's the best thing you've brought back from a trip?
New friends. I love the fact I've had the chance to meet so many great people. You always remember the people the most.
Favourite airport to land at?
Athens. But only for the cats.
What's the next trip you've got planned?
I'm heading to Sochi as part of the Sky Sport team for the Olympic Winter Games. Sochi was Stalin's choice of resort. I'm not entirely sure that's a good thing.
Scotty Stevenson and Hayley Holt are covering the Sochi Winter Olympics for Sky Television, starting on February 8.