An iconic Cuban drinking hole is getting a 21st-century revival, writes Peter Orsi.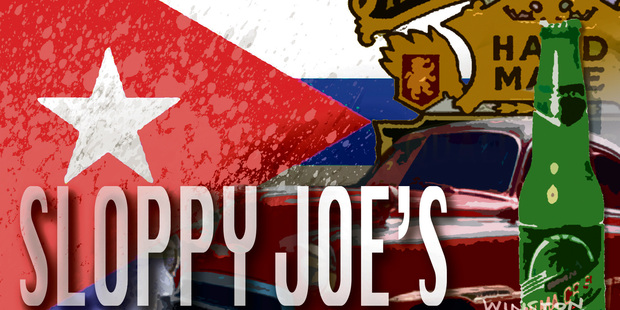 Frank Sinatra was one of the famous patrons of Havana's Sloppy Joe's bar. Graphic / Rod Emmerson
A half-century later, Jose Rafa Malem can still remember the balmy breezes blowing through the bar's arching porticos, the grain of the tall wood stools, the whiff of Pedro Domecq brandy on his father's breath.
And how could he forget the tangy ground-beef-and-tomato-sauce sandwiches synonymous with what was then one of Havana's hippest hangouts, playfully dubbed Sloppy Joe's?
"I ate so many, I got tired of them," jokes Rafa, a 59-year-old Havana native who grew up to become a bartender himself.
Soon, Rafa will be able to relive those boyhood memories as the original Sloppy Joe's reopens in Havana's historic quarter, giving residents and tourists from all over the world a chance to sidle up to the same bar that served thirsty celebrities such as Rock Hudson, Babe Ruth and Ernest Hemingway.
It's part of an ambitious revitalisation project by the Havana City Historian's Office, which since the 1990s has transformed block after block of crumbling ruins into rehabilitated buildings along vibrant cobblestone streets.
The effort has helped finance Cuba's socialist present by drawing tourists fascinated by its pre-socialist past, from colonial palaces of the 18th century to celebrity hangouts of the 1950s.
"For the people of this city, I think it's very interesting and very important to rescue a place that has so much history and is so recognised around the world," said Ernesto Iznaga, manager of the born-again Joe's, which will be run by state-owned tourism concern Habaguanex. "To restore it to how it was before."
Sloppy Joe's was founded in 1918 by a Galician immigrant named Jose Abeal Otero who bought a grocery store in Old Havana after years of tending bar in New Orleans and Miami.
Legend has it the memorable sobriquet comes from the place's grubbiness and Abeal's American nickname, Joe.
Rafa's father was a close friend of longtime bartender Fabio Delgado and took his boy there on Sunday afternoons beginning in the late 50s.
During the day, Rafa recalled, Sloppy Joe's was a mellow family joint where kids slurped ice cream and Coca-Cola while mum and dad chatted over more potent spirits.
Employees made sandwiches to order behind the black mahogany bar, polished to a high shine and purportedly once the longest in Latin America at about 18m.
After dark, the place filled up with Americans on holiday.
Abeal's affable personality and familiarity with English from his years in the States helped make Joe's a favourite among tipsy Yanks as far back as the Prohibition era of 1920-1933, along with the nearby El Floridita bar, the reputed birthplace of the daiquiri cocktail, and La Bodeguita del Medio, home of the minty, rum-infused mojito.
As much as any other place in Havana, Joe's exemplified the island's lure as a playground for Americans.
"No Havana resident ever went to Sloppy Joe's," novelist Graham Greene wrote in his 1958 spy-farce Our Man in Havana, "because it was the rendezvous of tourists."
It was a stylish clientele compared with the flip-flop and tank-top tourists who swarm Cuba and other Caribbean islands today.
One illustrated colour postcard from the era shows gentlemen in fedoras and pinstripes laughing on barstools alongside white-gloved women.
Many were wealthy, famous and looking for a good time.
Frank Sinatra. Ava Gardner. Nat King Cole. The list of patrons reads like a Who's Who from Hollywood's Golden Age. Rafa said his own brushes with celebrity included Boston Red Sox slugger Ted Williams and Cuban crooner Benny More.
Swashbuckling actor Errol Flynn, who reportedly got in a fistfight at the bar with an overly admiring fan, was enough of a regular that Joe's named a cocktail for him.
Ownership of the bar later passed to another "Joe," Jose Garcia.
But the last call came in 1965 as Fidel Castro's communist government was nationalising nearly all private businesses, and Joe's was shuttered for nearly five decades.
Restoration work began in 2010. Iznaga and his crew have spent the past three years bringing the dilapidated watering hole back to life.
To keep Joe's as faithful to the original as possible, they've examined historic photos and talked to old-timers such as Rafa who remember the way it was.
Messy ground-beef sandwiches will be on the new menu, naturally.
Iznaga said they apparently originated as an Abeal family recipe, though others have also claimed they invented them.
And also on the menu, of course, will be the Errol Flynn, an icy vodka and tomato-juice concoction garnished with a celery spear.
- AP