Do as the locals do and take advantage of the city's many free sights, says Suzette Laboy.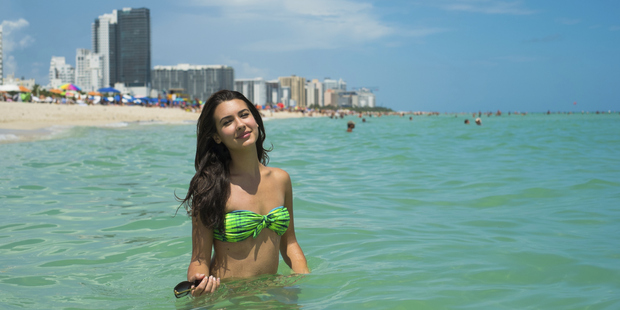 Enjoy a swim and some relaxation at Miami's beaches.
With its sizzling beaches and steamy nightlife, it's little wonder Miami is a top holiday spot for snowbirds, spring breakers, international tourists and passengers heading out on cruises from Florida ports. More than 13 million people visited the city in 2011, according to the Greater Miami Convention & Visitors Bureau.
Getting past sticker shock, though, can be difficult for anyone on a budget. Expect to pay US$25 for a burger at trendy restaurants, and the same for cocktails. Just getting past the velvet ropes of a popular nightclub can cost hundreds of dollars.
To avoid draining your pocketbook, do as the locals do and enjoy Miami's free attractions. In addition to beaches and people-watching, take in spectacular water views while biking over a causeway. Become an art enthusiast or critic while browsing neighbourhoods lined with galleries and graffiti murals. Or catch a movie outdoors on a night-time picnic.
The beaches
Even if you can't afford to stay in luxury hotels with ocean views or you're not trendy enough to get into the beachfront clubs, the sand and turquoise waters of South Beach are free, accessible and popular with visitors along Ocean Drive from about Fifth St up to Collins Park. You'll share the sand with locals, day-trippers and tourists staying in nearby hotels.
Other activities in the South Beach area include a free New World Symphony concert projected on to a 650sq m wall of a building designed by renowned architect Frank Gehry at 500 17th St. Bring a blanket or picnic to enjoy the experience. Or watch a movie under the stars at the free SoundScape Cinema Series on the corner of 17th St and Washington Ave. Movies start at 8pm. If you're coming by car, parking can be a challenge. Street parking is easier in North Miami Beach. For details about other beaches in the area see: miamiandbeaches.com.
Art Deco buildings and Lincoln Rd
Miami Beach is recognised by the National Register of Historic Places for having the largest concentration of 1920s and 1930s resort architecture in the United States. The 800 buildings are known for their Mediterranean and Art Deco styles, with pastel colours, porthole windows, curved walls, and distinctive lettering on historic hotel signs. Walking tours cost US$25 to US$36 but many of the buildings are easily recognised. The National Geographic website offers detailed notes for a self-guided tour, mostly along Ocean Drive between Fifth and 17th streets.
Perhaps the absolute best free thing to do in Miami Beach is to go people-watching along Lincoln Rd. The pedestrian mall lined with palm trees, dozens of shops, restaurants and bars is a popular tourist destination and hangout spot for locals, along with their designer dogs.
Bikes and buses
The bike scene in Miami has taken off, turning into a giant social gathering of all ages. On the last Friday of every month, bicyclists take to the streets en masse and bike about 17km during Miami Critical Mass. If you don't have your own bike, rentals are available.
A popular cycling route is the Rickenbacker Causeway, which connects Miami to the barrier island of Key Biscayne. Ride into Crandon Park for free to visit a 3.2km long beach.
The free Metromover bus is another alternative to cars in Miami and it makes stops in tourist-friendly areas like Downtown, Brickell and Bayside. For further information, check out miamidade.gov.
Get artsy
The Wynwood Arts District is a neighbourhood with some of the best artwork to see for free: Legal outdoor murals by graffiti artists cover the walls near art galleries and restaurants.
Walking tours are US$20 but you can see plenty on your own. Or visit on the second Saturday of the month when you can mingle with artists and art buyers when galleries open their doors to the public. Some provide complimentary alcohol; arrive early for the freebies. The nearby Design District offers more galleries, antiques shops, restaurants and bars.
Little Havana
At Maximo Gomez Park, better known as Domino Park, 801 SW 15th Ave, you can watch locals playing the game or catch up on Cuban politics. The neighbourhood is also home to a cigar factory, Cuban cafes and other eateries, and Paseo de las Estrellas (Walk of the Stars), where celebrities from Latin America are given stars similar to those in Hollywood.
The last Friday of every month from 7pm to 9pm, Little Havana hosts Viernes Culturales or Cultural Fridays. Activities include dancing, domino games, cigar rolling, and free walking tours of the neighbourhood with local historian Paul George (departing at 7pm from the Tower Theater, 1508 SW Eighth St).
CHECKLIST
Getting there: Air New Zealand flies daily to Los Angeles from where its partner airline, United, connects to Miami.
Further information: See DiscoverAmerica.com for more on Miami or try the 'Trip Tuner' for additional holiday inspiration.
- AP