Outside Tibet, Duncan Gillies is intrigued, puzzled and mystified by an unexpected Tibetan experience.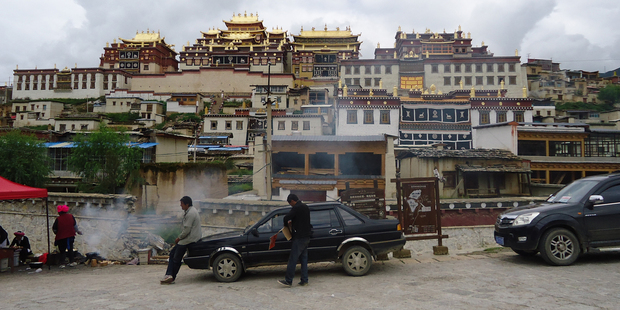 I want to think he appeared out of nowhere. We had stopped for a picnic lunch at the top of a ravine looking down at the Yangtze River. One second we were taking in the untouched beauty of the wild Yunnan landscape and the next he was standing there like a smiling apparition from a Tibetan Buddhist tale.
We had left the old town of Dukezong in Shangri-La County in the morning and followed the river's twisting route through a mountainous region where time seems to have stood still. Much of Yunnan is off the beaten track. We'd just ventured further off it.
We didn't choose the rougher road with the sort of adventurous enthusiasm of the seasoned traveller. Instead, it was with the weary willingness of the middle-aged journalist who realises comfort can wait a couple of extra hours if it potentially means another angle to the experience he has to write about on his return home.
As we sat down, sandwiches in hand, beside a pagoda-like monument covered in Tibetan writing, another one of those experiences seemed to appear out of nowhere.
We had already seen plenty of Tibetan Buddhist monks and lamas, having that morning visited Shangri-La's Songzanlin Monastery, the largest Tibetan Buddhist monastery in Yunnan province. Brightly adorned with traditional art and paintings that tell tales of deities and demons, torment and triumph, and housing a range of smiling seated Buddhas, the monastery is a focal point of the region's Tibetan identity and is considered the most important monastery in southwest China.
But watching lamas collecting cash inside temples from the steady stream of tourists, I wondered if it offered the same path to enlightenment as it had in times long gone.
The mystery monk who appeared as we were about to eat, however, seemed well on his way to nirvana if happiness is a sign of someone's spiritual progress.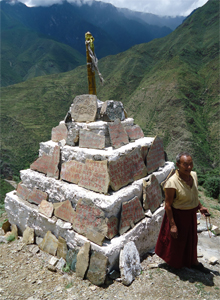 He was standing in front of us, smiling and talking in that half-laughing way that makes the Dalai Lama seem so approachable.
For a moment we sat not moving. It was as if a beautiful rare bird had flown in to feed on the crumbs of our sandwiches and a sudden movement might scare him away. Our guide, who knew only a few greetings in the Tibetan language, tried talking to him in Mandarin. But the reply, which sounded like a murmured laughing prayer, suggested he wouldn't be able to fill us in on his side of this story.
With his weathered skin, yellow shirt, red robe and prayer beads, he continued to talk and laugh, laugh and talk. Our guide offered him a chocolate brownie which, after a bit of persuasion, he accepted.
"He probably doesn't know what it is," our guide told us. "Many people up here will never have tasted chocolate."
Considering Buddhists try to conquer their cravings and aversions, I hoped he wouldn't like it too much. But I doubted it. By the time we'd taken our photos and finished our food, he was still holding it, his little western treat seemingly about as interesting as a block of wood.
It's fair to say that had we stopped a mile further down the road we might not have met this mysterious character. But our week in Yunnan was so full of what seemed like pure chance encounters it was easy to imagine our itinerary was part of some intricately orchestrated reality show and we were the only ones not aware of its existence.
On our first day as we wandered through the small Naxi village of Yuhu, where Austrian-born explorer, geographer, linguist and botanist Joseph Rock once lived, we came across a group of local women practising traditional dances, the local children copying their actions.
A day later we sat down for lunch in the town of Shaxi, a former tea and horse trail caravanserai so well restored and maintained it's like something out of a big budget film set, just as a group of local Bai musicians practised for their next performance.
There were other encounters: with the friendly local drunk who washed his hands at our table as we had coffee and followed us to dinner that night; with the man who smoked a pipe almost one metre long; with the fisherman who stunned his catch with a battery-powered pole.
We covered more than 700km on our trip around Yunnan in Insiders Expeditions' Beijing Jeeps, a Chinese copy of a Russian off-road vehicle that resembles a Land Rover Defender.
We travelled everything from newly laid highways to dirt tracks as we made the climb from Lijiang, at an altitude of 2400m, to Shangri-La at 3300m, passing through an ever-changing landscape of rugged mountains, hillsides covered with patchwork-quilt crops and countless villages, some smoky hives of industry, others sleepy settlements where the locals seemed to either sit playing games in small cafes or watched and waited for the next car to roll by.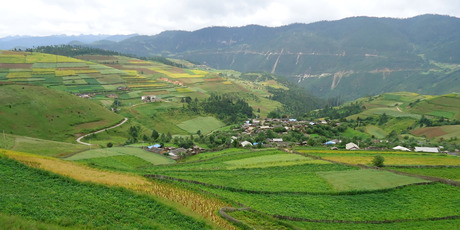 With 25 of China's 56 ethnic minority groups in Yunnan, the architecture and style of housing changed along the way, from the small, rustic dwellings of the Naxi people in Baisha to the grand, majestic log houses of the Tibetans on the road to Shangri-La.
Our guide, Kewen Wu, a 34-year-old Han-Chinese native of Shanghai, who gave up the fast life to run tours around Yunnan, told us that for a Tibetan experience outside of Tibet, it is hard to go past Yunnan. Sure, he said, it's not Tibet. But in Tibet, Tibetans are not always free to live the life they choose.
In Yunnan, though, which has an autonomous Tibetan prefecture based around Shangri-La, Tibetans have more freedom. Maybe it's natural, as a tour guide who relies on outsiders for business, that he'd say that.
Then again, I didn't see anybody telling our mystery monk what to do. I feel lucky I saw him at all.
CHECKLIST
Getting there: Air New Zealand operates daily direct services to Shanghai from Auckland. For the Yunnan portion of the trip, Air New Zealand can offer a connection to Lijiang via its Star Alliance partners Air China or Shenzhen Airlines.
Further information: See insidersexpeditions.com.
Duncan Gillies was a guest of Air New Zealand.