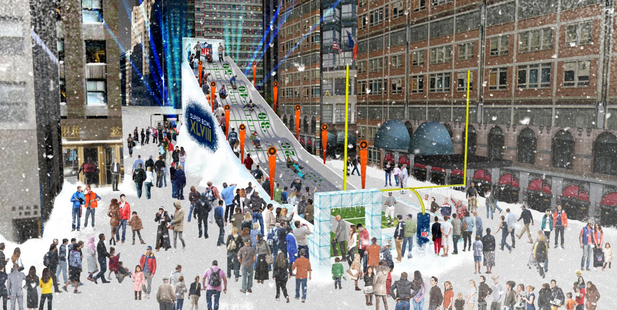 An artist's rendering of the toboggan run that will be set up in New York's Super Bowl Boulevard ahead of the Super Bowl in New Jersey on February 2nd.
The Super Bowl will be played in New Jersey, but folks coming in for the big game on February 2 are likely to spend time across the Hudson River in New York City, if only to check out a 14-block "Super Bowl Boulevard" set up along Broadway.
There will also be two-for-one theatre tickets and several museum exhibits, including a show of vintage football cards at the Metropolitan Museum of Art. Here are details on ways for football fans to enjoy the Big Apple.
SUPER BOWL BOULEVARD
More than a million people are expected to visit Super Bowl Boulevard, along Broadway between 34th and 47th streets. The "boulevard" will be open from January 29 until February 1, from noon until 10pm. Entry will be free, though sliding down a toboggan run at 40th Street will cost US$5. The toboggan will operate with or without snow.
In honour of the 48th Super Bowl, giant Roman numerals XLVIII will be set up at 42nd Street as a backdrop for photos. Fans can also stop by for autograph sessions with current and former NFL players, from noon until 6pm, at a stage on 39th Street.
The stage will also display the Vince Lombardi Trophy, awarded each year to the Super Bowl champions, and named for the man considered one of the sport's most successful coaches.
Concerts will be held on the stage each evening between 8pm and 10pm.
A 10-minute video celebration of football will be projected every 30 minutes between 5pm and 9.30pm on Macy's facade at 34th Street. Macy's will also host an NFL shop on its fourth floor between January 17 and February 4.
Kids aged 6-13 can check out the animated "NFL PLAY 60 Field" experience (open noon - 5pm) in the NFL Rush Zone in heated tents between 34th and 35th streets.
Fans of all ages can take part in interactive games and enjoy Video Park, a video that looks at the host region, in tents between 35th and 36th streets, (noon - 10pm).
For sightseeing advice, the city's tourism agency, NYC & Company, will have a tent between 43rd and 44th streets and an information desk on Macy's mezzanine.
FOOTBALL AT THE METROPOLITAN MUSEUM
The Metropolitan Museum of Art is more likely to be associated with Egyptian artefacts and Renaissance paintings than football, but the museum on Fifth Avenue and 82nd Street is also getting into the Super Bowl spirit with an exhibit of vintage football cards called Gridiron Greats, which will run from January 24 - February 10.
About 150 cards printed between 1894 and 1959 will be shown, from the first football cards ever produced to cards featuring legendary coach Knute Rockne and Jim Thorpe, one of the 20th century's greatest athletes. Also on display: rare action photos of early varsity teams.
Other museums with football exhibits: the interactive You Make the Call: Learn to be An NFL Official at the Children's Museum of Manhattan, until February 28; and at the Museum of the Moving Image in Astoria, Queens, Madden NFL: 25 Years and Running, a look at the enduring popularity of the football video game, until February 23.
BIG APPLE CLASSICS
The Statue of Liberty and Ellis Island have reopened to visitors following months of closure after Superstorm Sandy in 2012.
For panoramic views of the city from up high, take your pick of observatories: the Empire State Building or Top of the Rock at Rockefeller Center.
If you don't mind the cold, there's nothing lovelier or more New York than walking across the Brooklyn Bridge. For the best view, take the A or C train to the High Street stop in Brooklyn and walk back to Manhattan to see the skyscraper canyons coming into view with every step.
Skating rinks at Rockefeller Center, Bryant Park and Wollman Rink in Central Park are among the most magical places you will ever take a spin on the ice.
Love theatre? Two-for-one tickets are on sale now for many shows during Broadway Week, from January 21 - February 6.
Just before the big game, Chinatown's Lunar New Year Parade and Festival take place in Lower Manhattan February 2 at 1pm.
If the football card exhibit at the Met whets your appetite for more museums, consider the American Museum of Natural History, a favourite with kids, or the Museum of Modern Art, home to Picassos, Van Goghs and Monets.
The Guggenheim is famous for its Frank Lloyd Wright architecture, while tours by costumed actors at the Tenement Museum on the Lower East Side bring the 20th century immigrant experience to life.
WHAT'S NEW
If you haven't been to New York City in a few years, you'll want to check out its newest attractions, such as the High Line, a unique urban park built on an old West Side railway line, running along 10th Avenue from 30th Street to just below 14th Street. Entry is free.
The 9/11 Memorial is a must-see, beautiful tribute to those who perished on September 11, 2001. Reservations are recommended; timed tickets are US$2. A limited number of walk-up passes are available at the entrance at Albany and Washington streets. One World Trade Center is not yet open to the public but it's visible from many vantage points.
Calling all hipsters: Take the L train to Bedford Avenue in Williamsburg, Brooklyn, to hang with the cool kids.
HOCKEY IN A BASEBALL STADIUM
Never mind football. For hockey fans, there are games in a baseball stadium, as Yankee Stadium hosts its first hockey games. The New York Rangers play the New Jersey Devils on January 26, while the Rangers play the New York Islanders on January 29.
- AP