We bring you some of the best travel deals going - both in New Zealand and abroad. Bookmark this page and check back each week for all the latest specials.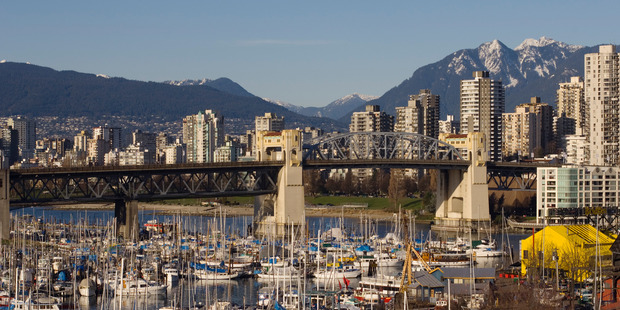 HOT DEALS
Four seasons in one day
Travel to Vancouver when it's at its winter wonderland best, later this year, and you can go from zipping through the snow on your skis in the morning to wandering along one of its beautiful beaches in the afternoon. Return airfares with Air New Zealand to Vancouver, and a four-night stay in four-star accommodation, are priced from $2429 from Auckland. Accommodation is a one-bedroom deluxe suite. Book by September 7 and travel between October 28 and November 22. Fares are based on Wednesday departures from New Zealand.
Contact: flightcentre.co.nz
Islands in the sun
Return airfares with Virgin Australia to Bali with a stopover in Australia, from Auckland, Wellington or Christchurch are from $1299pp. Fares are valid for travel between September 1 and March 31, and must be booked by September 30.
Contact: unitedtravel.co.nz
Scotland the brave
Explore Scotland's cities and its castles, learn about its legends and wander around its lochs over seven days, on a guided tour priced from $1922pp, twin-share. Regular departures are between April and October next year. Book and pay now to secure a 10 per cent discount on each ticket.
Contact: trafalgar.com
Empire strikes back
Bolivia and Peru - the heart of the Inca Empire - feature high on the itinerary of a 14-day private tour (that's just you and your best travel buddy) priced from $4800pp. The tour begins in Lima and moves on to the colonial cities of Arequipa and Cuzco. You'll explore the vast Colca Canyon and the ruins at Machu Picchu, cruise across Lake Titicaca, and travel to La Paz, visit fascinating markets and the Valley of the Moon. Hotel accommodation, many meals, sightseeing with an English-speaking guide and some flights are included in the package.
Contact: adventureworld.com
Confirm all deals with suppliers. Send 'Hot Deals' to hotdeals@nzherald.co.nz
*****
TRAVEL TIDBITS
Letters to the Travel Editor
ON THE NEW AIR NEW ZEALAND SAFETY VIDEO
Dear Sir,
Regarding your perceptive and well-crafted editorial in last week's Herald Travel magazine ['Snoop Dagg, the harbinger of doom', August 18], Israel Dagg's appearance in the Air New Zealand safety video is the only way he'll get to feature on the flight to the Rugby World Cup.
Yours, Ed McGinty
-
ON OUR HUAWEI PHONE GIVEAWAY WINNER
Dear Sir,
It's really disappointing to see that you've rewarded the photographer who took a (great) photo of herself and friends out sailing - when none of them is actually wearing a lifejacket! Breaking Navigation Safety bylaws shouldn't be encouraged. Let's hope they don't need rescuing this summer.
Linda Thompson
The Travel Editor replies: Auckland Council's bylaws say it's "compulsory to wear a lifejacket when on board a vessel 6m or under in length, unless the skipper of that vessel gives you permission not to". The boat featured in the shot is longer than 6m. I always wear one when motoring to the fishing site, but I take it off when hooks go over the side.
-
ON TRAVELLING WITH KIDS
Last year my wife and I took our 2-year-old son all the way to Namibia and he was a dream! We recommend you:
• Take plenty of snacks (once you take food on planes you can't take it off, but some airlines will discreetly make an exception as long as it is sealed - especially if they know you are transiting to another flight). This is also a big help if your child doesn't like the inflight food, and chewing can help break the air pressure in the little ones' ears.
• Take small, easy-to-pack toys and activity books in your carry-on to keep everyone occupied.
• If your child is particularly active like ours is, a small kids' carry-on with wheels they can pull through the airport is a big plus as they burn energy and are more subdued and likely to sleep on your flight.
• Pack kid-size headphones. The ones on your flight never seem to fit. Kid-size headphones will avoid constant adjustments and distraction from the inflight entertainment, allowing you some time to yourself.
Regards,
Kurt Shirley
-
We travelled extensively overseas when our two youngest were babies in the days when you could take tins of formula and bottled boiled water in your carry-on, but the things that helped us were always booking children's meals, so they would be served first, and a bassinet.
Even when our then 2-year-old was under the maximum weight level but too long to lie in it, the bassinet provided somewhere for him to sit with toys while we ate or simply took a moment to do something else, plus it was a place to put baby things in to have on hand. It was brilliant.
Travelling with babies and toddlers can be stressful but the key is to be organised and plan for every mishap because, believe me, it will happen.
As our children grew up they became seasoned travellers and learned how to behave on the plane. As a consequence we all enjoyed the experience and so did the other people around us.
Cheers,
Ray Gaul
The Travel Editor replies: Thanks Ray and Kurt for your tips - you're the first winners of our competition to win a copy of Lonely Planet's Travel with Children guidebook. We'll publish some more recommendations and winners next week.
*****
WE LIKE ...
A record three million visitors came to New Zealand in the past year. We really like the nearly $9 billion they spent on our shores. Thanks guys! Come back soon!
WE DON'T LIKE ...
When you book your holiday to Hawaii a year out and then the US dollar drops, meaning your island getaway just got a whole lot more expensive. Bugger.
Tell us what you like and don't like in the world of travel.
Email: travel@nzherald.co.nz
Check with suppliers for full details on deals.
To get your deal in this column, email: hotdeals@nzherald.co.nz