We bring you some of the best travel deals going - both in New Zealand and abroad. Bookmark this page and check back each week for all the latest specials.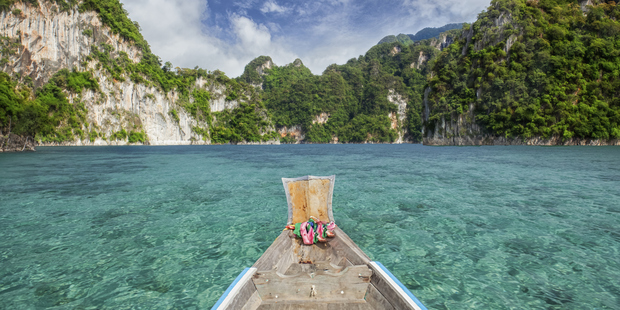 HOT DEALS
Spot the big five
A 21-day tour that promises to take you to the habitat of endangered mountain gorilla in the heart of the Bwindi Forest, as well as give you the chance to spot Africa's big five. Priced from $5209 each, twin-share, the tour departs from Nairobi in Kenya. It includes 20 nights' camping, with dinner, 16 breakfasts and 16 lunches. Transport in special touring and game-viewing vehicles. Book by May 30. Travel between June 29 this year and June 16, next year. Airfares from New Zealand are additional.
Contact: Flight Centre on 0800 427 555.
Australia's southwestern jewel
The Margaret River region of Australia is known as the jewel of the southwest with fine wines, abundant bush and the Augusta Caves.
Return airfares to Perth from Auckland and three nights' studio apartment accommodation at Gnarabup Beach, plus four days' car hire, are priced from $1619 each, twin-share. Travel from Wellington or Christchurch, and package starts at $1625 each. Book by May 31. Travel from June 8 to 25 or from July 27 to September 17.
Contact: Flight Centre on 0800 427 555.
Apartment living in London
Go Native Earls Court is quite the find in London. The high-standard accommodation has self-catering facilities and a supermarket just across the street. A five-night stay in an open-plan, one-bedroom apartment, with return airfares is priced from $2669 each, share twin. Book by May 31. Travel dates are available this month, through to mid-June or on most days in September, through to mid-November. Flights are with Virgin Atlantic.
Contact: House of Travel, 0800 838 747.
Cruise home on the Queen Vic
Step aboard the Queen Victoria in San Francisco and cruise home over 15 nights. The itinerary begins on February 7 in San Francisco and includes a stop in Honolulu on the way to Auckland. Book by July 14 and pay from $2659 each, twin-share, for a Britannia Inside Cabin. Highlights include San Francisco, Honolulu and Auckland. All meals and entertainment on board are included.
Contact: Harvey World Travel on 0800 808 040.
A break in Phuket
Eight nights in Phuket, staying at Avista Resort and Spa, and the return airfares with Qantas to get you there from Auckland are priced from $1699 each, twin-share. Book by June 1. Various travel dates apply.
Contact: Our Asia on 0800 802 742.
*****
TRAVEL TIDBITS
Letters to the Travel Editor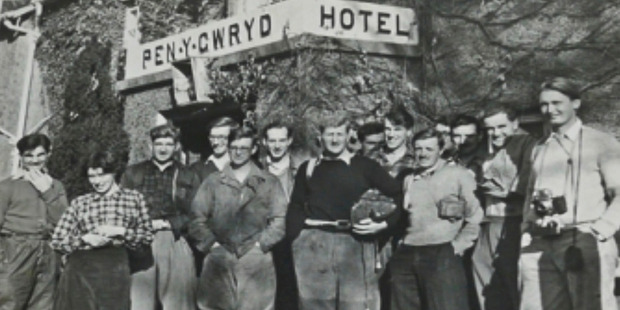 Dear Sir,
[Re: Bar/fly: Pen-y-Gwryd, Wales.] In 1962, the BBC gathered all the members of the 1953 Everest expedition together to make a 10-year commemorative documentary of the expedition. It was in the form of an informal gathering held in the Pen y Gwryd.
As part of a climbing party that had rescued a Junior Leader following a fall on Crib Goch, I was invited to sit in and watch the filming, although not to take part.
In those days there was camping very close to the hotel, where my companions and I camped. Being of younger years I returned to my tent when filming was over, about 11pm or so.
About 2am there was a terrific commotion from the area of the hotel. We went outside just in time to see Sir Ed and Tenzing in full climbing gear complete with crampons, ice axes and oxygen sets, summiting the roof of the hotel and planting a flag in the chimney.
An experience that has stayed with me and will continue to do so and, I hope, give you another insight into Sir Ed and the Pen y Gwryd.
Regards,
Tony Evans, Opotiki
*****
Dear Sir,
The magnificent aerial photograph of the mighty Victoria Falls in your Travel magazine brought back memories of my 1994 walk across the combined road, rail and pedestrian bridge over the Zambezi River that is in the centre of your photograph.
This bridge connects Zimbabwe and Zambia, and to my surprise there is a bungy jump right in the middle of it. I watched a girl courageously take a jump from the bridge and then asked the operator how she would get back up on the bridge. He replied that one of his assistants would be lowered on a rope down to where she stopped bouncing up and down and that he would grab her by the waist so that they could both be hauled back up. I then asked him what would happen if she slipped out of his assistant's grip. He replied casually that as she would still be attached to the bungy cord she would get a free second bungy jump!
I note with interest that if you look closely the bungy equipment is just visible on the bridge in the current photograph.
Kind regards,
Dr J Brian Earnshaw
*****
Dear Sir,
Liked the hotel-soap nicking piece! The old rock tour trick was: you check in, stick the comfy towelling robe in your suitcase as soon as you get into the room, then phone reception and complain there's no robe. Cunning.
Regards,
Mike Wolf
*****
Dear Sir,
I enjoyed reading your column about the complimentary toiletries. I must admit on the odd occasion I stay somewhere really nice I, too, take whatever is on offer. I do take them and donate them in my regular food bank donations. If you can't afford food then shampoo is definitely not on the shopping list.
Cheers,
Corrine Rushbrooke
*****
SYDNEY: LET THE LIGHT IN
If you're up for some fun and adventure, why not head to Sydney's Vivid Festival? Starting this Friday, the 18-day celebration will take over the streets of Sydney, filling them with art, music and more. It seems there is a little something for everyone ...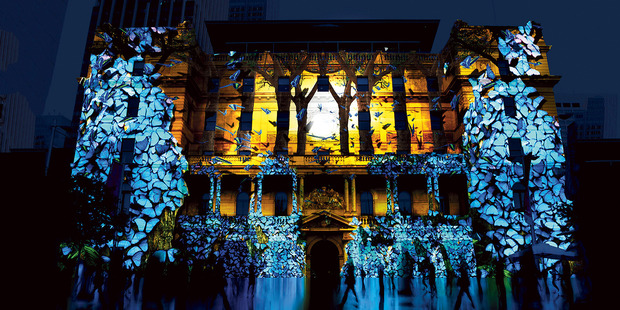 Music lover
Love the vibe of live music? Whether it's a small act in a packed-out pub, or a concert by the greats at the Sydney Opera House, Vivid Sydney has a lot on offer. For indie rock fans there's the legendary ex-Smiths frontman Morrissey, US songwriter Sufjan Stevens, or indie rockers TV on the Radio.
If you want to party hard there's the FCX - 10 Years of Future Classics featuring Flume, Flight Facilities, George Maple, just to name a few. Or Aussie duo Caramda could do the trick, or how about a Daft Punk tribute or even a silent disco?
Lovers of 80s pop will be thrilled to know that the iconic Grace Jones will be performing at the event this year. With something new on every night - and covering an array of genres - you'll be spoiled for choice.
Art lover
Vivid is an art lover's dream. With dazzling light displays and installations from 6pm every night, it's a creative way to explore Sydney. From Chatswood to Chippendale, the festival showcases not only some amazing artworks from Australian artists, but from artists around the world, including Japan, Germany, Britain and New Zealand. You definitely won't run out of beautiful artwork to see and experience. On top of this, there's the Semi-Permanent design conference and the Good Design festival.
Fashion lover
The Streets Ahead event at Vivid will excite those with a passion for fashion. Featuring artists and designers from around the globe, Streets Ahead delves into the world of streetwear - offering workshops, exhibitions and conferences to excite and inspire. Those who are more interested in craft will love the Esty Craft Party. The Esty.com store allows some of the world's most creative people to share what they make on an international platform. The Craft Party is for all ages and skill levels, and is a chance to participate in a new craft project, or just pick up a few goodies. Of course, it goes without saying that Sydney is a shopper's paradise.
Game lover
Want to get your hands on the latest gadgets and technology, hear from industry experts and find out what's new in online gaming and video? Vivid's Game|On event will have you covered. With the chance to meet online video celebrities and play new games, what more could you ask for? There is also the Vivid Sydney Game Zone, which will feature interactive installations and entertainment, with games being taken off the screen and on to the streets of downtown Sydney.
CHECKLIST
Getting there: Air NZ flies direct to Sydney from Auckland up to five times daily. One-way fares start at $190.
Vivid Sydney runs from May 22 to June 8.
- Rachel Bache
*****
CRUISE NEWS
Cuba is a hot destination on the minds of many American potential travellers, especially after President Barack Obama met Cuban President Raul Castro and pledged to restore diplomatic ties in December.
At this month's Cruise Lines International Association's cruise3sixty conference in Florida, Carnival Cruise Lines' president, Christine Duffy, said the situation seems like a "positive opportunity".
"I think we all agree it does seem much more serious and further along than it has ever been."
Duffy said though the discussion about Cuba has been ongoing and cruise lines are thinking about how to fit Cuba into itineraries, "We don't get to decide [whether it's opened up], we get to be as prepared as we can... We think it's a positive opportunity."
Lisa Lutoff-Perlo, president and chief executive of Celebrity Cruises, told the cruise3sixty audience the company was also looking at Cuba as a feature on a Caribbean itinerary.
With beautiful beaches, and old Spanish colonial architecture, Cuba as a cruise destination is unbelievably exciting for the industry and will no doubt be a catalyst for growth in tourism to the island country.
No room for Ovation?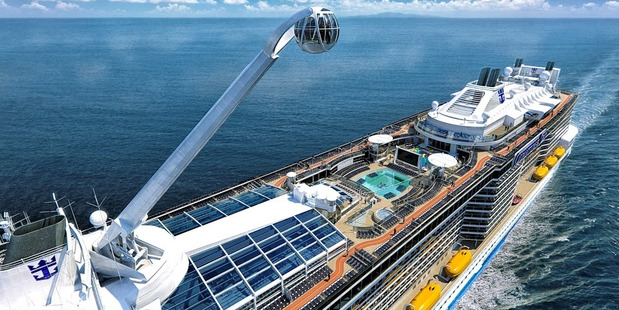 It seems the people running Ports of Auckland aren't as enthusiastic about the Ovation of the Seas coming to our shores as many in the cruise industry would have hoped.
The liner would be the largest to berth in Auckland, but the city council has taken over negotiations after its port company insisted it could not host the ship because one of two controversial wharf extensions has been cancelled.
Royal Caribbean, the owner of the liner, believes the visit could still go ahead after meeting with port and council representatives yesterday, but would need an answer by the end of this month, when it would announce the itinerary for Ovation's maiden cruise.
The ship, which is still being finished in Germany, is 348m long, more than 50m high and can hold nearly 5000 passengers and 1500 crew. With a price tag of US$1 billion, the vessel has onboard entertainment such as a skydiving simulator, an aerial observatory and a bar staffed by robots.
Ovation is set to berth in Tauranga in the summer of 2016/2017, following the completion of the port's dredging project.
Overindulge ... in Zumba
It's not surprising that cruising adds weight. Can't choose which main course to have at dinner? The waiter will bring you all the options. And maybe you'll just about manage the cheese plate after scoffing a chocolate souffle.
According to a 2012 survey, more than half of cruise passengers put on just over half a kilogram a day - and that's a conservative estimate. Many passengers pack larger-size clothes for later in the trip. Kilos are piled on to such an extent that some cruise companies go to great lengths to stem the weight gain, promoting healthy eating and impressive gyms.
Royal Caribbean Cruises has gone a step further and will launch its first ever Zumba Cruise in December, offering all-day classes led by 130 Zumba instructors on a cruise that will leave from Fort Lauderdale in Florida and make stops in Jamaica and Haiti.
*****
WIN A WEEKEND IN THE OLD WEST!
To celebrate the release of Slow West, the American western filmed in New Zealand, Travel has a great prize package to give away to a lucky reader. It includes two nights' accommodation at Mellonsfolly Ranch, home of the Old West Town, in the Ruatiti Valley, near Raetihi.
The film, which stars Michael Fassbender and Kodi Smit-McPhee, is released in New Zealand cinemas on May 21.
The prize includes:
• Accommodation for two in the Proprietors' Suite.
• Early check-in and late check-out.
• Western-style meals (set menu).
• All complimentary activities: cowboy kit-out, gun-slinging, archery, horseshoe-pitching, lasso, mountain biking, hiking and western movies. Also includes cannon-firing and a claybird shoot for two.
• Shared use of all Old West Town facilities: Waterfall Mountain Courthouse, Clinton's Billiard Saloon, Texas Rose's Bathhouse, Lucky Strike, Saloon, Campfire, Western Costume Room, E.T. Bedogni & Sons General Store, Miss Nancy Ann's Hotel parlour and library.
• Double pass to see Slow West in cinemas.
To enter, please send your name, address and phone number to: travelcompetitions@nzherald.co.nz
Terms and conditions: Additional western activities are available to purchase at Mellonsfolly Ranch. The Slow West prize package cannot be exchanged for cash or monetary discount off other packages provided by Mellonsfolly Ranch, home of the Old West Town. It must be redeemed at one of our Share the Town weekend dates: May 29-31; June 26-28; July 31-Aug 2; Aug 21-23.
*****
WE LIKE ...
The sight and sound of big Fijian men playing little ukuleles, greeting incoming passengers at Nadi Airport. They've done it for years.
WE DON'T LIKE ...
Wandering around a vast international airport complex after long-haul flights trying to find a shower, for which you will pay anything, only to find there isn't one.
Tell us what you like and don't like in the world of travel.
Email: travel@nzherald.co.nz
Check with suppliers for full details on deals.
To get your deal in this column, email: hotdeals@nzherald.co.nz