Winston Aldworth flies Jetstar JQ283 from Auckland to Wellington.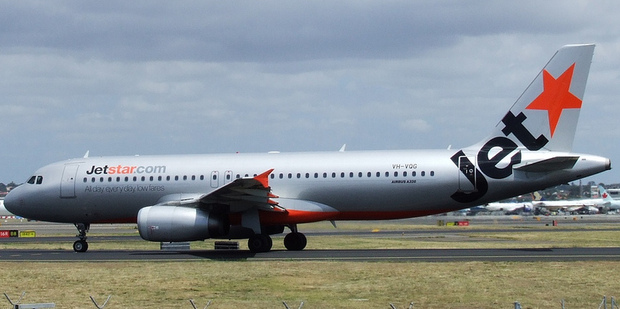 A Jetstar Airbus A320. Photo / Creative Commons image by Flickr user Simon_sees
The plane: An Airbus A320. Europe's snappy answer to the 737.
Class: Just the one aboard Jetstar. Good for team spirit.
Price: You can get on board this bird for as little as $39.
On time: Right on the whistle.
My seat: 1C. Playing up front alongside my mate Tony in 1A.
Fellow passengers: Quite a few All Whites fans heading down to the Cake Tin to see the crowning glory of Ricki Herbert's celebrated career as an international coach. (Spoiler alert: We lost.)
When in the queue to board, we stood behind The World's Most Gormless Man.
Now, I'm a big believer in having yourself sorted out so you present minimal fuss to the X-ray operator and your fellow passengers waiting in the queue behind you. When it's your turn to put your bag, jacket and sundries in trays to go through the X-ray, have the blessed things in your arms, ready to go.
TWMGM reaches the front of the queue and stares mutely at the security guy.
"Put your things in here, sir," says the security guy, offering a tray.
"Should I put my wallet in there?"
"Er, yes."
"What about these keys?"
"Uh huh ..."
"Should these coins from my other pocket go in there?"
"That's right, sir."
And so it goes on.
Eventually TWMGM walks through the scanner and it beeps. Another security guy directs him back to empty the final metallic object from his pocket.
I get through the security check quicker than a Mexican midfielder pouncing on a loose second ball. I'm just in time to hear TWMGM's wife ask: "What was it that beeped?"
"My magnet."
Ref! That must be a straight red card!
How full: We had 171 passengers and nine empty seats. Happily, one of the empties was between me and Tony - back of the net!
Entertainment: Chatted with the crew for a bit, then read my Kindle.
Food and drink: It's a short flight - just 65 minutes - so the pints we had at Vulcan Lane before heading to the airport and the pint we necked at that bar in the domestic terminal got us through just fine. And a bit happy.
The toilets: Courtesy of those pints, I can report the toilets were as spic and span as a top-division changing-room.
Luggage: One team kitbag in the hold.
The airport experience: We boarded at gate 21. The Jetstar end of the Auckland domestic terminal is getting a long-overdue tidy up. It'll be interesting to see how it shapes up, as I think the whole terminal is a bit of a dog at the moment. Until the work is complete, there's a Portaloo in place, giving the terminal a distinctly lower-league whiff.
The service: Exceptional. We chatted with cabin manager Casey and her team-mate Ben about work and soccer. Upon arrival, Ben was quick to help people with luggage from overhead lockers. The big lad was good in the air.
Would I fly this again: Yes. But not to watch the All Whites play Mexico.