Brendan Manning learns flashy Macau is not the place to grab a casual beer.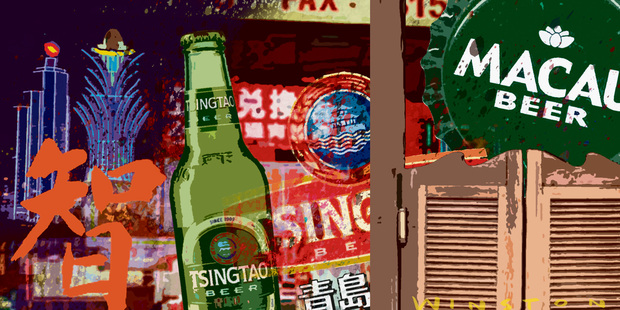 Finding a place to grab a drink after a long day hiking through the back streets of Macau doesn't seem like too much of a hard ask, does it?
You'd be surprised.
Macau has an abundance of opulent hotels and grand, cavernous casinos. Standalone bars however? Not so much.
After taking the regrettable gamble of having a nightcap in our hotel's Michael Jackson-themed bar the previous night, my travelling companions and I were in the mood for something a little more al fresco.
Come the next night, after a stand-out dinner at the Wynn hotel's two-star Michelin restaurant Golden Flower, our thirsty troupe decided to forgo the air-conditioned taxi ride back to our hotel and instead see what the city had to offer on foot. We had quizzed a couple of local Macanese women who worked at the MGM hotel as to where the best bar was to grab a beer _ surely not too foreign a concept.
They professed that most of their "nights out" were spent dancing at bars in other hotels, however there was one street in Macau where we might just find what we were looking for - the appropriately named "Bar Street".
So, off in search of the fabled street we went. Problematically, although many people we met along the way had heard of the street, fewer actually knew where it was. A few wrong turns and misunderstood directions later, we arrived. Now, faced with our alcohol-laden oasis, we decided after coming all this way we weren't just going to dive into the first bar we saw. We were going to evaluate our selection and choose the best bar.
Our first option, a flashy-looking place adorned with Russian strippers and dance music, was not for us. The second, a dimly lit establishment pulsating with karaoke cowboys, was maybe not for us either.
Disheartened, we walked the length of Bar St and back, all 10 bars of it, without finding what we were looking for. Would it be so hard to find a modest establishment with a few benches, a scattering of barstools and unobtrusive background music? Apparently so.
We settled for the least offensive option, a humble, narrow establishment with faux-Western swinging saloon doors.
The lights were low, the fridges were well stocked with cold beer and no one was left wanting a seat.
Although the music selection left much to be desired - with 90's anthems including Counting Crows and t.A.T.u.'s playing at full volume in the sparsely occupied bar being particularly memorable - being able to sit down in a street-side bar and enjoy a cold beer outside the confines of a hotel was truly refreshing.
CHECKLIST
Getting there: Air New Zealand flies daily to Hong Kong and regular ferry services run from there to Macau.
Further information: See macau.com.
Brendan Manning travelled as a guest of Air New Zealand.