Justine Tyerman checks out Emirates' Auckland-Vienna service and indulges in a spot of luxury at the business class lounges along the way.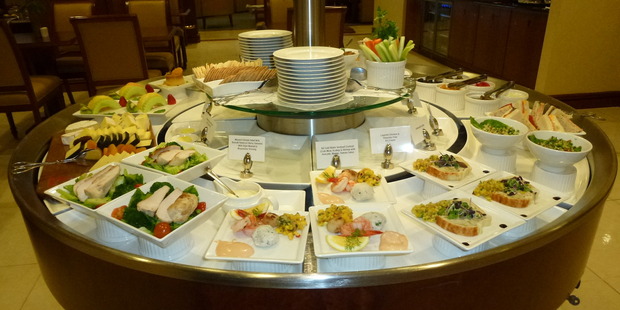 I have often wanted to play with the silky scarf/hat ensemble the Emirates cabin crew wear, the women, that is. The two charming ladies at the front desk of the business class lounge in Auckland kindly obliged and showed me how to operate the signature garment. Now I know.

The pampering in the lounge is five-star. The atmosphere is quiet and discreet, the temperature perfect, the ambiance sophisticated, the attitude self-confident.
The lounge begins to fill up. Three flights are leaving within half an hour of each other at about 6pm - Auckland to Brisbane, Sydney and Melbourne, and all on to Dubai. The people are a mix of Kiwis and foreigners - young, old, bearded, elegant, scruffy, business suits, robes, track pants, stilettos, jandals.

A glass of Veuve Clicquot, a sharp blue cheese, fresh fruit and nuts certainly prepare you well for a long-haul flight. So does a shower in the plush tiled bathroom with quality thick white towels, proper toothbrushes and toothpaste, luxurious body wash and body lotion.

The A380-800 is full service even in economy, the leg room is good, the seat reclines well back while the seat base slides forward, and the adjustable head rest cocoons my head at just the right height, which is a rare treat for a shorty.
The aircraft carries a staggering 486 passengers, with seats three-four-three across in economy. I requested a window seat because I am obsessed with high-altitude geography, especially flying over the desert into Dubai. However I scored 63A, a window seat with a fabulous view of the massive silver wing. Note to self: not all window seats are created equal.
I love the airshow cameras ... rumbling along the runway, I play virtual pilot. The take-off is magnificent, quiet, smooth, effortless - the thrust and ascent are thrilling. The chief purser reels off the 11 or so languages spoken by the cabin crew as he introduces the safety briefing.
The flight is only three and a half hours but a full three-course dinner and drinks are served. The food is tasty and more than I would ever eat at home: tuna nicoise salad, chicken cacciatore with saffron rice, green beans and broccoli, followed by sticky date pudding with crème anglaise sauce, crackers, cheese and after dinner mints. I wash it down with a palatable Flying Solo grenache-blanc viognier. The option is a Crozes-Hermitage red. The glasses are plastic but the cutlery is stainless steel.

There's just time for a beer and nibbles in the lounge in Melbourne before we are back on board for the big one, 13 hours, 25 minutes, to Dubai. I leave the deluxe chocolates alone, despite their seductive shiny red and green wrappers.

I watch the sunset over Melbourne and the moon rise over Jakarta. The flight information part of the ICE (Information, Communication, Entertainment) service is perfect for a geography nut like me. It's like being in a library of maps and textbooks with answers to all the tedious questions I used to fire at the cabin crew.

We are flying at 552mph at a height of 39,969ft and the temperature outside is -54C.
It's slightly chilly inside too, a woman complaining loudly about the lack of spare blankets on the full flight informs a cabin crew member.

Enforced relaxation is a rare treat for me. I don't mind the confinement, having no option but to relax, snooze, read, eat, drink and watch the whole series of Downton Abbey including the Christmas special which I had missed. And I could rewind episodes to play back the good bits like Mr Bates' release from prison.

I relish having my meals brought to my seat by a smiling flight attendant but reluctantly forgo a second dinner - Thai chicken curry and rhubarb crumble - in favour of sleep.
After 11 hours aloft, somewhere over the coast of southern India, I awake with one of those mildly panicky how-can-we-still-be-in-the-air moments. I put my gymnastics skills to good use, balancing on the armrests to successfully negotiate my way over my two sleeping neighbours without disturbing them, and go exploring.

It's not a pretty sight, humans asleep en masse. Hundreds of masked faces with mouths ajar like the sideshow attraction where you try to throw ping pong balls in the row of open clowns' mouths, as they swivel from side to side.

On my return, breakfast is served. The omelette, mushrooms and baked beans are good but the hash browns don't fare quite so well in the reheat. The hot hand towels and chilled juice are very refreshing. Dawn over Dubai is stunning.

The business class lounges (there are two of them, plus first class) in Dubai are vast and palatial with beautiful water features, spas, hair salons, reclining loungers in sleep zones, and a dazzling array of hot and cold food and drinks. Just walking around the perimeter of the lounge is a great work-out. I can't figure out the real time anymore so decide to shower, eat and drink (Châteauneuf du Pape no less) anyway ...

From Dubai to Vienna, five hours, 50 minutes, I have another window-over-the-wing-seat but I'm resigned to my silvery view and have developed an affinity and huge respect for my winged companion. It is fascinating to watch it flex and bend when we encounter turbulence, which feels like travelling over potholes in a well-sprung SUV.
I do another circuit of the plane, envious of those with real window seats, most of whom have their shades pulled down and are asleep. What a waste! Second note to self: book seat online and check where windows are in relation to the wing.

After the flavourful chicken tikka lunch with steamed rice, sautéed spinach and corn followed by a brownie mousse topped with white and dark chocolate, I watch more of Downton Abbey and snooze. I think I actually had more sleep on the three flights than I would have had in a normal 23-hour time period at home.

We land gently, safely, finally in Vienna and everyone (else) prepares to disembark.
"You're a freak," my husband says as he prises me out of my seat at the end of the marathon ... the only person on the flight reluctant to move.
But I haven't seen the end of the Downton Abbey Christmas special yet ... and I still don't know what happened to Matthew.
Bookings: Elliott Travel, Gisborne.
Justine Tyerman flew and visited the business lounges courtesy of Emirates.