In genteel company, Patrick McKendry looks at New Zealand through the eyes of a tourist.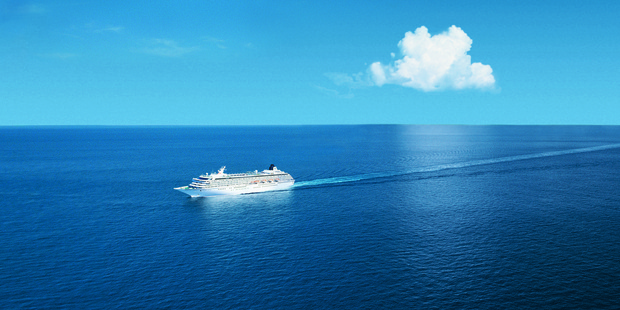 Stepping on board the luxurious Crystal Symphony, I had cause to remember my last sea-faring experience of any significance.
It was a week or so on the Spirit of New Zealand sail-training vessel, on the less-than-glamorous mid-winter Dunedin to Christchurch route, when I was 17. As an experience, it was character-building.
Several things remain in the memory. Our daily bathing ritual was a 6am dip in the sea. It was supposed to be a swim around the boat, but because of the cold it was limited to a swim around the stern. That was more than enough.
"Happy hour" was the name given to chores after breakfast. There was one particularly rough day in which the crew delighted in taking the mickey out of those of us (a majority) who were suffering from sea sickness. I won't go into the details but I was considerable lighter when I returned to the comforts of home.
And so the contrast, as we walked off the gangplank and on to the pristine Crystal Symphony in Auckland, could not have been greater and I quickly discovered that keeping weight off was going to be a challenge.
Chocolate-coated strawberries on a platter, along with a beautifully presented bottle of Champagne, greeted us on arrival at our penthouse cabin. Surprise pre-dinner snacks were left by our butler (yes, butler, I told you it was luxurious). Cupcakes and tea in the afternoon; icecream (made on board) poolside; all-inclusive meals and drinks at the remarkably good - and different - restaurants.
So many things to eat and drink, so little time. As you can tell it was tough, but I was up for it.
Being the beneficiaries of such service was new to us. As the parents of three young children (who at the moment, appear to see us as their personal butler and housekeeping service) we were looking forward to our five-day voyage to Wellington, which took in Mt Maunganui and Napier along the way.
If nothing else, it would offer us a look at our country through the eyes of tourists - there were mainly Americans on board, along with a few Australians and Brits.
It would also give us a snapshot of cruise life. We had never been on a cruise before - we are not "frequent floaters", a term we learned from one of our entertaining new friends on board - but had often seen the massive liners docked in Auckland. Cruising is becoming more popular among Kiwis, so it was a good time to see what we had been missing.
We had been told the Crystal Symphony was one of the best around and we were not disappointed. The ship has had several refits since it was built in 1995, the most recent in June last year. With a capacity of 922 passengers and 545 crew, it's not the biggest - in comparison, the Queen Mary 2, which circumnavigated New Zealand in March, carries up to 2620 passengers and 1253 crew - but it is one of the most luxurious.
For its deck ambience, think American country club - all teak decks, waiters in shorts to the knee and long socks, shuffle board and paddle tennis court - indoors, it's comparable to five- or six-star hotels: plush.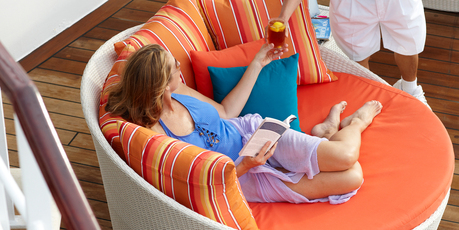 The Symphony is now all-inclusive - apart from the one very high-end restaurant and wines that are targeted at connoisseurs - but don't expect crowds of young people trying to drink or eat their money's worth. There is a genteel atmosphere - most of the passengers appear wealthy and older.
A friendly Portuguese crew member, aged in her 20s, who showed us to our cabin, suggested as much.
"It is a lovely ship and you will enjoy it, but it is ... not as lively as some others," she said.
Indeed, restraint is important when such an abundance of good food and drink is available.
A night docked in Auckland gave us enough time to familiarise ourselves before setting off - and that in itself was one of the highlights of the trip. At 6pm on a magnificent evening, we departed Auckland to the tunes of Louis Armstrong's What a Wonderful World on the PA system - a tradition, apparently - and headed out on the shimmering Hauraki Gulf.
We reached the bustling little port of Mt Maunganui about 6am (the ship travels far out to sea to limit the time in port) and climbed the Mount in an attempt to counteract the effects of so much good food. A similar march up Napier's Bluff Hill followed after we travelled south. Napier looked beautiful on a sunny Saturday.
Little routines began to take shape on board. Most nights are informal - a change from the past, apparently - but a reasonable standard of dress is required when dining after 6pm. Dress shirts were returned (ironed, free of charge) after they were put out in the morning.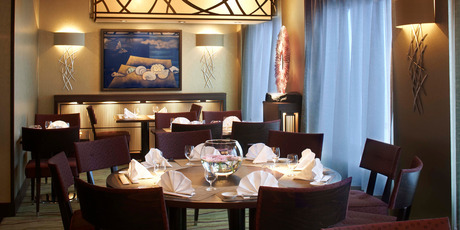 There were lectures most days, including a talk from a former CIA staffer on the political situation in the Middle East (heavily tailored to our American friends). There were also shows: piano recitals, musicals and dancing.
I, along with about 50 others, took in a golf lesson from a pro - and there are two driving ranges on board. One of the many excursions available (they cost extra) was a trip to play 18 holes at Cape Kidnappers in Hawkes Bay.
Those wanting pampering went to the hair salon or for nail treatments or facials. Feeling slightly off-colour one day, two of us lightweights saw a practitioner of ancient Chinese medicine who stuck three seeds on pressure points on the outside of our ears. We were immediately hungry, which we took as a good sign.
If we didn't want to avail ourselves of the little cinema, library, casino, bars or any of the other entertainment, we could just sit and watch the endless stretch of water from our private balcony - big enough for a table and two deckchairs - and contemplate.
The ship is surprisingly quiet despite being powered by six huge diesel engines. There is only the splash of water and the calling of the sea birds as they skim centimetres from the surface, searching for fish, presumably, but never appearing to catch one.
The longest time we spent by the pool was after arriving in Wellington on another hot, sunny, day. We had to leave just after midday, but had most of the vessel to ourselves.
We just wanted to spend as much time as we could on her. It seems the sea-faring life is for me after all.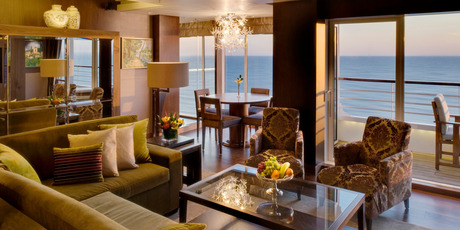 Calm seas in busy galley
For a place that serves 470 mains in 40 minutes (and that's only for the main dining room) the main galley of the Crystal Symphony is remarkably calm.
There were no Gordon Ramsay-type explosions seen or heard during our galley tour, and although it was undertaken during the afternoon and not when the pressure was on later that evening, we were assured they simply don't happen.
Executive chef Markus Nufer, a Swiss who lives in Fiji when he is not working, appears to be calmness personified despite the undoubted pressures to maintain high standards.
He oversees a team separated into areas of speciality: eight people work in the pastry area; four in the bakery; 14 are assigned to the gardemanger, the French word for the area where the cold dishes are prepared; and six prepare the vegetables, pasta and soups.
We dined in three restaurants during our cruise. Silk Road - the Japanese restaurant, Prego - an Italian, and the main Crystal Dining Room, based on fine dining. All were memorable for the quality of food and service. Our only regret was the fact we dined at Silk Road only once. Alas, we ran out of nights.
The kitchen staff don't only have to prepare meals for passengers but also for the crew.
Diners eat off the finest china - which can survive only 18 washes on average. Some are also available to buy on board: a worthy, if slightly fragile, souvenir.
By the numbers:
• 2500 bread rolls, 800 Danish pastries and 140 loaves of bread made on board each day
• 2300 eggs are used a day
• 40,000 bottles of wine aboard (at start of cruise)
• 180 litres of icecream served daily
• 380 litres of coffee drunk a day
• 230kg of beef cooked a day
• 230kg of potatoes cooked a day
CHECKLIST
Further information: See crystalcruises.com.
Patrick McKendry was hosted by Crystal Cruises.