Koh Samui attracts tourists by the thousands, but if crowds aren't your thing you can still find pockets of peaceful escape among its beautiful bays.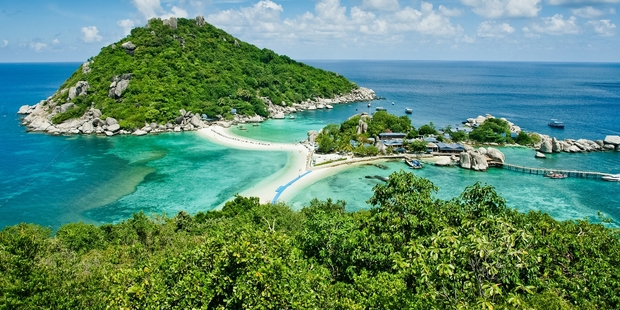 Koh Samui's beaches wowed their first intrepid European visitors in the 70s, especially the long, palm-fringed curves of white sand lapped by clear warm water at Chaweng and Lamai.
They're still its best beaches, but today they're also the busiest, so expect to share the sand with many other tourists, a steady stream of hawkers, the constant buzz of jetskis, and music from beach bars.
If you hanker for a quieter time, try Mae Nam on the north coast, a long stretch of golden sand that has the bonus of great sunsets.
For a more intimate experience, Thongtakian (Silver Beach) is a pretty little bay between Chaweng and Lamai that offers clear green water, powdery white sand and interesting reef and rock formations.
West coast beaches such as Lipa Noi offer a real get-away-from-it experience but be aware that many beaches, including parts of Lamai and Chaweng, can be affected by tides and wind, so do your research first.
Pure pleasure
Samui has become something of a wellness hub, with retreats dotted around the island. If you're not up for a full-on detox but want more than a beach massage and manicure, plenty of places focus on pampering.
Upscale spa resorts such as Anantara, Six Senses and Banyan Tree have properties on the island but, for a spa experience with a difference, try Tamarind Springs, an oasis of calm in the jungle-clad hills behind Lamai.
Gaps between huge boulders have been cleverly turned into steam caves, while water spouts feed cool plunge pools tucked at the base of the rocks. It's easy to spend hours floating between the steam caves and the plunge pools but, for the full experience, take a package such as Forest Dreaming, which includes a divine two and a half-hour massage in an open-air sala (pavilion) where there are no sounds but the rhythmic swish of the fan, the twitter of birds and the rustle of a breeze in the palm trees. Bliss.
This little piggy ...
There's something decadent about sipping a takeaway mojito or mai tai as you browse trinkets, listen to buskers and snack on street food, which is probably why Samui's weekly night markets are always packed.
On allocated nights, different towns close streets so mobile vendors can set up shop. They're always fun evenings, aided perhaps by the aforementioned cocktails for 50 baht (about $2).
On Friday nights it seems every tourist on the island descends on Fisherman's Village, at Bophut, for its extensive market, where you can bargain for everything from knock-off CDs, watches and T-shirts to carvings, candles and other curios.
The main market street runs parallel with the beach so, depending on your dining pleasure (or budget), you can opt for cheap, freshly cooked snacks from hawkers or stylish restaurants overlooking the sea.
Mae Nam's market on Thursday nights is a quieter, possibly more authentic affair, selling mainly food and frequented by many locals.
Lamai (Sunday) is a hybrid of the two offering a mix of food and souvenirs. Locals come for the food, and the adjacent beach is usually busy with people relaxing after a week of hard work.
Make a day of it
When you're ready to stir from your beach chair, plenty of day trips are available. Snorkelling and kayaking trips head out to the picturesque islands of Ang Thong Marine Park, which were the inspiration for Alex Garland's novel The Beach.
On our snorkelling trip to Koh Tao and Nang Yuan, our first stop was near the rocky tip of Koh Tao, where we slipped into deep, clear water to float over coral gardens populated by myriad tropical fish.
Next up was tiny Nang Yuan, which gets my vote as the perfect castaway island - after the day-trippers leave, that is. Three steep green hills are linked by thin ribbons of powdery white sand, washed on both sides by translucent water filled with inquisitive fish.
Snorkelling has never been so easy - just wade into the shallow waters and the fish will find you.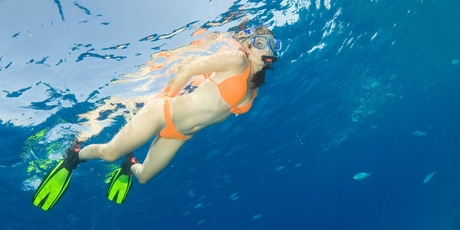 Cultural attractions
Although Samui caters to every Western whim, Buddhism runs quietly beneath the surface and there are many wats (temples) on the island. These range from a quiet country temple where a mummified monk (in sunglasses) sits in a glass case, to the massive Big Buddha, a 12m-high golden icon that sits on a rocky islet on the northeast coast.
Food stalls and souvenir shops surround the site and, although it's impressive, I preferred nearby Wat Plai Laem, a newish collection of intricately decorated buildings where a fish-filled lake is dominated by a towering statue of the many-armed goddess Guayin and an enormous laughing Buddha. The complex is a bit like Koh Samui itself - an agreeable combination of solemnity and light-heartedness that's peaceful, welcoming and slightly over-the-top.
CHECKLIST
Getting there: Thai Airways flies direct from Auckland to Bangkok four days a week.
Further information: See tourismthailand.org and tamarindsprings.com.