Bhanu Bhatnagar encounters both poverty and community in Asia's second-biggest slum.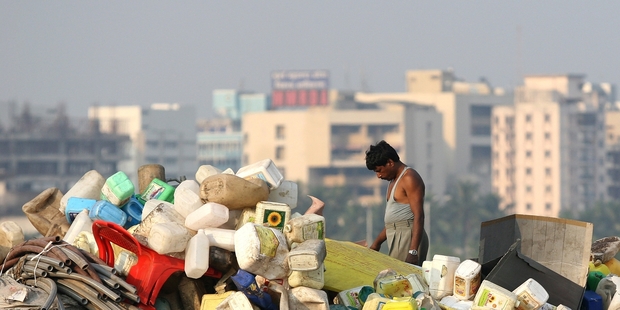 In Dharavi, the smell is of earth, death and incense. Mumbai's monsoon clouds spared us a deluge as we embarked on a walking tour of Asia's second-biggest slum, right in the heart of India's commercial capital.
Often romanticised in the media, Dharavi has entered popular culture through books like Shantaram (2003) and films like Slumdog Millionaire (2008).
One million people live here, crammed into less than two square kilometres. The slum is divided into two sections, commercial and residential, with about 10,000 businesses. Residents include doctors and lawyers, as well as gangsters and petty criminals. Some residents have cable TV, Wi-Fi and mobile phones. Dharavi is often called the five-star slum.
The moment we entered, there was no doubt about how difficult life here could be. Goat carcasses hung out of a shop window to my right, a disabled fruit seller sold his wares to my left, feral dogs, goats, chickens, cows and humans crowded the garbage-infested road.
We walked through some of the enterprises that provide jobs for tens of thousands of people. Slum industries like recycling, textiles and laundry turn over about US$650 million ($765 million) every year, but because the raw materials produced add little value in the supply chain, workers earn very little.
Most plastic waste generated in Mumbai is brought here to be recycled. Aluminium products and empty paint barrels are also recycled - toxic and dangerous work. Workers breathe in fumes of melting metals every day, and many of them die young.
We ventured on to the residential part. Buildings are crammed so tightly that the alleyways can barely fit one person at a time. There's open sewage, and rooms no bigger than 10sq m house up to eight people.
Here we met the slum children, eager to practise the little English they knew, smiles plastered across their little faces. Most of them go to government-run schools - it's free and it keeps them off the streets and away from a life of crime. There is a notable sense of community and solidarity here. People live cheek-by-cheek, and have learned to accommodate each other and look after each other's children.
Dharavi is the back-office for a metropolis of 20 million souls, processing Mumbai's raw materials. There is very little waste despite the mountains of garbage, and a strong work ethic despite that many jobs lead to illness and premature death. And there is a sense of solidarity hard to find in the wider city.