Norway's snow hotel is a truly seasonal venue, writes Andrea Kitay.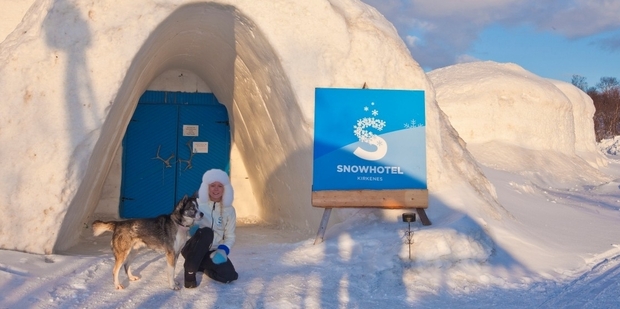 It's nearly 10pm on a Friday night and an eerie silence has descended over the 24-room hotel I'm booked into deep in Norway's northern Finnmark County.
The usual racket like dinging elevator doors, the din of the city and faint laughter filtering from the hotel bar simply don't exist here. Lying in my army green sleeping bag, the only sound I can hear is my own breath pushing against the cold air of my frosty digs.
Like any good Norwegian hotel, the bar here is tended by a young, svelte bartender sporting a goatee and hipster-style beanie.
The difference is we are at 70-degrees latitude, just a few kilometres from the Russian-Norwegian border, and this bar has been crafted from massive blocks of ice. An animated-looking troll ice sculpture poised at the bar's end pays homage to traditional Norwegian fairy tales.
Earlier in the evening, about 20 of us arrived en masse, offering fleeting glances expressing a mixture of excitement and anxiety. With perfect timing, our bartender offered drinks all around, icy shot glasses of non-alcoholic crowberry glogg.
A usual Friday night scene, except we are smack in the middle of the Kirkenes Snow Hotel's lobby. Fabricated from artificial snow made from the cold, clear water of the lake next door, the hotel's focal point is a bulletproof ice bar and giant sculpture of Father Christmas in the lobby.
Here, in what appears to be an oversized igloo illuminated with pastel-coloured LEDs, guests sport black balaclavas, reindeer-leather gloves, and heavy down parkas. Prada be damned, this looks more like a gathering of nervous terrorists than an upscale hotel for the courageous.
In bounced Finnish sales manager Anne Koivisto, as much dorm mother as camp counsellor, offering up guidance and room assignments.
"There is one common thing in every room," she giggles.
"The cold, of course! But don't worry, you will have a very warm sleeping bag, your survival suit."
Obediently we moved off to inspect our night's quarters, the lobby's glittering walls festooned with carved, dancing trolls left to reflect gently glowing LED lights alternating from purple to pink and then blue in a sort of polar silence.
First constructed in 2006, the hotel is recreated each year in November. When the snow pile has topped out at 20cu m, huge balloons are placed in the hotel's soon-to-be footprint and blown to the size of the rooms. Then, roughly 1.5m of snow is blown around them and left to harden for five hours. The balloons are then deflated, producing complete rooms with no additional structural supports.
To create the bar and sculptures, about 15 tons of ice are cut with chainsaws from the lake and pulled by snowmobile to the building site. Eight ice artisans from northeastern China arrive, carving around the clock in final preparations for the hotel's reopening.
According to co-owner Ronny Ostrem, when the weather warms in spring, the electricity is unplugged, smoke detectors removed and the hotel simply melts, returning the water back to the lake in a final farewell to the Norwegian winter. "It's the world's greenest hotel," he winks.
For a few guests, the snow hotel is a sort of bucket-list experience. But the large property is also home to a restaurant, gear shack, indigenous Sami tipi-like lavvu and base for adventurous snowmobiling and king crab safaris. Most guests arrive from cruise ships like the iconic Hurtigruten, whose 11-ship fleet has been plying the Norwegian coastline for 120 years.
Other visitors seek a fuller experience, springing for an entire day of adventures. Snowshoeing, suiting up for the hard-core king crab safari or riding on a traditional dog sled behind an amped-up group of 10 Alaskan huskies are all options.
Koivisto ushers guests to the Gabba restaurant, where Sami and traditional Norwegian design elements are represented. I'm happy to drag out the evening here after a high-octane afternoon zipping around on a snowmobile across the frozen, salty fjord where we cut through thick ice to pull out traps for king crab. Here, a well-stoked fire in the middle of the room casts a warm glow as guests settle into the family-style tables with long benches.
The meal begins with servers handing each diner a skewer of smoked reindeer bratwurst and an invitation to get up and cook it over the spit. It's not a surprise that salmon and cod are next on the menu, chased with a bowl of vanilla icecream topped with warm forest berries for dessert. Norwegian food is lighter and with fewer cream sauces than many European countries.
The hotel provides a sleeping bag rated to -31C, but since the rooms stay a relatively consistent -4C, warmer than outside, I'm not worried.
These are ideal conditions, I'm told by staff. Nevertheless, I double up with a borrowed balaclava and my own woollen hat, complete with ear flaps and pom-poms. Since I also use my phone as a camera and the cold has caused it to lose power more than once on this trip, I stuff the whole mess in the bottom of my bag, jump in and tighten it so only my face is exposed.
Room No4 is a perfect circle, roughly 3m in diameter.
To keep airflow, doors have been eliminated in favour of curtains hanging on heavy wooden rods over sharply angled openings. The lights are never turned off.
Tucked in and warming up, I become keenly aware of the silence. Nothing to do but relax as I fall asleep in a glowing pink reverie.
And maybe it was the cold air ... but for the first time in six months, I wake up without a grinding headache.
CHECKLIST NORWAY
Getting there: Cathay Pacific is offering special fares from Auckland to Oslo, via Hong Kong and London or Amsterdam. Contact your travel agent or Cathay Pacific on 0800 800 454 (outside Auckland) or (09) 379 0861 in Auckland region.
Further information: See kirkenessnowhotel.com and visitnorway.com.
- AAP