Michelle Jana Chan beats the tourist crowds at Angkor Wat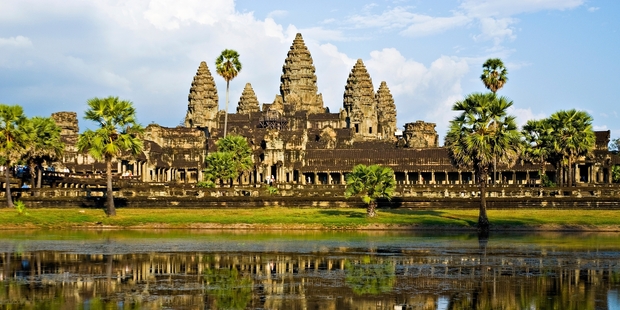 More than a million tourists a year visit Cambodia's greatest attraction, but it's still possible to see the temples minus crowds.
Angkor Wat is Cambodia's most beloved and best preserved temple and masterpiece. The 202ha site is one of the largest religious monuments in the world and represents the architectural pinnacle of the Khmer Empire.
Originally dedicated to the Hindu god Vishnu, it has remained a place of worship since its founding in the 12th century. Thought to be a miniature replica of the universe, its composition of towers, moats and concentric walls reveals an architectural sophistication, and the bas-reliefs with their plump figures and triumphal battle scenes reflect a robust, healthy and wealthy period of history.
This majestic structure lies at the heart of the Angkor Archaeological Park, which covers 399sq km and contains scores of other Khmer temples dating from between the 9th and 15th centuries. Each has its own allure. Banteay Srei has intricate carvings of sensuous celestial dancers wearing bangles, beaded anklets and sheer drop-waist skirts.
The pleats are still folded beautifully in the sandstone, 1000 years on.
Ta Prohm is one of the most photographed temples, deliberately left mostly unrestored and strangled by undergrowth.
The perennial favourite at Angkor Thom is the Bayon temple: the towers are etched with enlightened bodhisattva faces and the bas-reliefs depict ordinary Khmer life. With an epic sweep like the Bayeux Tapestry and the humanity of The Canterbury Tales, it shows families preparing dinner, men getting drunk and playing board games; there are tightrope walkers and circus acts; one woman helps another in labour; monkeys peek out between the spokes of cartwheels.
There are smaller but equally moving sites such as Ta Nei, Ta Som and Banteay Samre. Indeed, there are few places in the world with such an astonishing concentration of significant archaeological sites.
This is the perfect time to start planning a trip. Between November and March there is reliable sunshine and low rainfall, but higher prices and heavier crowds. Tourists base themselves in Siem Reap, the gateway to Angkor. There are a number of local and British tour operators offering packages.
If you're smart, you can avoid the crowds. With more than a million tourists visiting Angkor Wat each year, congestion is inevitable. Large tour groups follow similar timetables that are best avoided.
Set your alarm before dawn, when there are fewer visitors and the temperature and humidity is the lowest. Arrive at the temples when doors open (usually at 5.30am). After sunrise, most tourists head back to their hotels for breakfast. Instead, take snacks and stay out until 9am, when the temples are remarkably peaceful.
Return to your hotel for a later breakfast before heading back to the most popular temples at noon, when most tourists are having lunch. Afternoons are best spent at the smaller temples.
At dusk, head to the Pre Rup or East Mebon sites, where the darker stonework turns fiery-red at sunset.
Top tips: At the temples, wear comfortable shoes with good soles as the paving is uneven and slippery when wet. An umbrella is useful against the rain or sun. Take a torch to shed light on decorative stonework. The only currency needed is US dollars; bring small-denomination bills, too.
It is not uncommon to hear tourists say they are "templed out". Pace yourself, take breaks and visit smaller, less busy sites. Explain to your guide that you might like half an hour alone. Find a quiet corner to study the detail of the artwork rather than be overwhelmed by the temple's grandeur.
At some temples, children sell souvenirs and employ emotive language about how they need money for school. Buying from them will encourage them to work in this way. Most tour operators and hotels have links to non-profit groups and visits can often be arranged to schools and orphanages; donating to these groups might be a wiser way to support the local community.
Getting there: Jetstar flies to Phnom Penh, in conjunction with Jetstar Asia, with one-way tickets starting at $702.
Online: Cambodia's Angkor Wat is thought to be a miniature tribute to the universe.