Donna McIntyre escapes the city on a campervan holiday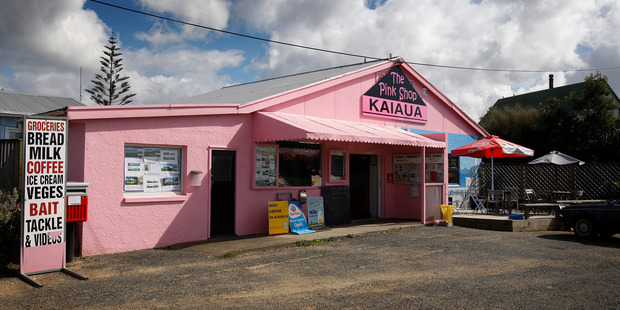 Why Whangarei Heads for a weekend away with a campervan?
Simply because we've never been to this area but have admired the rugged coastline and dramatic hills whenever we were driving to Whangarei. And we don't want to spend our whole weekend driving. We want to get away from Auckland, have a bit of a road trip but then park up and chill out. Truth said, we are all a bit winter-jaded...busy lives, looming NCEA exams, a broken limb and a household worth of flu bugs. Normally we'd be factoring in some energy expending activities but this time round we'll take it easy.
We pick up the van in downtown Auckland - can't miss it with its Covi supershow signage - we are an advertisement on wheels for the joys of campervanning. My husband has bravely put up his hand to drive through Auckland - I'll find my feet and the pedals later.
Harbour bridge, the motorway and soon the kilometres are passing along nicely. It takes only a minute to get used to the vehicle's scale. And it's neat riding up high. You also have close brushes with overhanging branches you'd normally never notice.
At Whangarei we stop for lunch at La Familia cafe. There's enough menu variety to keep us happy, pleasant settings and clean loos; that's all we need. We stretch our legs walking the main drag and then it's a short drive to our overnight spot at the waterfront Blue Heron campground. Our site is level, so no having to balance the van with blocks under the tyres so the blood doesn't rush to your head while sleeping.
Camp managers Bill and Pam make us feel right at home, give me tea and coffee supplies when I realise I've forgotten to pack any and lend us some DVDs after our 14-year-old struggles with the logistics of setting up the satellite dish. We all have a go, but conclude we must be out of range, not our fault. Anyway, Meet the Fockers is appropriate because Robert De Niro drives a rather large campervan in the movie.
Our closest neighbours are in a converted bus... friendly enough to say hi, but keeping a respectful distance. We watch enviously as they throw out a line in the water and are rewarded with kahawai.
The grown-ups walk along the coast, but the boys decide to stay put, one still grappling with the satellite dish and the other doing calculus homework. They've lowered a table to make up a huge bed (the perfect teen pit), while we have the cosy, private sleeping spot "upstairs" (above the driving cab).
Our walk takes us towards Manganese Park. The atmosphere is loaded for the thunder and downpour that arrive later in the night. We meet a friendly local sneaking down to his waterfront man's cave, a couple of Tui bottles in hand. He points us in the right direction so we can walk back to the road.
Back at camp we make a dinner reservation for the Parua Bay Tavern, recommended by everyone who knew we were heading this way. Driver No1 takes a nap as I hunker down with the boys to watch Meet the Fockers on the laptop. It's been a while since I cosied up with my boys under rugs all watching a movie together. We must do this more often, we don't need to wait until we are away from home, tucked in at close quarters!
We are pleased we headed to Parua Bay - what a setting, prime waterfront. The boys couldn't be happier, the hearty meals satisfy teen appetites and there's a good buzz as locals watch a Bledisloe match and the spine-tingling haka.
Returning to the campground in the dark, I send out a mental thank you to the inventors of the iPhone and Google maps for making navigating easy.
We finish off the last 30 minutes of The Fockers and then it's lights out. It is so cosy, it is 9am before we all get up ...luxury. We shower, have a cuppa and Jim and Pam show us the rather appealing cabins for those without their own on wheels. Mmm, we may have to return another weekend.
Brunch is at Parua Bay's Newday Cafe, with local art work, teen-sized breakfasts and omelettes, and then a drive to the end of the coast road, half-keeping an eye out for the Mt Mania walkway. We realise we're a bit lost. But that turns into a pleasing diversion, as we find Pataua, and its footbridge across to Pataua North and coastal walk.
Our first visit to Whangarei Heads won't be our last. Driving back to Auckland we're all much more relaxed. And the boys' are keen as to do another RV trip! Maybe more than just a one night away next time.


Other spots we love in a campervan
Awhitu Peninsula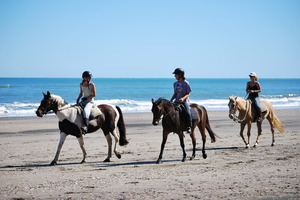 Our writer Andy Kenworthy called campervanning on the Awhitu Peninsula a holiday hybrid - the freedom of camping with the comfort of a hotel, easy for parents and preschoolers. His picks are Awhitu Regional Park (you can pay over the phone and get the padlock code to your own private domain). The best spot: by the clifftop fence, parallel to the sea. Or head north to Orua Bay Campground and spend the afternoon on the soft sandy beach or looking at the carvings in the sandstone cliffs. Be warned that coffee shops (or even dairies) are sparse. If you've arranged it earlier, you could stop at Earthtalk for a tour of the 11ha organic garden. $10 an adult (or koha), children free, ph (09) 235 1375 or email earthtalk@awhitu.co.nz
Clarks Beach
Also on the Manukau harbour, but an easy 40 minutes from the city, Clarks Beach Holiday Camp will give you the sort of holiday you had when you were kids. Impeccable facilities, pool, kayaks to rent, kids' playground and the obligatory old-style games room right by a sheltered, gentle beach. Food writer Alexia Santamaria was blown away by the takeaways up the road (look out for the home-made fudge). Be nice to people pulling up their flounder nets and you may get lucky.
Coromandel Road Trip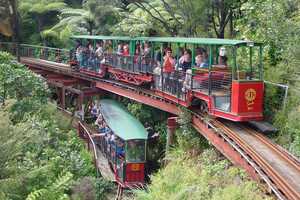 Heading along the western side of the Coromandel Peninsula is wheeled freedom, according to Danielle Wright. She recommends stocking up on seafood at the Coromandel Oyster Company (if you're lucky there's mussel chowder, kina, paua, crayfish and seafood fritters) or the Mussel Kitchen. As well as the beaches for rock pool exploration, you can stop at The Waterworks fun park, or potter Barry Brickell's Driving Creek Railway. Coromandel Top 10 Holiday Park is at the edge of the main shops in Coromandel town.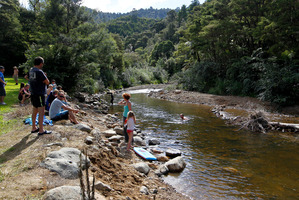 Or heading over to the east coast beaches, Sarah Lawrence fell in love with the Wentworth Valley Campsite (on the way into Whangamata from Waihi), tucked in the bush, next to a stunning walk to a waterfall. Swim in the basin below the falls or trek a short distance to take in the sweeping views across the valley. On the other side of Whangamata are delightful campgrounds at Opoutere or Hot Water Beach, as well as all the bigger resort towns.
Miranda/Kaiaua
Elisabeth Easther recommends this little gem of the Shorebird Coast, on the Firth of Thames, as it's barely an hour from Auckland. The Miranda Holiday Park is seriously well tended, with tennis courts, bicycles to hire and a cycle path. Add a thermal pool, Kaiaua's fish and chips just up the road and amazing birdwatching and your weekend on wheels is complete.


Covi SuperShow - the largest caravan and motorhome specialists
ASB Showgrounds, Greenlane, Auckland. Friday to Sunday, September 20-22, 9am-5pm. Tickets $16 at the gate, kids free, $25 multi-day pass.
The starting point for your next wheeled adventure, whether you're already an enthusiast of motor caravanning or just keen to find out more.
Look out for the show specials and frequent no-reserve auctions, daily seminars on buying motorhomes and overnighting options.
Be in to win a week in Central Otago worth $4500 (Central Otago stand in the Stop & Stay zone) including six days in a Britz motorhome, holiday parks and the region's best food and attractions. Classic Escapes, a private members holiday club, has a draw to win a seven-day getaway for two people on the Gold Coast and the Interislander ferry has a draw for return travel for two adults, three children and a vehicle. Dozens of other holiday prizes to be won.


More info:
• blueheron.co.nz
• paruabaytavern.co.nz
• whangarei.nz.com