Kieran Nash enjoys an authentic experience at Japan's oldest ski resort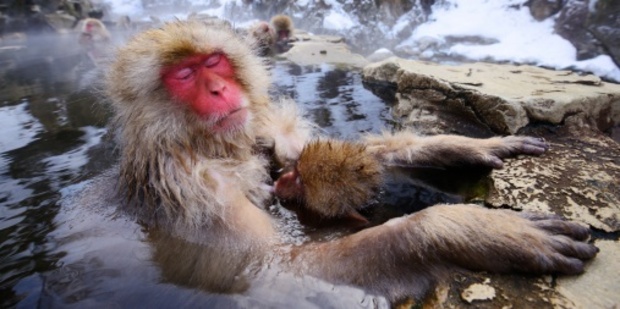 Of all the places to pass out naked, most people wouldn't choose a wet tile floor surrounded by drunken Swedes. But that's what I was about to do. I was in a small bathroom, hazy and thick with steam, strewn with cans of Asahi beer.
However, this particular bathroom was actually a traditional Japanese hot spring called an onsen, buried in the basement of a quaint guesthouse about three hours' train ride north of Tokyo, in a small ski town called Myoko Kogen.
And while I was in the village to go snowboarding, at that present moment I was also doing my best keep a tight grip on my consciousness.
After a hard day ploughing through the mountain's fine powder, I found my room did not have a shower (just a friendly toilet that would chirp at me every morning). The only other option was the onsen.
The area surrounding Myoko Kogen is known to have an abundance of hot springs - so many that even the local snow monkeys are known to soak in their own hot pools. The scalding hot mineral water is piped directly to most the inns in the town, which divides its bathrooms into men's and women's.
Unfortunately for modest types, Japanese custom dictates that anyone who enters an onsen must do so without a scrap of clothing. People with tattoos aren't allowed, because traditionally the only Japanese with tattoos were members of the Yakuza.
Unfortunately, I have several tattoos that can't be hidden. But going five days without showering was not an option, so I could either offend people with my tattoos, or offend them with my stench over the next few days. So, after heading downstairs and stripping off, I opened the door in a billow of steam. A couple of Japanese guys and some Swedish tourists are drinking warm Asahis and chatting away through the haze. Conversation stopped as I sat down at the small shower and scrubbed the sweat off.
Were they offended by my tattoos? Did they even see them? I had no idea. They didn't tell me to leave, however, and I eased myself into the large rectangular tub, only just managing not to jump straight back out as the searing water threatened to boil me where I lay. For the next 15 minutes, I did my best to appear serenely relaxed, while waiting for anyone who might be offended by my tattoos to leave. When I eventually emerged from the onsen, I sat back on my stool and hosed myself off with the coldest water I could handle while my brain tried its hardest to shut down from the temperature change. After a few minutes it was under control, and I donned my yukata and floated back up the stairs, feeling like a benevolent steamroller had just smoothed out every single knot in my body.
Myoko Kogen is more than just strange bathhouse experiences. It's the oldest ski resort in Japan, and is used by the royal family when they decide to go on holiday. It's easy to get to - just a high-speed ride on a bullet train from Tokyo to Nagano, then another connecting train ride, and you're in the town.
There are four ski fields within reach: Akakura Kanko and Akakura Onsen are in the town - we were staying across the road from the gondola. A shuttle can take skiers to the fields of Ikenotaira and Suginohara about half an hour away, and another goes in another direction to take them to the ungroomed bowls of Seki Onsen. But why, some ask, would you come here, when you could go to the famed island of Hokkaido, further north than the main island of Honshu?
One word: Australians. The popular town of Niseko is crawling with them. Some of them do stray to Myoko, though, and one of them is Melbourne photographer Matt Hull, who was in Myoko Kogen for his fourth season. The 31-year-old said Myoko Kogen is far removed from the "Kuta Beach on Ice" which has become the nickname for Niseko.
"Myoko is still somewhat of a hidden gem in Japan, although we are seeing more and more Western guests coming through our doors we seem to be attracting the right type of people, guests who are here for a cultural experience as well as a ski holiday. Myoko is not known for its nightlife and has limited establishments to cater for the party-going traveller."
It's all well and good that it offers a more authentic experience than the resorts further north, but people who come here care about one thing only - deep powder. Just how much is there?
"During the peak season [from the end of December through to late February] we get a lot of storm cycles, with a typical cycle dumping down a lot of snow in one night, anywhere from 40cm up to 120cm and then the storm breaking for a sunny day afterwards.
"Powder-wise, during peak times it's as light as they come. It's not unusual to have a bow wave of snow around your waist when riding down one of the designated ungroomed runs, so face masks are a must!" I'd see that for myself soon enough. Shelling out 2000 yen (NZ$25) for an afternoon's riding, I boarded the gondola and smoothly careened up the mountain. This side of the mountain was split between two fields - Akakura Kanko and Akakura Onsen.
The sun was in its final death throes by the time I reached the top, and a peach hue coated the meringue snow. It was deep, and there was plenty of it. The runs were wide, fast, and though it was the afternoon, there were still pockets of untouched powder to smash into dust, and not a rock or a patch of ice to be seen.
Crowds were non-existent. Even though it was peak season, often I looked about and saw not a soul.
Over the next five days, I settled into something of a routine. Wake early for breakfast.
Up the gondola and chairlifts, down to the foot of the mountain. Repeat. Lunch. More snow. Hotel. Onsen. Dinner (usually consisting of giant bowls of udon noodles). Bed.
The day before I was due to leave, it had snowed hard the night before, bloated flakes coating everything in a layer about two feet deep. Going as high as the gondola could take me, I approached a black diamond trail, a horrid, steep thing rutted with huge moguls.
That particular day, though, the moguls were buried deep, and I was the first on that particular run. Floating both on and through the incredibly light powder, at each turn a wave of snow exploded into smoke, clogging my goggles and nose. After a full day of similar turns, I barely staggered back to the hotel in one piece. By then, a steamy onsen was exactly where I wanted to be.


Info
How to get there: Fly to Tokyo, and catch the Nagano Shinkansen (bullet train) from the Tokyo station to Nagano. The 260km/h train takes just under two hours and costs 7500 yen (NZ$100). From there, it's a 40-minute train to Myoko Kogen. Once in Myoko Kogen, get a 10-minute taxi or hotel transfer to the mountain.
Where to stay: Hotel MOC is a great, family-run hotel about a minute's walk from the gondola. The $75 per person fee is quite reasonable for Japan, and it includes breakfast. Owner Sachiko Mochizuki, speaks excellent English.


Kieran paid his own way to Myoko Kogen.