Centrally located just 2km north east of Melbourne's CBD, Fitzroy was Melbourne's first suburb. A vibrant culture of bars, cafes, galleries, quirky bookstores and fashionable hair salons now abound, crammed into every nook and cranny of its old bones.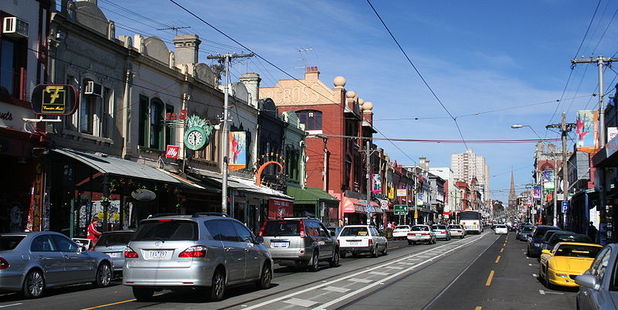 Considered fit only for beggars and prostitutes in the 1930s, Fitzroy has a long history of working class residents and bohemianism, and a walk along its main drag today is testament to the fact it's as diverse as ever - albeit slightly more affluent.
Forty four per cent of Fitzroy's residents were born overseas, according to a recent census. It's also a young suburb, with the census revealing a medium age of 33; well below the national average of 37. This youth and diversity, coupled with its proximity to the city, has lead to an inevitable and steady gentrification.
However, despite this socio-economic ascent, the area remains a place of contrast, grit and authenticity, with shonky bakeries still shacked up next to butchers, that perch alongside tired old betting shops, with their sour stale beer fumes seeping out onto the pavement. People watching has become no less interesting, either: beyond the young corporate professionals and self-conscious hipster youth are smatterings of fascinating characters who have called Fitzroy home for decades.
So, despite the overpriced boutiques that have steadily made the area their own - between them stocking enough boutique skincare and avant-garde wears to last Melbourne aesthetes a lifetime - there are also some veritable gems to be found.
Here are a few places worth ambling between, as you explore whatever catches your eye on the way:
Birdman Eating
238 Gertrude St
If you can, aim to get to Fitzroy in the morning so you can have breakfast or brunch at this place. Mainly so you can order their Baked vanilla ricotta with fresh fruit and almonds, which will make any breakfast thereafter feel like chewing on cardboard.
Rosamund
Corner Smith and Charles Sts
Another reliable cafe option is Rosamund, a tiny peep of a place that feels almost carved into the brick work of the residential street it calls home. Known for its excellent coffee and avocado on toast, if you don't manage to nab a table in the AM (it can get crowded) then go back on Thursday PM from 7pm - 11pm, when renowned dessert chef Pierre Roelofs holds a much-hyped weekly 'Dessert Evening'.
Lost & Found
1-5 Perry St
If you love vintage clothes, records, jewelry, books, furniture and knick knacks, you will be in heaven here. Spread out over two large floors, it is absolutely jam-packed from top to bottom with well-priced items from eras gone by. The best thing is that the staff have done all the sourcing of vintage goodies for you; the worst thing is you can't take the amazing Danish furniture back home with you.
For yet more vintage, continue walking up Smith Street towards Brunswick Street - you'll find the stretch is dotted with numerous one-off vintage boutiques, specialising predominantly in either homeware or clothing.
Studios, galleries and workshops
Fitzroy is ripe with local, contemporary art. Have a peruse inside one of the many creative spaces along Brunswick Street such as Brunswick Street Gallery (no.322); Alcaston Gallery (no.11); Sutton Gallery (no.254); and Panelpop (no.117). You could also try Dear Patti Smith (L2, 181 Smith St) and the Centre for Contemporary Photography at 404 George St.
Napier Hotel
210 Napier St
Melbourne does pubs and food really well, so it's no surprise they also do excellent pub food. 'The Napier', as it's known, is a snug, trusty spot where locals flock to grab a hearty meal with their beer. It's not dirt cheap, but it's not expensive either - and the ingredients are restaurant quality (in pub food portions).
Bimbo Deluxe
376 Brunswick St
Terrible name, but amazing pizza. Ignore downstairs, which resembles a dark and seedy bar, and head upstairs to a ethereal, Moroccan-themed outdoor dining area with its own little bar. Here you can order delicious, thin-crusted $4 pizzas with an assortment of generous toppings. Don't go past the Gorgonzola - topped with tomato, mozzarella, gorgonzola and prosciutto, it's worth the wait if they're short on seats.
Yah Yah's
99 Smith St
If you want to sample some Fitzroy nightlife and you like your evening entertainment gritty, Yah Yah's has enough damp carpet and slouchy velvet couches to transport to you right back to your student days. But don't be deterred: its down-home atmosphere is fun, its DJs have great taste, and interesting local bands playing there every weekend.
Black Cat
252 Brunswick St
Alternatively, head to this 30-year-old institution for some expertly mixed drinks and tapas, amidst a plush, plant-laden and majestic interior that'll make three hours feel like 20 minutes.
How to get there
By tram: Number 112 from Collins Street or Number 86 from Bourke Street.
By bus: From the city take Route 200 towards Bulleen, 201 towards Doncaster or 207 towards Donvale.
- nzherald.co.nz

Getting There
Fly there with Air New Zealand Book now
Find out more at Australia.com