Jason Burgess follows in the footsteps of visionaries who transformed arid wastelands with bizarre road art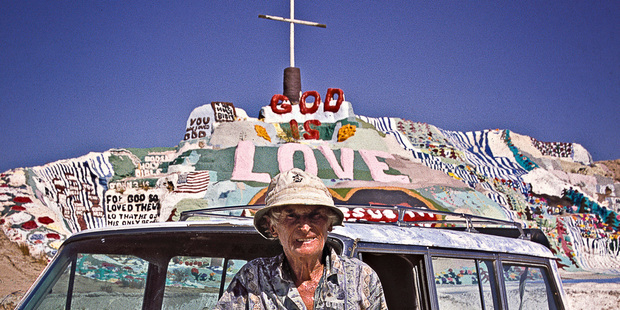 Deep in the arid hinterlands around Salton Sea, abandoned motels, crumbling retail signage and tumbleweed trailer parks litter the mysterious Southern Californian landscape. Relics of a once Utopian resort, set 70m below sea level, creak in winds that fan bake rather than cool. Many come to witness the desert's gradual reclamation of developers' ditched dreams. I've come in search of Leonard Knight.
Following a self-planned itinerary, I'm tracking the vestiges of outsider visionaries, mostly mid-century mid-lifers, who embarked on frantic personal quests, transforming backyards and roadsides, into installations handmade from concrete and salvaged goods.
A sharp left at Niland on the Eastern Shore, leads to Slab City, a ground level spread of concrete "slab" leftovers from a World War II military base. This is the winter home to migratory "Snowbirds", retirees in RVs who escape the northern snow for southern sun and desert peace. That is, if you discount distant explosions from the Chocolate Mountain gunnery range.
As I round a corner, nothing prepares me for Leonard Knight's Salvation Mountain, which bounces from the desert plains like a clown from a cardboard box.
Knight now nearly 80, has been camped out here since 1984 living on donations, digging, plastering and painting a desert hillside and everything around it with 3D Biblical scriptures coloured with 38,000 litres of paint. He tells me it's his hymn "to universal love and God".
In the early days, the council worked to demolish the "mountain". Now it draws the attention of major museums, media and thousands of sightseers who pay homage in this remote corner of wilderness. Knight says, "I pray that the mountain outlasts me".
Staying with desert religious themes, a few hours north in Yucca Valley is the noble though rather obsessive Desert Christ Park. It's a "Peace-on-Earth" shrine set on a rocky escarpment on the outskirts of Joshua Tree National Park.
The 50 larger-than-life, steel reinforced, concrete statues of Christ performing various activities were designed and built by retired aircraft design-engineer Antone Martin during the last decade of his life (1951-1961.) The valley wasn't Martin's first choice.
One Reverend Garver invited him to this site only after repeated attempts to install his first sculpture, a 3000kg statue of Christ, on the edge of the Grand Canyon, failed. An earthquake in the 1990s racked the statues with surreal amputations, although 10m x 15m "Last Supper" escaped miraculously unscathed.
Before neon, strip malls and theme parks, California's kerbsides heralded a vernacular landscape of naive art; papier-mache, plaster and concrete sculptures. Giant ice cream cones, coffee pots and make-believe scenes from the frontier past lured travellers off the road and into adjacent businesses.
At Banning Pass on the I-10 back to LA, sculptor Claude Bell spent the last two decades of his life, creating the car-stopping, concrete Cabazon Dinosaurs beside his Wheel Inn Roadhouse. Bell, a former Knott's Berry Farm employee, began with debris from the freeway and spent a further US$300,000 building Dinny, a 13m-high, 45m-long Apatosaurus, and Rex, a 20m high Tyrannosaurus-Rex. He died in 1988, age 91, and with him went his dreams of moulding a giant woolly mammoth and saber-tooth tiger.
The current owners operate a bookshop from the museum in Dinny's belly, pushing Creationist literature. According to the LA Times, they are transforming the dinosaurs "from tourist stop to a place of worship".
In 1941, a former trapper named John Ehn opened a motel near Burbank Airport. He called it The Old Trapper's Lodge. Proud of his pioneer ancestry and keen to attract custom to his digs, he originally commissioned Claude Bell to recreate scenes of the old west. After a few days of watching him, Ehn decided he had the know-how, sacked Bell and proceeded by himself.
Ehn spent 30 of his last years crafting his roadside attractions using his family as models. There are giant, comic figures, like the self styled "Old Trapper", who rises in fierce hand-to-hand combat with a native American, and in "Kidnap" a settler woman is whisked away by another politically incorrect tomahawk-brandishing indigene.
Ehn was 84 when he died in 1981. Four years later his creations were declared a California State Cultural Landmark. Culture, however, rarely stops progress in Southern California. When bulldozers arrived to level The Old Trappers Lodge in the late 80s, an unknown fan of Old Trapper made a phone call to nearby Pierce College, somehow persuading the school to "adopt" the statues. They are now tucked away in a backlot where every few years some shadowy soul sneaks in to repaint them.
On an eccentric bus tour called Esotouric Blood and Dumplings I'm introduced to "Monster Park". In a quiet corner of San Gabriel's, Vincent Lugo Park, concrete sea creatures rule. A serpent cuts through the lagoon of sand, three dolphins leap around "Minnie" the whale, "Stella" the Starfish, "Ozzie" the octopus and a giant snail.
Esotouric's Kim Cooper tells me that, "The monsters are the work of concrete craftsman Benjamin Dominguez. Before immigrating to the US in 1956, Dominguez created the lion and tiger enclosures at Mexico City Zoo." Stateside, he built "hacer creer" or "make believe" parks for children in El Paso and rustic bridges for golf courses in Beverly Hills and Las Vegas.
His steep slides and steps without handrails brought the safety of his "sealife" into question, and the council sought to modernise (read bulldoze) Monster Park. The locals put a kibosh on the proceedings, saving Dominguez's last and largest work.
The Watts Towers are in the LA suburb of the same name, which still suffers the stigma of the famous riots of 1965. But the Towers transcend LA's social divides. Like much of the surrounding community they have survived decay and neglect.
Working alone for 33 years, using only tile-setter's tools, telephone-line repairman, Simon Rodia single-handedly completed "Nuestro Pueblo"(Our Town) in his evenings and weekends. He used no power tools, bolts, welds or even scaffolding on structures that stretch 30m-high. "I was going to do something big and I did," Rodia said. He wanted Nuestro Pueblo to be a monument to himself.
Italian-born Rodia based his creation on the wood and ribbon towers used for the Festa dei Gigli, celebrating the patron saint of Nola, San Gennaro. He spoke of his work as celebrating the spirit of his heroes Copernicus, Galileo, and Columbus. Doubters, however, were convinced he was erecting secret radio transmitters.
When Rodia finished his towers he left them, his house and land to his neighbour and headed north. The neighbour sold them to Joseph Montoya who planned to turn the towers into a taco stand. A subsequent house-fire gave the council a reason to demolish the towers. Fortunately, filmmakers Nicholas King and William Cartwright bought the site and established the Committee for Simon Rodia's Towers. Today, anyone can tour Rodia's extraordinary work of art.