Winston Aldworth flies EK406 from Australia to New Zealand.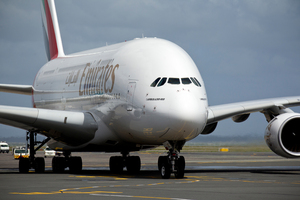 The plane: A380 - the biggest bird in the game.
Class: First. Top deck, up front.
Price: $1196 from Melbourne to Auckland. Not what you'd call cheap.
On time?: No problems rolling out of Melbourne. Some hassles disembarking at the Auckland end.
My seat: Not meaning to brag, but it was 1A.
Fellow passengers: The Black Caps were in business class, sleeping off the effects of their Sri Lanka tour. A lot of suits with them in business. The other passengers in first class were three women who seemed to be family. Not a lot of chitchat.
How full?: First class was mostly empty. Just three fee-paying passengers. Business was around 80 per cent full. About a million down in economy.
Entertainment: Well for starters, the seat folds back into a comfortable bed. You can close the door alongside your seat, making your own (smallish) cabin for complete privacy. You could get an excellent eight hours shut eye like this. If staying awake is your thing, you've got your own drinks cabinet and all the electronic mod-cons you could fancy.
The service: Five star. The cabin crew were charming and professional. One gave me the lowdown on the plane (it was on just its second commercial run) in the kind of tones that reveal she was a true aviation buff.
Food and drink: Sensational. There was a glass of Dom Perignon when we boarded just before, er, 8am. Later, bespoke breakfast, superb coffee and another glass of champagne. Yes please. And perhaps just one more. Oh, go on then ...
The toilets: Bigger than the lounge of some flats from my student days. There's a full-length mirror and, yes, a shower. First-class passengers get five minutes worth of water to shower. The shower seems excessive to me, even for an airline like Emirates, which builds much of its brand around exclusivity. Of course, after an 11-hour haul you'd feel seriously fantastic to have a good wash. First-class passengers book their shower slot upon boarding - I reckon the best time would be one hour before landing. Promisingly, a sign on the door says 'No more than two people allowed in shower.'
Luggage: Ample carry-on allowance
The airport experience: Decent breakfast nibbles in the Emirates Lounge at Melbourne. Didn't notice any of the cutlery in Ross Taylor's back.
Unfortunately when we got to Auckland, some dope had left a smaller plane from another airline blocking the disembarkation gate which is supposed to be there for the A380s. All the passengers had to hop off on the tarmac and board buses. Bad play, Auckland.
Would I fly this again?: Sure. Right after we sell our three-bedroom house in Waterview for $10 million.


Winston Aldworth travelled as a guest of Emirates.