Luxury steps up to new high-tech levels at a renowned Hong Kong institution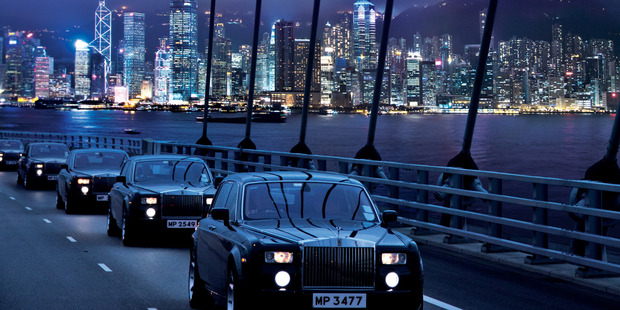 A touch of a tablet and you can make one of the world's great cityscapes disappear. Quite why you'd want to - short of deep sleep time - is beyond me, but it's fun playing with the ground-breaking technology at The Peninsula hotel. It pretty much caters for your every whim.
Whether you want to close the curtains, whistle up your valet, a limousine, a meal or a movie, it's all available via an industry first device that is idiot proof. I speak of myself rather than meaning any disrespect to its deliberately chosen senior testers: a 100-year-old hotel guest and the company's chairman, Sir Michael Kadoorie. Despite being well past retirement age, he still oversees the finer details, insisting on a seamless combination of the most modern of technology with the hotel's long legendary service. This exacting approach is what keeps "The Pen" at the forefront of those few hotels whose name is a global byword for the best.
Since 1928, The Peninsula has overlooked Hong Kong's Victoria Harbour from the tip of Kowloon. It has been the backdrop for glamorous soirees and history-changing events: from playing host to Silver Screen-era stars, to surviving Japanese occupation of the premises when they invaded in World War II until they signed their surrender of the then British colony there.
The Peninsula is still at the forefront of Hong Kong's social and political machinations, being a first choice destination for weddings and world leaders. For those who don't fancy being picked up from the airport in one of the hotel's fleet of 14 Rolls-Royce Phantoms, there's always the option of a helicopter ferrying you to one of the two helipads on top of the tower, which sits back from the hotel's gracious facade.
The tower was added in 1994 to double the number of rooms and suites to 300 and provide new levels of luxury. It houses a sumptuous two-storey spa and pool complex, and Felix restaurant and bar, designed by Philippe Starck. Other attractions include fine French and Cantonese restaurants, an art deco-styled bar and a basement arcade of luxury label stores. The boutiques are popular with the moneyed elite, who don't like to queue at the territory's flashier flagship stores for their latest Chanel. Instead they slip quietly into The Peninsula to stock up on Lagerfeld's latest.
The first Chanel store outside Paris was opened here, with Tiffany and Hermes also choosing the hotel for initial forays into Asia. There's also a bedazzling display of diamonds at Harry Winston and Graff.
No surprise then that The Pen is where you will see the tai tais - Hong Kong's ladies who lunch. It's also where you will see the occasional Hooray Henry. They're drawn, I'm told, to the cheap thrill of a trip to the men's toilets in Felix, with their fantastic views of the city and where you can take aim with your ambitions or frustrations at the centre of commerce. All (tidily dressed) comers to the spherical dining and drinking space can share the stunning view for the price of a cocktail.
Another entry-level way of enjoying The Peninsula is its daily high tea. This is so popular that unless you've booked in as a hotel guest, be prepared to queue, especially at weekends.
To celebrate its 85th anniversary, The Peninsula has reactivated some of its favourite traditions, including when high tea steps up to a jazz-era tea dance on the first Sunday of each month. Spot a tai tai and take a twirl with her much younger dance partner while you sip champagne and eat a jam roll beneath the gilded colonnades of the hotel lobby. As with the rest of the original H-shaped wing, this has been lovingly restored. In the triple-glazed guest rooms, interior detailing touches drawn from superyacht and private jet interiors have been added. Think high-gloss, lacquer-look burl wood cabinetry, pop-up desk panels with every imaginable electronic docking station and pull-out coasters built into Cassina sofas.
Every room has two servers to keep its gadgetry ticking over. You can use the memory card to look at your holiday photographs on the room's giant flatscreen Blu-ray television or pull open a vintage-style leather handle to reveal an office-in-a-drawer, with the combined printer/fax/scanner/photocopier within rendering most trips to the business centre obsolete, although, of course, there is one. This is tech-head heaven - The Peninsula being the only hotel company with its own research and development facility for guest equipment - but the result is pleasingly human.
The interactive customised tablets introduced to each room this year are pre-set for you in one of five (soon to be 11) languages and show the temperature and forecast on their homepage. They also offer access to PenCities, an exclusive insiders' online lifestyle journal developed with Luxe City Guides so guests will always know where to go. Weekly updates guide you to the latest openings, best shows and dining-out options. The hotel's Academy programme allows guests to book for anything from a dim sum-making class to an art tour of the city with an expert guide.
There are cooking classes for children and picnic flights to outer islands. Or simply holler a Roller to take you where ever you want to go. (Cost-conscious guests can walk the few blocks to the rapid transit system or nearby Star ferries or window shop in the surrounding shops of Tsim Sha Tsui.)
But for those making just a brief stop-off in Hong Kong, or if you've already seen the sights or had your fill of shopping, I'd reckon it would be tempting to not bother leaving The Peninsula at all. Its mix of old and new encapsulates so much of the charm of the place, and all in air-conditioned splendour. Even the staff like staying there, many are third-generation employees. Like the guests, they benefit from the clever application of the latest technology, with smartphones used to relay messages and the hotel's giant-sized beds having a helpful mechanism that lifts the mattress for easier making.
I liked lifting no more than a finger to reach that handy bedside portable screen, even if only to turn off all the lights in one easy touch. Everyone who has stumbled around in an unfamiliar room looking for that final damned light switch will know this is no small detail - although the Pen specialises in those, such as providing an in-room coffee machine, and next up has plans for a nail dryer.
As with the free phone calls guests can make worldwide via VoIP, these all-inclusive extra services and amenities make all the difference to the perception of impeccable value that The Peninsula imparts.
When I win Lotto, I'll be back.


FIRST-CLASS BATH
If you're stuck in an airport often the first thing you hanker for is a shower. That is, if you're travelling cattle class. Those with business lounge access are sorted, but it seems up the front of the plane only the biggest and best will do. Check out Cathay Pacific's First Class Cabana (pictured), a marbled private room within the Wing Lounge at Hong Kong Airport. Actually, there are five cabanas and a dozen shower suites, so you need not be stuck for long sipping the free-flowing champagne selection with your fellow well-heeled passengers. The Wing's renovations by architectural firm Foster + Partners make much use of natural daylight and eco-friendly bamboo and eucalyptus woods. There's a much expanded dining area, where guests can order a la carte meals or choose from an extensive buffet. You might think that if you're flying first class you would want to enjoy the in-flight menus, but with many passengers connecting to Europe overnight, the Wing Lounge does a roaring trade before bedtime aboard. Entry to the lounge is open to Cathay's first class passengers, plus its Diamond Marco Polo Club members and Emerald members of the Oneworld Alliance.


• Janetta Mackay flew to Hong Kong with Cathay Pacific and stayed at The Peninsula as the hotel's guest. Cathay Pacific offers a daily service to Hong Kong, with a return fare of NZ$1758 (plus tax of $69), business class $5998 (plus tax of $70). For full details of fares and schedules and reservations check cathaypacific.co.nz
The Peninsula Hong Kong has a breakfast inclusive superior room rate of $HK4780 (approx $800), plus 10 per cent service charge, until December 28. Book online at peninsula.com or email reservationphk@peninsula.com
- VIVA