Swan uppers on the Thames are very bespoke, and very thirsty, observes Kevin Pillay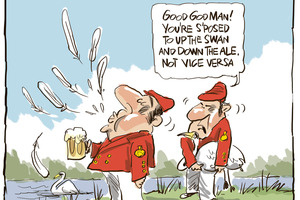 On weekdays, even in midsummer, the Thames is quiet and for the most part deserted.
The riverside is a nice place to have a peaceful al-fresco pint. Or two.
Dragonflies hover over the wash. Ducks bob in bow waves. An un-athletic jogger puffs by. A man exercises himself and his young son on a wobbly bicycle.
A lady in awful cranberry-inspired velour pants is hauled along by her much-too-big dog.
Then, suddenly, the idyll is shattered by some very strangely dressed scarlet-faced men in matching jackets, shouting, "All up!" and "Get them in!" They are called "swan uppers".
And they are very bespoke.
And always thirsty. Because, as they will constantly explain, counting mute swans is "bloody thirsty work".
Once a year for a week, between Sunbury-on-Thames in Middlesex and Abingdon in Oxfordshire, the swans and cygnets of the river Thames must be recorded and their data collated.
The annual swan census (which this year is from July 15-19) is a 600-year-old tradition and the historic riverfront pubs play a significant part.
Upping and downing go hand in hand.
When swans were first introduced into Britain (probably from Cyprus around the 13th century) they were very rare and considered a great delicacy in the kitchens of the nobility. In the 15th century they were proclaimed royal birds and the reigning sovereign still is "Seigneur of the Swans".
Ownership of all the swans on the Thames is divided between Her Majesty the Queen and two of the oldest trade and livery companies in the City of London, the Dyers and Vintners.
The Vintners and Dyers were granted the privilege of swan-upping in the reign of Elizabeth I. Their swan masters wear gold-braided uniforms and their assistants are dressed in striped jerseys. The Queen's official "swan marker" wears a scarlet blazer with brass buttons.
"Basically, it's one big pub crawl," explained one of the gentlemen in striped, Breton-esque jerseys. "But there is a conservation issue, too. Swans are an integral part of Thames life."
"We don't miss many pubs. We miss a few cygnets though," added a heavily braided man. "Have you ever chased a cygnet?" His face suggested he had not been on the water for at least a year.
The impressive flotilla of rowing skiffs and motorboats passes through four counties (Middlesex, Berkshire, Buckinghamshire and Oxfordshire) and navigates 14 locks. It pulls into umpteen historic riverfront boozers, like the 17th-century "Swan" at Pangbourne and Moulsford-on-Thames' 19th-century Beetle & Wedge pub (named after a utensil for splitting wood), which was the former home of writer Jerome K. Jerome, who wrote Three Men in a Boat, in 1889. Jerome, a failed actor, had his honeymoon on a boat, which gave him the idea for his famous travelogue.
The first "royal upping" day ends at Eton College Boathouse; the second at Marlow's The Compleat Angler pub and hotel, named after the book The Contemplative Man's Recreation, written by Sir Isaak Walton. It is now a four-star retreat.
The pomp and pageantry continues into a third day and on to Henley and Sonning, which Jerome described as "the most fairy-like little nook on the whole river". There are now about 800 swans along the Thames.
In the old days, anyone caught in possession of a royal bird could have their ears cut off or risk a jail sentence of one year and a day. In rare cases, offenders were sent to Australia. Now, after a day out on the river among the rivermen, participants and spectators alike merely risk sunstroke. And cultural - as well as renal - overload.
I waved the uppers off and had another at the Swan. Pangbourne was the home of Kenneth Grahame, a Scotsman and a former secretary of the Bank of England who wrote The Wind in the Willows. Grahame died there in 1932. The landscape inspired the book's illustrator, E.H. Shepard.
Grahame coined the phrase, "There is nothing, absolutely nothing half so much worth doing as simply messing about in boats".
He thought "the best part of a holiday is not so much to be resting yourself as to see all the other fellows busy working".
Right on both fronts.
He might also have observed that riverbanks are nice places to have a drink.