For the first time, Rijksmuseum's 8000-plus artefacts have been displayed in chronological order, including religious panels from the Middle Ages right through to a newly-acquired Mondrian-inspired dress by designer Yves Saint Laurent.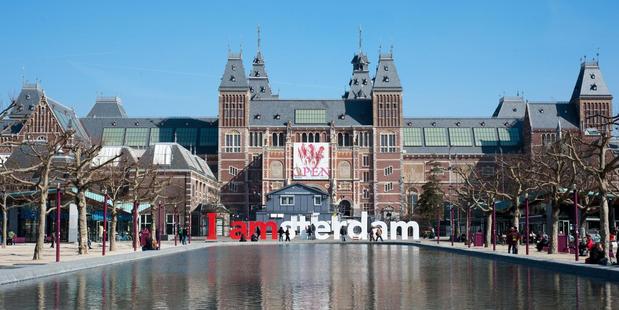 Bicycles jingle and clatter across red-brick bridges - some carrying "wheelbarrows" filled with children, others with passengers riding side-saddle on the back.
While locals confidently tear through the streets at ferocious speed, a group of tourists riding convoy pedals nervously, hand signalling every turn.
Canals are equally busy with boats gently slicing through the sun-dappled water, while on land riverside bars have strewn blankets and cushions over concrete ledges to create surprisingly inviting daybeds.
Window boxes are bursting with sunset-orange flowers, the tulip season is in full swing, and spring has arrived in Amsterdam.
This lively snapshot of a city in motion could very easily have been a subject for Dutch Master Rembrandt, whose works of art have come to typify the heart and soul of the Dutch capital.
At the beginning of April, national gallery the Rijksmuseum, home to the world's largest collection of Rembrandt paintings, reopened to the public after an epic 10-year renovation - which perhaps also explains why the streets of the sea-hemmed city are so busy today.
Costing NZ$595.50 million and heralded as one of the world's most ambitious gallery projects, it's set to make Amsterdam one of this year's most exciting city break propositions.
From the outside, the building has been restored to its gleaming 1885 glory.
Inside, Spanish architects Cruz y Ortiz have diverted the path of a canal to create a light-filled auditorium - a palette-cleansing introduction to the shades of grey, dark and light that leap from the masterpieces housed within.
The real showpiece is Rembrandt's Night Watch, an intriguing work that hints at many untold stories and which depicted groundbreaking realism in its day. The colossal 363cm by 437cm painting sits at the end of a long corridor lined with Vermeers and works from the 17th-century Golden Age, and it's as if not only the entire collection but also the Rijksmuseum itself was built around this focal point.
In fact, when the painting was re-hung in the gallery, following the works, it was done so with a procession through the streets, attracting almost as big a crowd as a royal parade.
But what really makes the Rijksmuseum a triumph is its commitment to Dutch art. Very few national galleries can claim a homegrown work as their star attraction.
Displays are something the Dutch do well. Walking along the narrow canal paths, it's impossible not to be distracted by inviting shop windows. Colourful wooden clogs and dazzling blue and white Delft pottery vie for attention with neon design-led furnishings and even women gyrating in leather bikinis - should you stray too far into the red light district.
The most picturesque and charismatic canal is undoubtedly Prinsengracht, cutting through the artistic areas of Jordaan and Pijp, and some of the best cafes, bars and restaurants can be found here.
Beer is a serious business, with an excellent choice on tap, but if you want to fit in with the locals, swap exports such as Amstel and Heineken for city brews - try Brouwerij 't Ij in the southeast of the city, an organic brewery which sits beneath a windmill.
But if you just want to watch the watery world go by, there's no better spot than the corner of Prinsengracht and Leidsegracht, with a drink from delightful 17th-century brown bar De Pieper, which still has a 19th century Belgian beer pump in operation.
Glossy boats captained by Penelope Pitstop lookalikes carry champagne-sipping picnickers, while downmarket dinghies whizz past with peroxide blondes listening to techno, and tourist boats saunter slowly - some even hosting five-piece jazz bands. Although the canal ring celebrates its 400th anniversary this year, it's still very much a part of everyday Dutch life.
Patriotic pride and a respect for the past form the foundations of this city, with the national coat of arms - three St Andrew's crosses - adorning everything from classic Amsterdammertje (brown steel traffic bollards) to flags fluttering from apartment windows.
As people decorate their homes and shopfronts with orange paraphernalia in preparation for this weekend's Queen's Day celebrations, it's evident Amsterdam is proud of its roots - and quite rightly so.
WHERE TO STAY
Andaz Amsterdam: With giant porcelain bells hanging above the iPad-operated reception and an orbital light installation rising to a glass roof, this new five-star property is just as much modern art gallery as hotel.
Dutch designer Marcel Wanders, whose appealing Moooi egg vases can be found in rooms, has taken inspiration from Amsterdam's rich history. Maps, murals and coats of arms decorate the bathrooms, with images of giant fish above beds.
From 5pm to 7pm, the hotel offers a free pour wine service in the plush library, with Nespresso coffee and fresh-baked cakes available all day. To top it off, the location on Prinsengracht is excellent.Visit amsterdam.prinsengracht.andaz.hyatt.com
WHERE TO EAT
Bluespoon: Part of the Andaz Amsterdam hotel, this smart but inviting restaurant is dedicated to local produce. Based around an open kitchen, guests can dine on codfish stamppot or North Sea king crab salad while looking out to the Alice in Wonderland-inspired garden. Mains from 20 Euros. Visit amsterdam.prinsengracht.andaz.hyatt.com
WHAT TO SEE
Rijksmuseum: Without doubt the current highlight of a trip to Amsterdam. Reserve two or three hours to explore the gallery properly and book tickets in advance online to avoid long queues. Remarkably, the museum is open 365 days per year. Visit rijksmuseum.nl
Kattenkabinet: Explore the quirkier side of Amsterdam at this 17th-century canal house, transformed into a museum dedicated to cats. Look out for the dollar bills with feline faces. Visit kattenkabinet.nl
WHERE TO SHOP
- Cheese Museum. If your house is cluttered with knick-knacks, an edible souvenir is worth considering. From Gouda to Edam, the Dutch have created some fine cheeses and there are more than 100 available to purchase here. Many are sealed so you can legally wheel them through customs. Visit Prinsengracht 112
- AAP