Destinations Donna McIntyre has plenty to write home about after a weekend on the lake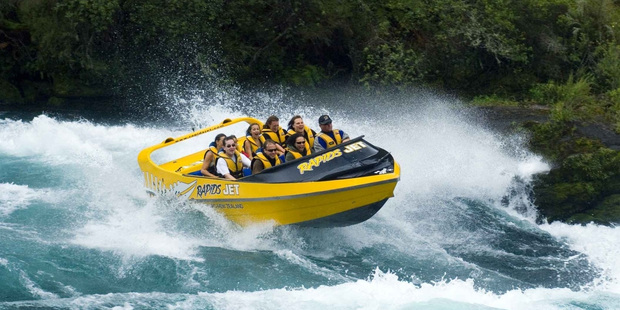 Some moments are priceless. And this is one of them. Four of us - two middle-aged parents and two teenagers - are all in the same boat and we're all wearing the same silly grins on our mugs.
We've just done yet another 360 with our driver, the affable Simon Lewis, as we zip up and down this narrow canyon on the Waikato River north of Taupo.
We're in Taupo for a weekend's worth of fun, splashing out on a treat-the-teenagers getaway.
Indoor thrills
Our first stop is the Whitewater World 4D Cinema in Ruapehu St, a virtual experience of rafting.
We take our seats in special effects chairs, after enjoying a coffee at the front of shop. 3D glasses are on and ponchos are donned because, yes, we do get wet even though we're indoors, as we settle in for a simulated helicopter ride and run a few rapids on a simulated rafting ride, with non-simulated squirts of water to add to the effects.
It's more fun than we expected and a nice way to start our Taupo activities. Glad I wore the poncho though, I really don't want to be soggy for the rest of the day.
Bike this way
Peter Hart of Great Lakes Shuttles takes us to Huka Falls, where he equips us with mountain bikes and helmets to cycle to the Aratiatia Dam. We watch the clear waters powering over the Huka Falls and then start pedalling.
It's so beautiful with the river running beside the bush track and there's almost no noise once you let energetic teenagers go on ahead ... This ride is just a taster, we'll be back to try the Craters Bike Park and the new Great Lakes Trail.
Jet boating
We reach the jet boat base early and are entertained by Max - a cute Jack Russell - and his stick. Then, lifejackets on, we board the 5.6m Kwikcraft.
Ma and Pa are in the middle back seats with a son on either side. Our driver tests passengers' tolerance of a 360, gets everyone's thumbs up and we're off, zipping close to rocks and overhanging branches and doing enough 360s and swerves to keep us all deliriously happy.
Fantastic ... I dare you do this! But tell your husband to stay quiet if he escapes without being wet. Mine piped up and we got an extra-special 360 to wash a wave over the back seat.
Lunch
Okay, so now we are soaked - and our spare clothes are back in Acacia Bay where we are staying with our good friend Megan.
Never mind, say the boys, we need some new hoodies anyway, as they drag me and the wallet off to Cotton On. Taupo has great cafes - Salute, The Vine Eatery, Lone Star and Replete all come recommended. Just check portion sizes first to make sure they'll satisfy teenage appetites.
Cruising the lake
A more relaxed speed this time as we board the Cruise Cat, one of the Chris Jolly Outdoors fleet at the Taupo Boat Harbour, to motor out to the Maori Rock Carvings. These are impressive, especially when you consider the feat of erecting scaffolding on the lake bed to work on the rock face. On the way back, guide Rona Price demonstrates trout fishing and we sample the two she catches, brushed with brown sugar and salt and cooked in the oven onboard. Delicious, and it's refreshing to view Taupo from another angle.
In hot water
We get wet and warm at the mineral-enriched hot pools at Wairakei Terracesand relax as stiffness melts away while being blissfully submerged from the neck down in temperatures 35C-plus. There's also a bush walk past the Te Kiri o Hinekai Stream, silica terraces and geyser. Pencil this treat in for the night you stay in Taupo, but not before a long drive home, as you'll tend to feel delightfully drowsy afterwards.


GREAT IDEAS
• Whitewater World
Phone: (07) 378 8482
• Great Lake Shuttles
Phone: 021 656 424
• Rapids Jet
Phone: 0800 Rapids
• Chris Jolly Outdoors
Phone: (07) 378 0623
• Wairakei Terraces
Phone: (07) 378 0913

• Donna McIntyre and her family were hosted by Great Lake Taupo.