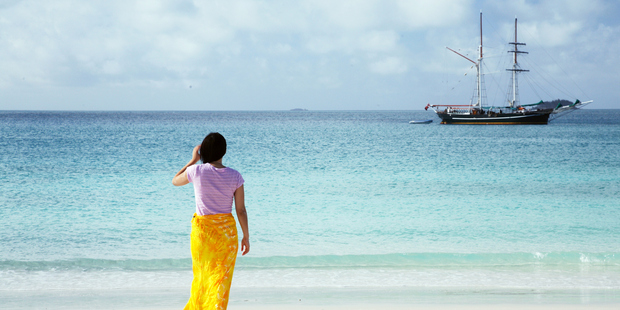 Queensland's picturesque Whitsunday Island. Photo / Getty Images
We're getting married in October and my fiance and I need help in choosing a honeymoon destination. We don't drink alcohol and are into doing something really fun every day, such as bungy-jumping, elephant riding and swimming with sharks. We're not so concerned about accommodation but more about living up our time away with some extreme activities. Our budget is $5000-$10,000 and we have between one and two weeks. Help! - Grace
Lonely Planet's Sarah Bennett and Lee Slater reply:
A driving tour of Queensland from Brisbane to Cairns will tick many of your boxes. In October there are fewer crowds, the prices are slightly lower, and the weather is generally good.
There are also bucket-loads of adventures on hand. Stop in Hervey Bay for a spot of humpback whale spotting and then consider leaping out of an aeroplane (with parachute) from 14,000ft above the beach. Halfway up the coast, swap your car for a boat, and sail and kayak the azure waters around the gorgeous Whitsunday Islands.
Heading further north, experience the whitewater adrenaline rush of Tully River rafting before arriving in Cairns, the main gateway to the Great Barrier Reef. Dozens of boat operators offer day trips and multi-day reef explorations on live-aboard vessels. Whether diving or snorkelling, nothing quite compares to that first glimpse into this submarine wonderland. Amid the 1500 or so species of fish, you might be "lucky" and spy reef, nurse or hammerhead sharks.
Another option is right under your nose. New Zealand's South Island is considered by many travellers to be the world's best adventure tourism destination and a well-funded road trip would prove unforgettable. There may not be elephants to ride or sharks to swim with (at least not knowingly), but you can jump into the water with endangered hector's dolphins off Akaroa and there are whales to be seen off Kaikoura.
Queenstown and Wanaka are adventure capitals, with bungy-jumping all ways, skydiving, rafting, tramping and mountain biking adventures on tap.
The West Coast has glaciers to explore and abundant tracks to walk or bike, while the Nelson region boasts three national parks, including the Abel Tasman, a seductive spot for kayaking.