Experiencing culture shock is a given when visiting the world's largest democracy, writes Paul Rush.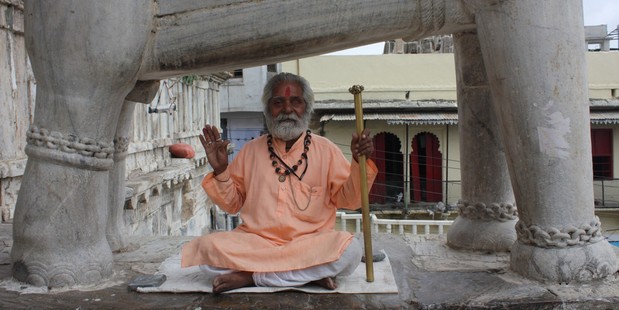 When you come to India expect to be surprised and delighted at every turn. Things will happen that will delight, shock, challenge and motivate you as you get to know this vast, enigmatic country. On a recent 16-day tour of Rajasthan I was staggered at the diversity of its landscape and people.
The colours, smells, sights and sounds of this exotic destination, with its history spanning 5000 years, will leave you spellbound. My imagination was captured by the hues of Rajasthan. The amazing red sandstone forts, white temples and marble palaces are complemented by the bright colours of fairs, festivals, functions and weddings. Everyday street scenes are enlivened by the vibrant splash of women's saris, in eye-catching red, orange, yellow and crimson.
Then there's the incredible culture. Brace yourself for the masses of humanity, holy cows, chaotic traffic, Bollywood movies, tandoori chicken, cricket mania and 330 million Hindu gods. Nowhere else comes close to incredible India.
Touring by car with an assigned driver I travelled from Delhi to Agra, Jaipur, Mandawa, Bikaner, Jaisalmer, Manvar, Jodhpur, Rohetgarh and Udaipur, passing thousands of pilgrims walking along the road. Their destinations were important Hindu temples and notable shrines such as Amarpura Dham in Rajasthan, which can be a staggering 300km from their home villages.
Although the pilgrimages take weeks to complete, invariably the colourfully clad, fully veiled women just carry a small overnight bag on their heads. In most cases the pilgrims sleep amongst the roadside acacia trees. Some find budget guest houses and others use temporary marquees set up on the roadside for their use.
The men wear white cotton clothing, loosely tied and distinctive white turbans. They stride nonchalantly along the dusty verge unencumbered by baggage, some proudly holding aloft their district flag. Thousands more travel by bus or truck crammed in tightly, even standing on the doorway steps. Men folk squat on the bus roof, oblivious to the dust, exhaust fumes and obvious danger.
Despite my first impression of primitiveness I soon come to realise that India has huge potential for growth and prosperity. The country manufactures or assembles under licence virtually all of its cars and trucks. The popular compact cars, Suzuki, Swift and the Dzire have waiting lists of 120,000 loyal customers. I rode in 4WD Mahindras on two desert safaris and was impressed with the performance of these replicas of the WWII American Jeeps. There are vast reserves of oil and gas in the north. However, it appears that graft and corruption are holding the country back.
August is the start of the monsoon season in Rajasthan, but with its low annual rainfall this semi-desert region produces hardly enough precipitation to moisten the parched soil and farmer's crops are seriously threatened. In an act of desperation the government asked 5000 Hindu temples in Rajasthan to pray for rain but the clouds still held back the vital moisture. Each prayer ritual called for 5000 rupees (NZ$124) of specially blessed rice and up to 30 herbs, so it proved to be an expensive exercise. Nevertheless, a request was sent to the Uttar Pradesh asking 32,000 temples to repeat the exercise.
My heart goes out to the Rajasthan farmers as I watch them turn over huge acreages in 45 degree heat with heavy wooden ploughs pulled by a camel. Their village homes are made with hand-hewn slabs of red sandstone, thatched roofs and compacted floors of sand and cow dung mix. These dwellings are efficiently organised with separate family rooms, storerooms, cow and goat fodder stores and cooking rooms. In one small hamlet I meet three children who are delighted when I take their photos and show them the images, the eldest demonstrating her scholastic prowess by counting to twenty in soft, lyrical tones.
As we drive from Jaipur to Jaisalmer and Udaipur, thousands of ploughed acres appear like orderly rows of sand ripples fashioned by the wind. But the locals assure me that the desert has a soul and a conscience. One day in late August when the she-camel and black billy goat lift their noses high to face the breeze and dance in a circle, the rains will surely come. The parched land will become the painted desert once again.
With thousands of years of deeply entrenched religious and cultural traditions, not surprisingly Indian people tend to be superstitious. This is particularly true of the very friendly and hospitable lower caste farming folk like the Bishnois who strictly observe 29 rules conceived by a 15th century guru.
Their homes lack any modern contrivances, with the exception of a motorbike to get them to town. Although surrounded by cows, goats and wild deer they never kill any animal and cannot eat meat, eggs or fish, being strictly vegetarian. Their staple foods are millet flour bread, yoghurt, vegetables, cassandra, desert beans and pulses.
Walking through various town centres, I meet and (with their permission) photograph a number of gypsies and the lowest caste Dalits, termed the untouchables. These groups often camp outside the towns and are very active in the tourist industry. At every fort and palace in Rajasthan, you'll find attractive, heavily veiled women standing in strategic locations inviting visitors to photograph them in their colourful garb. Once you proffer money, the veils are lifted to reveal coy faces with broad, toothful smiles.
Indian women are very beautiful, with olive skin, long black hair, fine facial features set off with colourful saris. Throughout Rajasthan it is common to find that their faces are completely covered. They wear gold jewellery, rainbow-coloured bangles, bright printed headscarves and lavishly embroidered leather shoes.
India has an insatiable demand for gold for social and cultural reasons. It's a hangover from a prehistoric era when the country possessed fabulous wealth and contributed one third of the world's GDP. Today, 969 tonnes of gold is imported primarily for jewellery and religious ornamentation.
One headline in a Sunday paper stood out and emphasised the unbelievable contrasts that characterise Indian life. It read; 'An Indian Bunny in the Mansion'. Sherlyn Chopra, pictured in black knee-length boots and black leotard to match her long raven-coloured hair, is the first Indian national to model au natural for Playboy magazine. After a struggling career in Bollywood movies the 25-year-old felt so comfortable in her skin that she sent photos to the magazine and placed them on Twitter, where they went viral.
A highlight of my tour was visiting the spectacular red sandstone forts in the Thar Desert of Rajasthan. An elephant ride carried me to the lofty heights of the Jaipur Amber Fort. The immense ramparts of Jaisalmer's Sonar Fort and Jodhpur's Mehrangarh Fort are impregnable. The Taj Mahal, Hindu temples and marble palaces, with their elaborate gold inlays and painted frescos are architectural wonders that are truly memorable.
India is also renowned for its lively festivals. I was in Jodhpur during the grand procession of Teej, where thousands of women devotees dressed in their finest ethnic clothes and adorned with jewellery, sang and danced their way to a Hindu temple. There they offered prayers to Goddess Parvati (the consort of Lord Shiva) for the well-being of their husbands, and asked the goddess for a long and happy marriage. This was a well-founded prayer, as divorce is a foreign concept throughout India. It is deeply frowned upon, especially by parents, as they arrange 85 per cent of Indian marriages.
Other prominent festivals include Divali, which also is celebrated in New Zealand, and commemorates the day Lord Rama returned home after years of exile. Cities are illuminated with millions of oil lamps and boys wreak havoc with fireworks. Holi Festival heralds the arrival of spring and people splash each other with coloured water and smear friends with powders - just another example of the Technicolor brilliance of cultural life that thrills travellers who visit incredible, indelible India.
FACT FILE
Getting There
Cathay Pacific has daily flights to Hong Kong with a Delhi connection the next day. From December 2012 there will be a same day connection Auckland-Hong Kong-Delhi.
Getting Around
Travel companies like Adventure World organise small group tours around Rajasthan in modern vehicles with local guides at each city to show you the sightseeing highlights such as palaces, forts, temples, gardens and produce markets. Carry a good supply of lower denomination currency (10, 20 and 50 rupees) as tipping is widely practised in India.
WEBSITES
india.com
adventureworldindia.com
adventureworld.co.nz
cathaypacific.com
* Paul Rush travelled to India courtesy of Adventure World Tours and Cathay Pacific
- nzherald.co.nz