The food on the Hauraki cycle trail was worth dismounting for, says Nadia Lim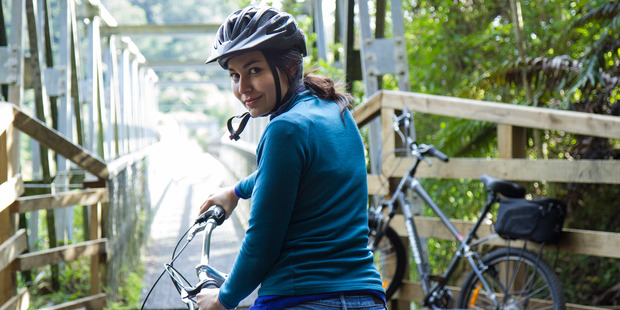 Under pedal power, Carlos and I took a short break to explore the Coromandel via the Hauraki Rail Trail. We aren't cyclists so were a bit hesitant as we set off, but were pleasantly surprised by how easy the trail was to ride.
The trail runs along the old rail route through farmland from Paeroa to Thames, then through the Karangahake Gorge to Waikino. There are 82km of well-manicured, flat gravel tracks, making an easy and picturesque cycle. Trail founder Peter Maynard learned from Central Otago rail trail and applied it to Hauraki, and it's been a recipe for success.
More than 200 bicycles are available for hire. Buses with bike racks pick-up and drop-off along the journey, and guided tours, baggage transfers and itinerary planning are all on offer. Those involved poured their heart into it and the result is world class.
It's a little over an hour's drive from Auckland and Hamilton. Head south on Friday after work and stay at the Miranda Holiday Park, where you can soak in a hot pool, or head straight to Thames and enjoy a touch of affordable luxury at the Coastal Motor Lodge.
From this four-star spot you can unwind while watching the sunset across the Firth of Thames.
The trail is only a year old, but already hosts more than 2000 cyclists a week.
All ages and abilities are encouraged, and where people go, businesses follow.
Coming across locals selling edible delights makes the journey even more special.
We enjoyed a hearty breakfast at Sola Cafe, then hit the trail. We didn't make it far before we felt compelled to check out Cathy and Kelvin Haigh's organic Cheese Barn at Matatoki. This stop that should be on all cheese lovers' lists. The Haighs have pioneered organic cheese in the area: Kelvin's blue Killarney and mascarpone are especially good.
Setting off through the Karangahake Gorge, we made another pit stop at the Ohinemuri Winery Restaurant. Restaurateur and owner Horst Hillerich poured wine and deliver fantastic meals as I tried to talk myself into completing the next leg of the journey on a full belly. I'd recommend the hapuka. Wrapped in filo on a bed of barley risotto, the meal is a delight.
We continued towards the Waikino Rail Station. This beautiful stretch of track follows the river all the way through the gorge. It passes through the Karangahake Rail Tunnel, an incredible piece of engineering in its day, with 1km of track cut through solid rock. It has served as a rail tunnel and now a cycle track, but I couldn't help thinking its dark, chilly interior would make a spectacular wine cellar.
Shortly after the tunnel, we rode by the remains of another engineering marvel, the Victoria Battery. This relic of the gold-mining era provides one last fabulous backdrop as the end of track journey nears.
A short ride off the main road is The Bistro at the Falls Retreat. This charming restaurant, tucked away in the forest with an iron roof and simple fixtures, is a destination in itself. Chef and owner Brad King has designed a menu that focuses on fresh, big flavours. This is bistro dinning done very well, with daily specials, great pizza, a good wine list and excellent staff.
The food and hospitality continued to impress as we moved into the car for the second leg of the journey. A short drive off the main road leading into Waihi will take you to Roland Straessle's lovely Waitete Restaurant and Cafe. Roland will serve you household favourites from his German homeland. Every month he runs a wine-and-meal deal that features several courses of food and matching wines. It sounded like fun and good value.
But the trip highlight had to be the accommodation and five-course dinner at Manawa Ridge Luxury Lodge in Waihi. The mud brick/straw bale building took years of hard work and perseverance to create, designed and built by hand by Carla and Willem van de Veen.
They greeted us with open arms and treated us to a food and wine selection that was simply outstanding. Willem is also a skilled butcher, and all their meat is raised organically on their farm.
The Coromandel's rural side can be overlooked in favour of its beach scene, but I'd recommend checking out the Hauraki Rail Trail. Its local fare and hospitality make for a wonderful, romantic weekend away.


• Nadia Lim and her husband Carlos travelled courtesy of Destination Coromandel. Start your road trip at thecoromandel.com or visit Facebook to win one of six trips on offer.