Ann Huston and her sons hire a boat and head to Indonesia's Komodo National Park in search of giant lizards.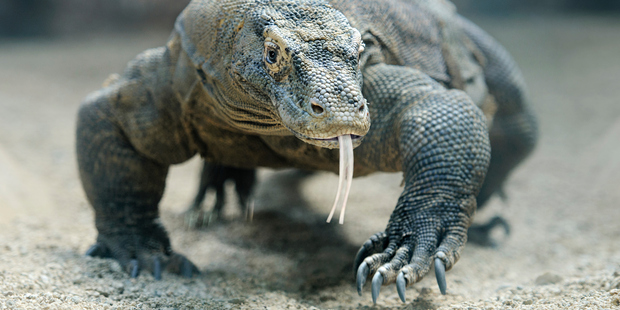 The first time I came face-to-face with a colossal male Komodo dragon, three questions raced through my mind: One, how fast can I run? Two, how fast can a Komodo dragon run? Three, why didn't I research that before we came here?
There he was. Huge. Black eyes glinting, forked tongue flicking in and out, sandpaper for skin. It seemed wrong that we were standing so close to such a deadly creature, but our guide said the dragon had just eaten a deer, and wasn't looking at us in a "food kind of way". Not yet anyway.
We were on Komodo Island, just off the coast of Flores, home to 1300 dragons of varying running speeds. Another 1100 of the nimble-footed reptiles live on neighbouring island Rinca. The two islands form part of the Komodo National Park. The Komodo dragon is the world's largest monitor lizard; it can grow up to 3m long and weigh up to 150kg. They can run in short bursts of 18km/h, I later discovered, which would have them snapping at the heels of the average human.
I'd booked two days and a night on a boat to take us to Rinca, then on to Komodo from Labuan Bajo, the main town in the west of Flores.
Our boat, the Farah Praya, was a collection of decaying planks held together with chipped paint, rusty nails and the undeniable skill of the captain and his assistant, who was also the cook. As well as a spluttery engine, Farah Praya also sported a mainsail made from blue and white tarpaulins full of holes. As we motored out of Labuan Bajo harbour that first morning, I crossed my fingers and hoped for the best.
Two hours later we docked at Rinca. After a short walk, we arrived at the rangers' headquarters. As it is compulsory to have a guide when walking on the islands, we were assigned Goris, a young chap who carried a two-pronged stick to protect us from sprinting lizards. My sons looked at the stick, then back at me.
"We'll be fine," I assured them, fingers still crossed.
Goris led the way on our two-hour dragon-hunting walk. We trekked over savannah, struggling up and down hills in phenomenal heat, sweat gushing from every pore. A baby dragon darted away in the bushes. It was an unusual sighting as young dragons normally live in trees to avoid being eaten by larger members of their species. Not only was there danger for young dragons, but Goris told us one of his fellow guides was bitten by a dragon and had to go to Bali (two hours on a boat then a 90-minute flight) for treatment, as there was nothing available anywhere closer.
From Rinca we spent another two hours bashing through lumpy seas, on to Komodo Island where we arrived after dark and anchored in a sheltered bay. After dinner, cooked in the tiny boat kitchen, we were introduced to our sleeping quarters - the roof of the toilet. It required a complex set of manoeuvres to get up there and my 48-year-old gymnastics were not a pretty sight. We drifted off to sleep to the sound of fish leaping out of the water, then plopping back into it, and the noise of the bilge-pump cycling all night, preventing us from sinking.
Dawn came with screeches, not from us, but from a cloud of fruit bats, known as flying foxes, swirling above us, returning to their home in the mangroves after a night feasting on fruit on Komodo Island.
After a breakfast of pineapple jam on bread, we reported to the Komodo Island ranger station where we met Raifing, our new guide. Within the first few minutes of walking, we came across the deer-stuffed dragon. It didn't seem possible a lizard could be that size. "Don't tell anyone," Raifing whispered as he passed the boys two razor-edged treasures, "but these teeth fell out of that dragon after he ate that deer."
As we hiked over the island, we saw other dragons skulking in the bushes. With no barrier between us and them, we felt vulnerable but strangely alive. And, of course, we knew that stick would protect us.
Back on the Farah Praya, heading home to Labuan Bajo, a light-bulb exploded over my head, showering me with splintery glass. After staring down dragons and hanging out with giant bats, a few glass shards in my hair went mostly unnoticed.


Info
Getting there: Fly Merpati Air from Bali to Labuan Bajo, Flores.
Where to stay: Bayview Garden Guesthouse. Our triple room cost $60 a night, including breakfast.
How to see the dragons: Take a boat to Komodo and Rinca islands. It cost $240 for three people to do the two-day trip, park entry fees excluded.
Komodo dragon facts
• A dragon can eat 80 per cent of its bodyweight in a single feeding.
• Dragons will eat almost anything, including deer, pigs, smaller dragons, water buffalo and humans.
• Animals bitten by a dragon usually die of blood poisoning within 24 hours as dragon saliva contains more than 50 strains of bacteria.


• Ann Huston paid her family's own way to Komodo National Park.