Alex Robertson and award-winning travel photographer Babiche Martens get to grips with a complex and beautiful land.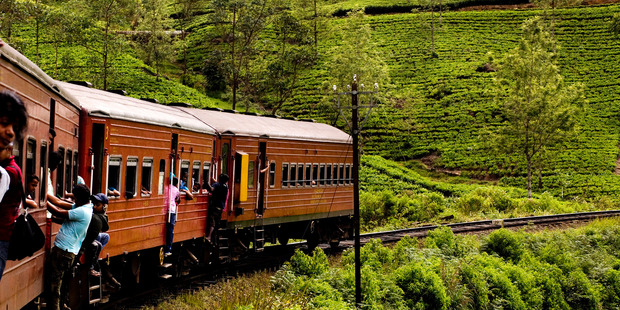 A: Anuradhapura, a World Heritage site and former capital of ancient Lanka is famous for its well-preserved temples and monuments to Buddha. One of the oldest continuously inhabited cities of the world, it is home to the sacred Bodhi Tree purported to be over 2300 years old.
B: Buddhism is the first religion with over 70 per cent of the population identified as Buddhist. Sri Lanka is now a major destination for pilgrims with many sacred sites.
C: Coconut is a major part of the diet. The milk of the king coconut is drunk straight from the shell and is a great reyhdrant and hangover cure. The flesh from coastal and lowland coconut is widely used in cooking. Arrack, a strong alcoholic drink, is distilled from coconut sap and is delicious with ginger beer.
D: Dagaba, literally the womb of relics, is the domed-shaped structure representing a Buddhist relic. Also called a Stupa, they are found all over the countryside and are often the centre of worship.
E: Elephants are of the Asian variety with small ears. They hold a special place in both Buddhist and Hindu worship. The population was decimated when the British started to hunt them and locals still regularly killed elephants until the 1970s. A conservation programme has seen the establishment of an elephant orphanage and game reserves.
F: Fire walking can be traced back to the Indian Princess Sita, who was abducted by Ravana, a Sinhalese king. When she returned to her husband Rama she proved her chastity by walking barefoot on fire, unhurt. The fantastic cultural show in Kandy includes lots of fire-eating and fire-walking.
G: Golden Pinnacle Dagaba in Pollonaruwa, at nearly 170m around and 55m high, was built in the 12th century by King Nissamkamalla. Rising up from the earth like an enormous belly, it is an amazing sight to behold.
H: Hindus make up over 20 per cent of the population and their temples and shrines can be seen everywhere. Tamils are Hindu which led to the mistaken belief that the 30-year civil war was over religion.
I: Irrigation may not be a sexy topic, but the impressive system of catching, keeping and distributing rains from the two monsoon seasons has ensured ample production of the staple rice for over two millennia.
J: Japanese interest in Sri Lanka can be seen in a number of temples, Buddhist monuments and even a museum built by them. In return, they received a couple of baby elephants from the Pinnawala orphanage. Many Japanese pilgrims come to visit the holy sites.
K: Kandy, a former capital, is a beautiful and exciting city in the central highlands. Home to the sacred Tooth Relic of Buddha, you are as much likely to be woken by the Muezzin's dawn call as you are to drift off to sleep to the music and chanting of a Hindu festival celebration.
L: Lions feature profoundly in Sri Lankan culture. The Lion is the major emblem on the national flag and Sinhala literally means "Lions blood". The Sinhalese are descended from the first king Prince Vijaya, the eldest son of King Sinhabahu ("Man with Lion arms") who at one time lived in a lion's cave, according to legend.
M: Mahinda, son of the Indian Emperor Ashoka, brought Buddhism to Sri Lanka in 300BC after meeting King Devanampiyatissa. Mahinda's plateau is now home to the Mahaseya dagaba containing a hair of Buddha.
N: Nurawa Eliya, also known as Little England, was established by British as a hunting base and health resort. In the heart of tea country, the rain must have appealed to the Brits who built a replica British town, golf course and a lake to fish for the imported trout.
O: Oya is Sinhales for river and is often tagged onto the end of a town's name if a river runs through it.
P: Polonnaruwa is another ancient capital and a vast area of ruins and historical sites. There is ongoing reconstruction and preservation of these very impressive buildings and monuments and is a must for any tourist.
Q: Queuing is anathema to us Kiwis, but if you visit the amazing Sri Pada during one of the many full-moon festivals you will be lining up behind thousands of other souls on a pilgrimage up the 5200 steps to the top of the hill and the monastery that sits 2244m above sea level. It's well worth the wait.
R: Religion is inescapable in Sri Lanka. Buddhism, Hinduism, Islam and Christianity are all widely practised and the temples, shrines, churches, monasteries and monuments are everywhere. Some people follow all these and more.
S: Steps seem to be loved by the locals: 5200 to the top of Sri Pada; 1844 up Mihintale; a countless number to climb Sigiriya. Be prepared to climb a few steps, it's worth it.
T: Tea was introduced by a Scot, James Taylor, from China in the 19th century. Plantations were quickly established in the ideal growing conditions turning Sri Lanka into one of the largest exporters of tea in the world. High-grown Orange Peko is an exceptional tea: once you've tried it, nothing else will do.
U: UNESCO has slapped World Heritage status on pretty much the whole of Sri Lanka. The difficulty now is to balance growing tourism with the preservation of some amazing monuments and sites. Go soon while you can still climb all over ruins that are many centuries old.
V: Vihara is a Sanskrit term for Buddhist monastery and is often seen in temple or religious site names around Sri Lanka. The Gol Vihara, or stone shrine, in Polonnaruwa is a series of giant Buddhas carved from solid limestone.
W: Water buffalo were once widely used to plough paddies and pull carts. They are gradually being replaced by mechanical ploughs in the rice fields and are seldom seen on the roads these days, unless you're really lucky. The yoghurt from buffalo milk is sensational with fruit and palm syrup for breakfast.
X: Xylography, the art of engraving on wood, is alive and well in Sri Lanka. The hawkers who follow your every step around the many historical sites will have you believe they stayed up all night hand-carving things just for you. It's amazing how many of these guys can produce exactly the same thing down to the smallest detail.
Y: Yellow represents the skin of Buddha on the Buddhist flag, first raised in 1885 and adopted globally as a symbol for Buddhism in 1952. The other colours are: blue for his hair; red for his blood; white for his bones; and orange for his robes, which are worn by Buddhist monks to this day.
Z: Zen is a Buddhist doctrine followed mainly in Japan that strives for truth through meditation and self-discipline. Sri Lankans will probably conform to this at times, but may follow more ritualistic ways.
• Alex Robertson travelled as a guest of World Expeditions. Babiche Martens flew to Sri Lanka with Cathay Pacific Airways.