Many travellers only experience Bangkok through the largely sleepless eyes of a backpacker – or settle for clean yet budget hotel accommodation at best. Don't overlook a luxury holiday in Bangkok, though - it's more affordable than you might think.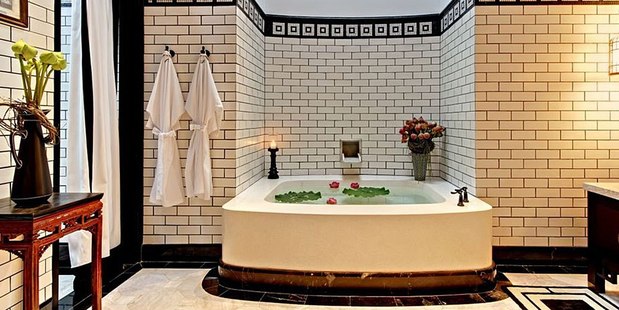 The thing about Bangkok is that this exhausting, exhilarating, non-stop city actually offers serious luxury for around half the price of five-star hotels you'd find in other large metropolises like London, New York and Hong Kong. So if you're curious to experience how the other half (or one per cent) lay their weary heads post-sightsee, this is the place to do it.
To make the most of your social experiment, try a few different hotels, not just to experience different styles of luxury accommodation but also to get a feel for different parts of the city. Cabs are cheap here, so shuttling from one establishment to the next won't break the bank.
Where to start is the question - the city is bursting with five-star hotels, so it can be confusing when it comes to sorting the wheat from the chafe. (Note: Book through a discount website such as Asian Hotels rather than directly via the hotels' websites - you can almost always save more that way.) The following four establishments have earned great reputations and offer unique kinds of luxury - in the name of dipping my toes into the travel-style of the rich and famous, I stayed in each of them for 2-3 nights.
Mandarin Oriental
Location: Chao Phraya River
Choose here if: You want some history with your high tea
The Mandarin is discrete, charming, sumptuous and legendary. It has hosted an impressive roll call of writers, celebrities and royalty in its 135-year history - from Norman Mailer, Elizabeth Taylor and Michael Jackson to Audrey Hepburn, Neil Armstrong, Graeme Green and Mick Jagger. All who come for its historical charms and seriously good service (never intrusive, always helpful).
Positioned on the Chao Phraya River, try for a room with a riverside view so you can experience the calming effect of observing its busy expanse from up high. The rooms themselves are decorated extremely tastefully with high quality furniture, right down to the elegant marble bathroom, muted colour scheme and gentle lighting.
There's a lot on offer at the Mandarin: treat yourself to a signature massage at the gorgeous and award-winning Oriental Spa, and dine or drink at one of the hotel's nine restaurants and bars - we had a BBQ buffet at the Riverside Terrace and it was fantastic, but apparently Le Normandie (fine French dining) and Sala Rim Naam (traditional Thai fare) are also excellent. For nighttime entertainment reminiscent of 1920s' decadence, try Jazz and cocktails at the lively Bamboo Bar.
You definitely shouldn't miss high tea in the Authors' Lounge: on the ground floor of the Authors' Wing, this white-washed lounge offers old colonial charm with rattan furniture, Siamese umbrellas and graceful bamboo and palm trees. It is considered a city institution for traditional English afternoon tea - with scones, finger sandwiches, cakes and fine teas.
The Mandarin is an exemplary hotel, managing to strike the perfect balance between cutting-edge service and facilities, and the deliciousness of prestige and history. A landmark in itself, it's worth putting aside a day of your stay simply to wonder around its facilities and your room, reveling in the fact you're staying in the same place as Mick Jagger (et al).
Special touch: The delivery of complementary afternoon snacks
Abiding memory: Being told "This is your home in Bangkok!" by the porters
Cost: From $655 for a Superior room
Oriental Residence Bangkok
Location: Wireless Road
Choose here if: You want refined apartment living with dramatic city views
For casual elegance and traditional luxury, Oriental Residence Bangkok offers serviced apartment style accommodation surrounded by a lush enclave in the centre of the city. Its 145 lavish residences are extremely tasteful and comfortable, with separate bedrooms and living areas - and the most luscious pillows and duvet I have ever experienced full stop. There's a kitchen if you need it, real coffee (which makes a nice change), and a beautifully modern marble bathroom to relax in at the end of the day. And the city views from every window will find you staring dumbstruck for countless minutes at a time - skyscrapers, street scenes, and the extensive gardens of the US embassies down below.
Surrounded by the lush trees of Wireless Road in the heart of Bangkok's business and embassy district, the location feels at once upmarket, established feel, and full of life - from the impressively grand embassies to the rows of street stalls selling deliciously simple Thai meals.
Also delicious is the breakfast at Café Claire. After the endless of options of other buffet breakfasts, it was refreshing to be presented with a slightly more selective - yet no less satisfying - offering, including high-quality cheeses and Italian hams.
The rooftop swimming pool is excellent. It doesn't get much better than gliding along its expanse as you look around to the grey concrete of Bangkok's many towers, then nesting into a poolside pod to read your book. It's located on the Play Deck, designed to mimic a classical pantheon and essentially a marble clad open air lounging area which also features a quiet, fully stocked outdoor bar.
Lastly, make sure you eat and drink at the Oriental Residence's signature Chinese restaurant, Mandopop. Home to an impressive list of irresistible cocktails and the creative cuisine of chef Adrian Chua, you'll enjoy innovative dishes like Bean Curd with Dragon Fruit , Fried Prawn with Wasabi Mayonnaise, and Creamy Avocado Ice-cream. (That last dish has stayed with me ever since. Amazing.)
Mandopop isn't your average Chinese restaurant - apart from its modern décor, the which has been used by magazines for shoots and upscale PR firms for parties, its creations are both visually impressive and beautifully cooked. Chef Chua lovingly maintains the authentic tastes of Cantonese cuisine, while remixing them into healthier, more experimental food experiences. All against the background of a live DJ, who spins Chinese pop tunes.
Special touch: Amazingly luxurious pillows and duvet. And Avocado Ice-cream
Abiding memory: The views - especially of the US embassy, with its Central Park-esque grounds
Cost: From $190 for a Grand Deluxe room on a week-day rate
The Siam
Location: Chao Phraya River
Choose here if: You love luxurious interiors and antique treasures
Set on three acres of premium river frontage, The Siam is a 39-room luxury retreat that wouldn't look a hair out of place in a Vogue fashion editorial. Inspired by the jazz-infused Art Deco era, its every nook and cranny is graced with antique artifacts, rare vintage prints and gorgeous old travel trunks, displayed with as much care as a world class museum. And its sprawling expanse has been crafted tip-to-toe for maximum visual impact.
The hotel belongs to the famous Thai Sukosol family, including creative director Krissada Sukosol Clapp, a famous Thai singer and actor. They've done something right: its numerous accolades include a spot on the 2013 Conde Nast Traveler HOT LIST, under both 'The Best New Hotels in the World' and 'The Best New Spas in the World' (for its Opium Spa).
Each spacious suite at The Siam feels more like a luxurious studio apartment sans kitchen, and has been concepted with a unique theme - from local architecture and music to contemporary art. They also host super-sized king beds, high ceilings, swanky Art Deco-style lounge areas, deep, free-standing bathtubs and elegant writing desks.
On request, a personal butler can cater your suite - our butler, Jill, was amazingly attentive and enormously helpful when it came to arranging activities and transport. The Siam's impeccable facilities include a period style library (with books you would actually want to read); a screening room; a stylish meeting room; a professionally-equipped luxury Muay Thai gym, an outdoor grass yoga area; a riverside infinity swimming pool with jacuzzi beds and poolside bar; and a private pier with Thai barge and luxury speedboat.
The hotel also offers a wonderful cooking school, which takes place right by the river. First, Executive Chef Blair Matheson took us to a local market (a real, non-touristy eye opener), after which we settled in for the morning with fellow Thai chef, Oil, who took us through three delicious dishes of our choosing. Complementary aprons as a keepsake and a constant supply of incredible cocktails as we learned made it a completely unforgettable experience that we'll be (trying to) repeat back home.
Special touch: The in-room coffee machine
Abiding memory: Eating the banana and coconut dessert we made ourselves
Cost: From $660 for a Siam Suite
Siam Kempinski Hotel
Location: Siam (not to be confused with 'The Siam')
Choose here if: You want expansive swimming pools and instant access to the best shopping malls
Located in Siam, Bangkok's youthful shopping and entertainment district, the Siam Kempinski offers immediate proximity to malls such as Paragon, MBK, The Siam Centre, Central World, and many more. Each mall houses at least one amazing food court - choosing what to eat is a wonderfully agonising process - and in between the malls are boutique-lined streets with yet more eateries and street stalls. The hotel's location also means you're in easy reach of the BTS Skytrain at the Siam Interchange Station, The Airport Rail Link, public taxis and other transportation networks.
But the appeal doesn't fall solely on geography. The hotel also offers well-thought out and luxurious rooms, truly outstanding buffet breakfasts (possible the best I've ever come across) and multiple saltwater swimming pools that cover almost the entire grounds of the hotel. A truly welcome respite after running yourself ragged searching for the perfect shoes/manicure/tailor/banana roti. The pool area is also the perfect place to catch up on reading or dozing - numerous luxurious beds line the tree-lined grounds and it's easy to find a spot that feels almost totally private.
Asides from a spa and gym, The Siam Kempinski also boasts Sra Bua by Kiin Kiin, a beautifully tranquil restaurant offering Thai-inspired cuisine with a modern twist. Dreamed up by top Danish chef Henrik Yde Andersen - whose Kiin Kiin restaurant in Copenhagen is currently the only Thai restaurant in the world holding a Michelin star - the restaurant was recently voted one of Asia's 50 Best Restaurants 2013 by San Pellegrino. While I haven't eaten in every restaurant in Asia (unfortunately) I did dine at Sra Bua, and can confirm it is a very special place, with truly creative and refined food that is well worth experiencing. Especially the foie gras - genuinely the best I've ever eaten.
Special touch: Extensive international options at the breakfast buffet
Abiding memory: The beautifully landscaped swimming pool areas
Cost: From $575 for a Deluxe room
Emily Gibson flew to Bangkok courtesy of STA Travel
- nzherald.co.nz