Eurostar's latest service takes you straight to the heart of foodie France. Andy Lynes climbs aboard.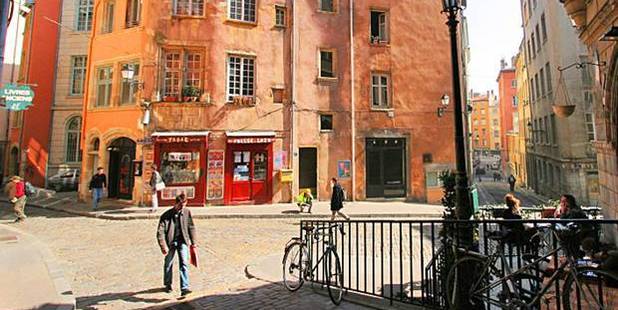 In 1925, the French food critic Curnonsky named Lyon "the world capital of gastronomy". Located in the Rhne-Alpes region of east-central France, midway between Paris and Marseille, the city has been trading on that reputation ever since. But nearly 90 years later, can it still hang on to the title when Tokyo, Copenhagen and San Sebastian lay equal claim?
The launch of Eurostar's direct service from London St Pancras to Lyon, running each Saturday until 29 June, provides a great excuse to find out. In five hours you can travel from the Thames to the Rhine and discover the flavours of French gastronomy's sweet spot for yourself.
The map of Lyon's nine arrondissements looks like a daunting urban sprawl. With only three nights in the city I wondered how I'd ever navigate my way to famous culinary treats such as quenelles de brochet (pike dumplings in crayfish sauce) and salade Lyonnaise, made with poached egg, bacon and frise leaves.
A little research revealed that I needn't stray too far from the Sane and Rhne rivers that meet at the city centre's south-west corner, cutting a "V" into the heart of Lyon.
All the markets, food shops, restaurants, bars and cafs I could want were within a manageable walk of my base in Vieux Lyon, the old town in the fifth arrondissement on the west bank of the Sane.
Lyon's gastronomic reputation partly rests on its location; it is surrounded by some of the finest raw materials in France. Head north for the vineyards of Beaujolais; the lakes of Ain, which provide Lyon with carp and crayfish; Bourg-en-Bresse, where much-lauded chicken comes from; and Charolles, home of Charolais beef. Go south and you're in the Rhne Valley with its appellations of Cte-Rtie and Condrieu. To the west is the farmland of Monts du Lyonnais; beyond is the Loire Valley where the Lyonnais' beloved pork comes from.
Much of this bounty finds its way to Les Halles de Lyon pleasingly close to Part-Dieu station, where the Eurostar train arrives at 1pm.
Opened in 1971, the vast indoor market in Lyon's Part-Dieu business district was renovated in 2006 and renamed in honour of the city's best-known chef and restaurateur, Paul Bocuse.
My guide from OnlyLyon Tourism, which runs group visits to the market by arrangement, tells me that the 87-year-old chef is still a regular at the market. Mr Bocuse can be seen chatting to some of the 58 vendors who supply his three-Michelin-starred eponymous restaurant in Collonges-au-Mont-d'Or, a 15-minute drive north of Lyon. He also has numerous bistros, dotting the city centre, including Le Nord.
The real star of the show, though, is the produce. One vendor, Gast charcutiers, pays homage to the pig with a display that includes all the cured and fresh sausages most closely associated with the city. There's the coarse-textured, pear-shaped Jsus de Lyon, said to resemble the swaddled baby Jesus; Sabodet, made with pig's head and flavoured with brandy; and the rosette de Lyon, made with a casing from the lower intestine and which, my guide tells me, gets its name from the pink colour of a pig's anus.
At Cellerier's stall there are typical local cheeses on display, including the St-Marcellin and St-Flicien varieties from nearby Isre, and Cervelle de Canut (or "silk weaver's brain", thought to be an insult from affluent 19th-century Lyonnais directed at the city's silk workers). This is a dip made from fromage blanc mixed with chives, vinegar, garlic and white wine.
Les Halles also offers the opportunity to indulge in the city's great tradition of mchon. From nine in the morning, Chez les Gones restaurant serves a three-course meal that would have been eaten by those hard-working silk weavers and might include pt, followed by andouillette with mustard sauce and cheese to finish, all washed down with a glass of Ctes du Rhne.
The city is dotted with outdoor markets. One of the best is on Boulevard de la Croix-Rousse. Unless you're a particularly energetic gourmet, it's advisable to take the bus or metro to the bohemian Croix-Rousse district in the 4me; I discovered that it's situated on a steep hill only after walking there from Vieux Lyon. Once I had recovered my breath, I enjoyed strolling around dozens of stalls that featured similar produce to Les Halles but at lower prices.
I discovered numerous foodie gems too. Tte de Canut is a smart charcuterie/traiteur; Fromagerie Galland has a stunning display of regional cheeses; and Chocolatier Bouillet has a fabulous selection of macaroons.It's a great area for dining, containing some of the city's more modern restaurants. L'artiste et le Cuisinier serves seasonal tasting menus, while chef Frdric d'Ambrosio's eclectic creations at Balthaz'Art include a tartare of Charolais beef with olives and candied lemon.
For a more tradition Lyonnais meal, I made for one of the city's celebrated bouchons, a type of bistro specific to Lyon which dates back to the 16th century. Over the years, the term has become abused; if you find yourself in a bouchon with pizza on the menu, run. According to food critic Pierre Grison's Association de Dfense des Bouchons Lyonnais, in a bouchon you will eat Lyon products washed down with Beaujolais or Ctes du Rhne in small room with a friendly atmosphere, red-and-white checked tablecloths and charcuterie hanging near the counter.
That describes Daniel et Denise to a T, where I devoured their superb pt en crote and had my first ever encounter with tripe. Sauted la lyonnaise, with onions and parsley, it has the texture of octopus and a mildly gamey flavour.
Grison currently lists 20 bouchons, but the rival organisation Les Bouchons Lyonnais launched in 2012 includes just 17. Only five establishments appear on both lists (Le Caf du Peintre, Le Caf du Jura, Le Polon d'Or, Caf Comptoir Abel, and Daniel et Denise). Caf des Fdrations, beloved of chef Raymond Blanc, appears on neither. A very affordable meal at Bistrot de Lyon, not considered to be a bouchon, doesn't help clear the matter up. Although the decor is a little more formal, the food is pure bouchon. A plate of charcuterie is followed by a super-rich main course of breaded pig's trotter galette and a carafe of Ctes du Rhne.
As well as bouchons for the working man, Lyon has a long tradition of fine dining for its better-off inhabitants. Mre Brazier, one of les mres Lyonnaises or "Mothers of Lyon" who left private service to open restaurants in the late 19th and early 20th century, was the first woman to win two Michelin stars. The restaurant that bears her name still holds that accolade today.
I tried two of the more recent additions to the city's fine-dining scene, Ttedoie and Les Loges. Both reinforced my belief that no one does haute cuisine quite like the French. Ttedoie, a contemporary glass, steel and stone box sitting atop Lyon's other hill, Fourvire, boasts dramatic views and chef Christian Ttedoie's technically brilliant cooking, exemplified by a plate of suckling pig that includes everything but the oink and tastes heavenly.
At Les Loges, the dining room of the luxury hotel Cour des Loges, the flavours are equally memorable. An asparagus starter comes with a dainty Comt cheese and truffle croque monsieur, and crispy skinned cod is accompanied by barigoule vegetables and a frothy sauce made from vanilla-scented tonka beans.
Given the 21st century's infinitely mutable global gastronomic scene, no one city or region can now really claim to be the world capital of gastronomy. But if tradition, passion and dedication to the gastronomic arts still count for something, then Lyon should continue to top many foodie travellers' lists for years to come.
- INDEPENDENT